That Mystery "Incoming" Figure From Marvel's December 2019 Teaser – is it Hulking as a New Captain Marvel?
There have been lots of theories since Bleeding Cool posted the teaser image for Marvel's big Christmas comic, Incoming, looking at upcoming Marvel series. The image seems to suggest a sheared-haired Conan, the pose is very He-Man And The Masters Of The Universe. There are also suggestions of Captain Mar-Vell… and that letter idea may not be far off the mark.
But the overall consensus, as we initially posted, is that this is the character Hulking, Teddy Altman. And the uniting he is doing will be between the two aspects of his heritage the Kree and Skrull empires. That the planet-burning symbol suggests he is ruler of them both.
And as Wiccan has been returning to Marvel stories courtesy of Death's Head, Hulking's return is long overdue.
Young Avengers #1, his first appearance, is already a $50 book as it also has the first appearance of Kate Bishop's Hawkeye. Could there be more to come? Maybe Young Avengers: Children's Crusade one-shot ($5 on eBay) might be worth checking… here's why.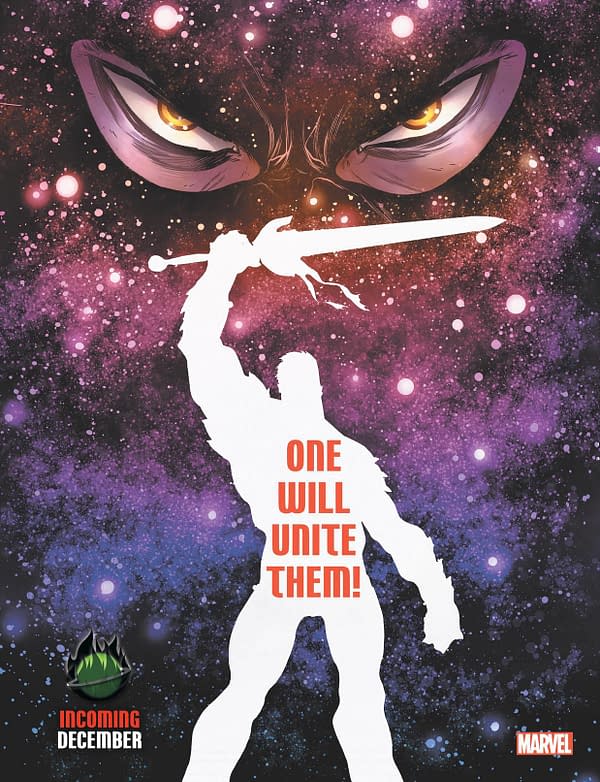 Hulkling is the extraterrestrial hybrid offspring of enhanced Kree warrior, Captain Marvel/Captain Mar-Vell, and Skrull royalty, Princess Anelle, resulting in various abilities derived from the unique combination of his parents' genetic material. His shape-shifting and accelerated healing factor derive from his Skrull heritage, while his superhuman strength originates from his enhanced Kree background.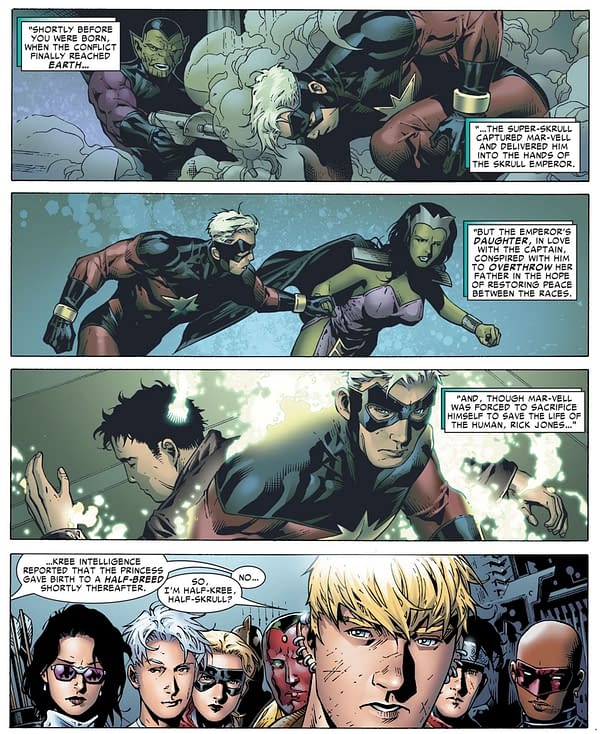 Created by Allan Heinberg and Jim Cheung in Young Avengers #1 in 2005, Hulkling was originally planned to be a female character. According to Tom Brevoort, "Originally, Allan pitched Hulkling as a female character using her shape-changing abilities to pose as a man. I suspect this was as close as Allan felt he could get to depicting an openly gay relationship in a Marvel comic. But as we got underway… he started to have second thoughts and approached me about maintaining Hulkling and Wiccan as two involved male characters."
Originally his conflicts with the Super-Skrull were to bring Hulkling back to the Skrull Empire so that he may unify his people. However, Kree soldiers arrive to take Teddy as one of their own. A battle erupts between the Kree and the Skrull. Hulking ended the conflict by surrendering himself. It was arranged that he spend half an Earth-year with the Kree and the other half with the Skrull, at which time he would declare his ultimate allegiance. However, the Hulking that left Earth was actually the Super-Skrull in disguise. With Hulking remaining on Earth.
Eventually, a small group of Kree–Skrull hybrids arrive on Earth and kidnap Hulking so that he can assume his position as king and unite the two warring alien races. Hulking gains the Excelsior soul-sword of the prior king and uses it to defeat ghost wizard Moridun but announces that he has commitments to protect Earth and will return to fulfill his destiny if and when he is ready.
In the Children's Crusade: Young Avengers one shot, a future version of Hulking is shown to have taken up the mantle of Captain Marvel wearing a version of his father's classic costume with the white and green colouring of his original Kree uniform.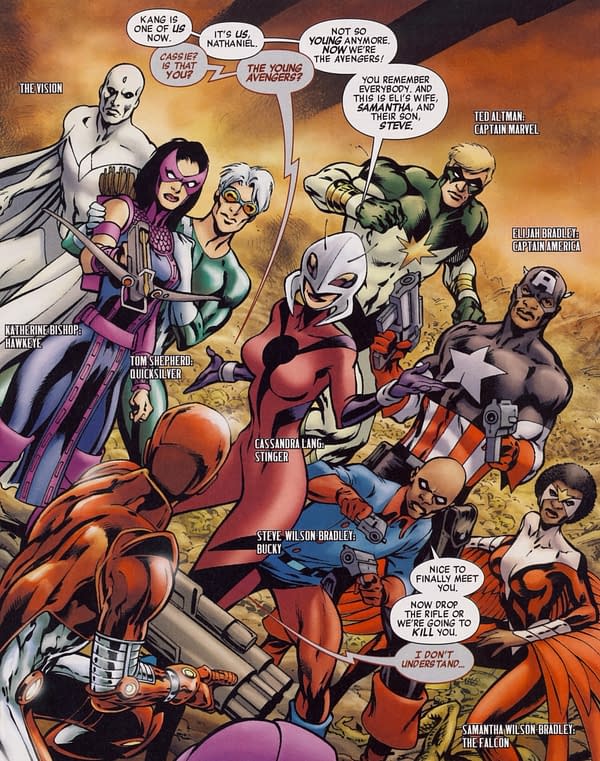 Could this be where we are heading with Incoming? Wielding Excelsior? Is a new Captain Marvel incoming?