That New DC Comics Origin For The Joker in Walmart Batman Giant #5
Last week we talked about how the new Batman Giant #5, in Walmarts as of last weekend, was promising a new origin of The Joker. Now, I am far, far away from the nearest Walmart, and there is no sign of Batman Giant #5 coming to comic book stores, or even digital comics, any time soon. But thankfully some Bleeding Cool readers underwent the severe journalistic endeavour of going into a Walmart, picking up a copy, reading it, and sending over a few pics from said lead story.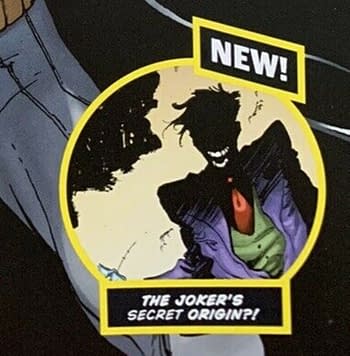 Not too much of a hardship though, with copies now going for $15 on eBay, plus shipping. But makes it harder for me to gat a copy, especially with postal services taking many more weeks than we might otherwise expect. Well, it could be that price is a little high, as editor Katie Kubert pops to reassure readers that this may not actually be the real deal. It is 'a' origin rather than 'the' origin, tampered by the retelling.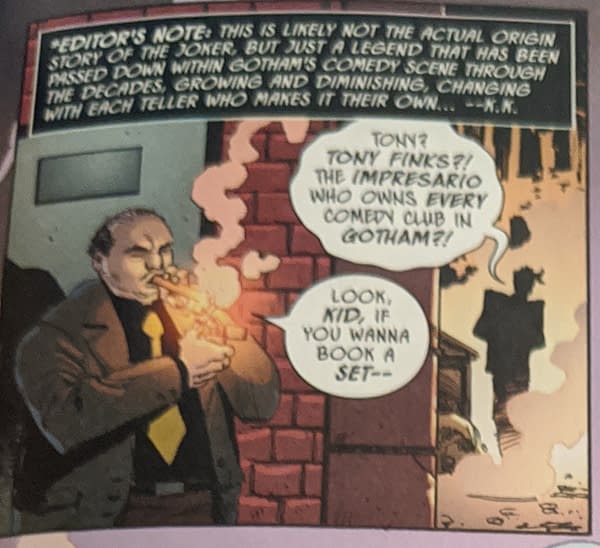 Joker's Wild aka Whacha Got in the Trunk? by Mark Russell, Christopher Mooneyham, David Aaron and Ferran Delgado taps into the version from The Killing Joke and the recent Joker movie, with the Joker as an unappreciated and talent-challenged stand-up comedian, working the local stand-up joints, and getting used as a waiter while he waits to go on.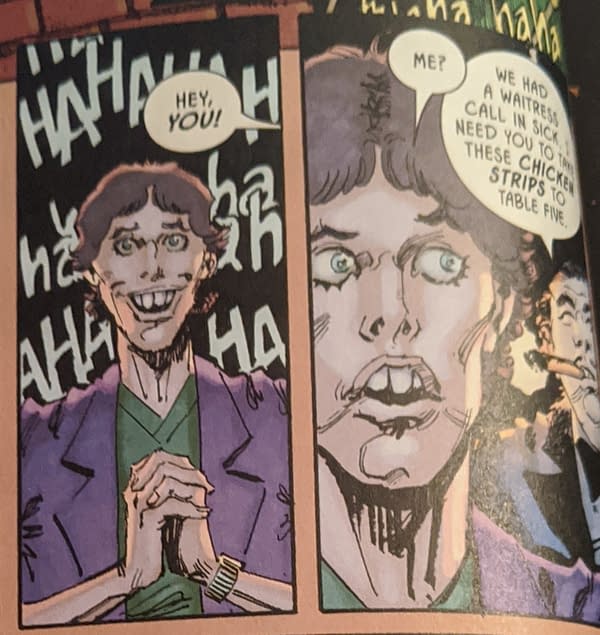 Who gets no respect from the comedy stores or the audience…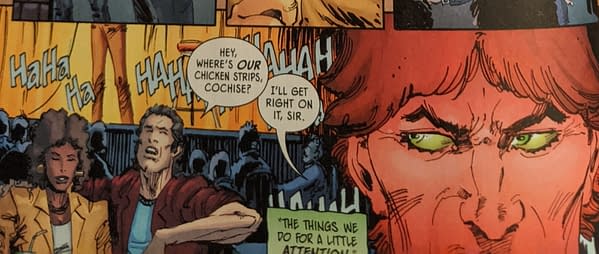 … and gets a name for himself that he might otherwise not have chosen.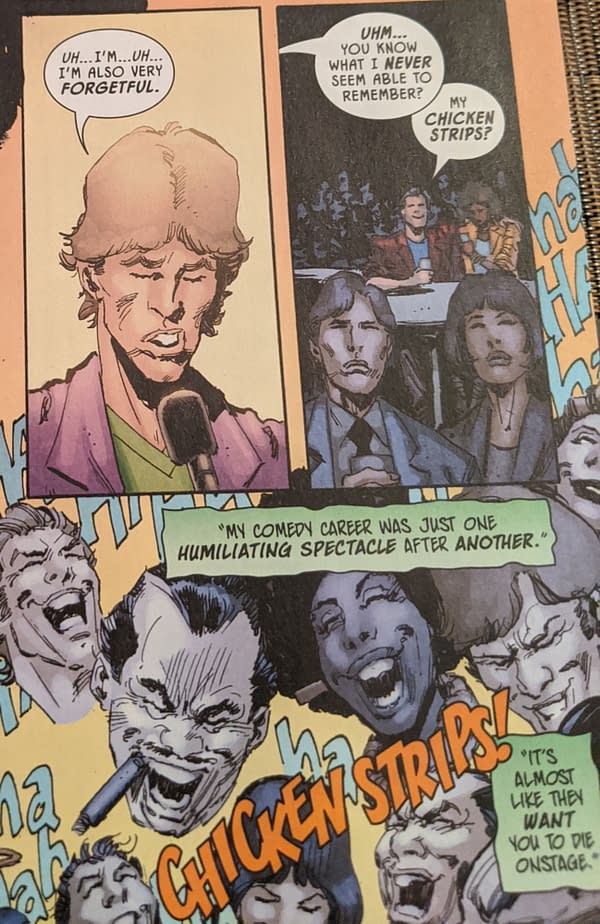 So when he causes laughter, it may not be the laughter he was looking for. Don't call him chicken strips. You wouldn't like it when he gets chicken strips. But we do get a new origin of that name of choice. And a place for him to debut that personality.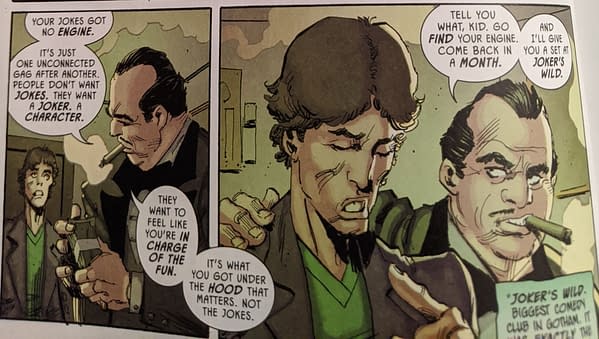 No pregnant girlfriend, no ailing mother, this man has nothing. Not even a given name, aside from what he will one day take from this suggestion by Tony Finks, just Chicken Strips. Out of work, evicted, with nowhere to go, he just takes back control.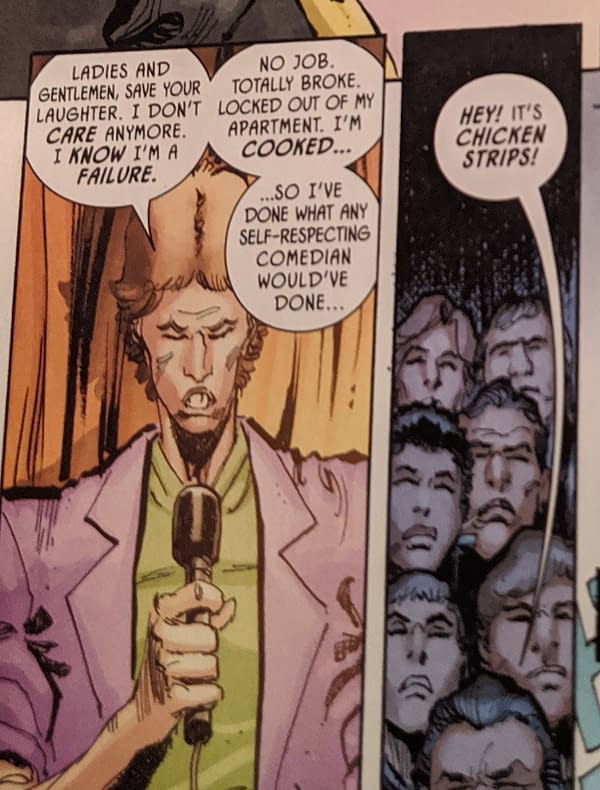 And commits an act of wanton terrorism. Initially a suicide that would take out his audience, instead it becomes another act of violence and terrorism.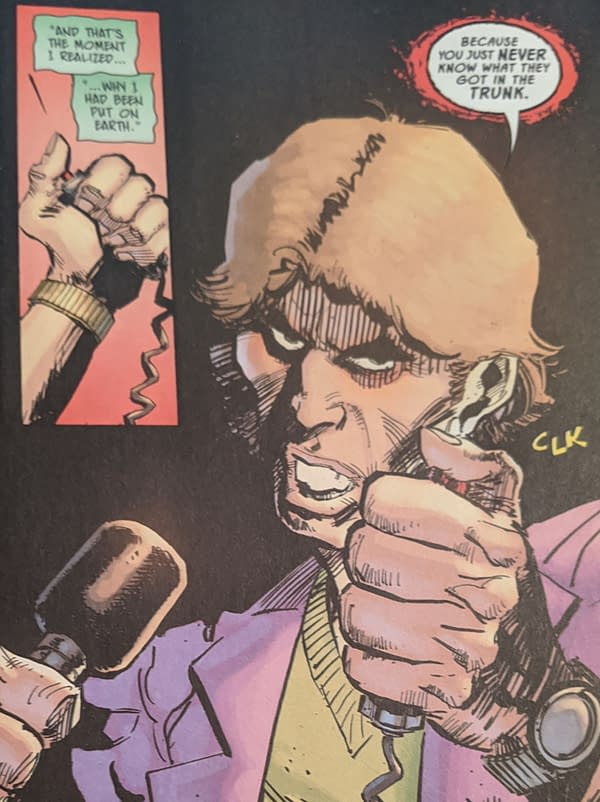 And it turns out that was what the audience wanted all along. The Joker just gives them what they want – and arguably, that's what he's been doing ever since. Welcome, folks, to the new origin of the Joker. Will it stick? As ever, that is all down to you.
Batman Giant #5 is in Walmarts now and will come to comic book stores at some undetermined time.
---
---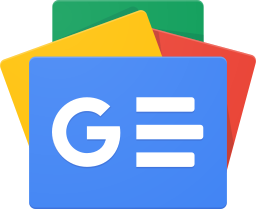 Stay up-to-date and support the site by following Bleeding Cool on Google News today!