The 100 Most-Ordered Comics and Graphic Novels in December 2019
These are the 100 most-ordered comics and graphic novels in the North American direct market serviced by Diamond Comic Distributors in December 2019, courtesy of Previewsworld. We previously looked at top tens, marketshare and sales bumps on Friday, here's a slightly fuller picture. for a change, Marvel is level pegging with DC in the top ten, with five apiece, ten of the top twenty to DC's nine, but returns to form with 60 of the top 100 to DC's 33. The remaining seven spots are 3 to Image, 2 to Dynamite, 1 to Boom, 1 to IDW.
Also, when it comes to placement, DC Comics' cardstock covers are still splitting their reported orders into two, Bleeding Cool will try and run a combined cover chart as well tomorrow for a more accurate placement.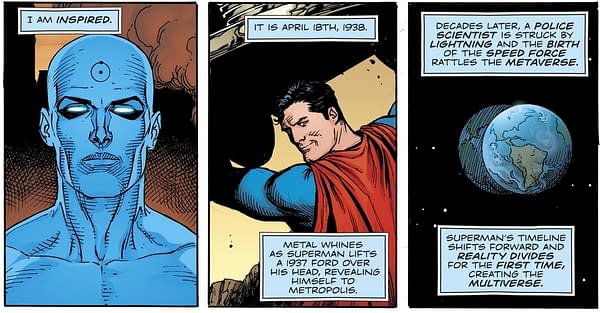 TOP 100 COMIC BOOKS
Based on Total Unit Sales of Products Invoiced in December 2019
| | | | | |
| --- | --- | --- | --- | --- |
| RANK | DESCRIPTION | PRICE | ITEM CODE | VENDOR |
| 1 | DOOMSDAY CLOCK #12 | $5.99 | OCT190523-M | DC COMICS |
| 2 | X-MEN #3 DX | $3.99 | OCT190903-M | MARVEL COMICS |
| 3 | BATMAN LAST KNIGHT ON EARTH #3 (MR) | $5.99 | SEP190478-M | DC COMICS |
| 4 | DARK KNIGHT RETURNS THE GOLDEN CHILD #1 | $5.99 | OCT190471-M | DC COMICS |
| 5 | VENOM #21 | $3.99 | OCT191001-M | MARVEL COMICS |
| 6 | HARLEY QUINN VILLAIN OF THE YEAR #1 | $4.99 | OCT190466-M | DC COMICS |
| 7 | SYMBIOTE SPIDER-MAN ALIEN REALITY #1 | $4.99 | OCT190971-M | MARVEL COMICS |
| 8 | INCOMING #1 | $9.99 | OCT190860-M | MARVEL COMICS |
| 9 | AMAZING SPIDER-MAN #35 2099 | $3.99 | OCT190926-M | MARVEL COMICS |
| 10 | SUPERMAN #18 | $3.99 | OCT190580-M | DC COMICS |
| 11 | AMAZING SPIDER-MAN #36 2099 | $3.99 | OCT190929-M | MARVEL COMICS |
| 12 | BATMAN #85 | $4.99 | OCT190503 | DC COMICS |
| 13 | HARLEEN #3 (MR) | $7.99 | SEP190494-M | DC COMICS |
| 14 | BATMAN CURSE OF THE WHITE KNIGHT #5 | $4.99 | OCT190507-M | DC COMICS |
| 15 | BATMAN #84 | $3.99 | OCT190501 | DC COMICS |
| 16 | SPIDER-MAN #3 | $3.99 | SEP190856-M | MARVEL COMICS |
| 17 | TMNT ONGOING #100 | $7.99 | SEP190620-M | IDW PUBLISHING |
| 18 | DR STRANGE #1 | $3.99 | OCT190945-M | MARVEL COMICS |
| 19 | REVENGE OF COSMIC GHOST RIDER #1 | $4.99 | OCT190950-M | MARVEL COMICS |
| 20 | NEW MUTANTS #3 DX | $3.99 | OCT190908 | MARVEL COMICS |
| 21 | IMMORTAL HULK #28 | $3.99 | OCT191019-M | MARVEL COMICS |
| 22 | MARAUDERS #3 DX | $3.99 | OCT190918-M | MARVEL COMICS |
| 23 | CONAN SERPENT WAR #1 | $4.99 | OCT190892-M | MARVEL COMICS |
| 24 | JUSTICE LEAGUE #37 | $3.99 | OCT190551-M | DC COMICS |
| 25 | NEW MUTANTS #4 DX | $3.99 | OCT190909 | MARVEL COMICS |
| 26 | EXCALIBUR #3 DX | $3.99 | OCT190914-M | MARVEL COMICS |
| 27 | X-FORCE #3 DX | $3.99 | OCT190912 | MARVEL COMICS |
| 28 | JUSTICE LEAGUE #38 | $3.99 | OCT190553-M | DC COMICS |
| 29 | POWER RANGERS TEENAGE MUTANT NINJA TURTLES #1 | $4.99 | OCT191380-M | BOOM! STUDIOS |
| 30 | JOKER KILLER SMILE #2 (MR) [*] | $5.99 | OCT190547-M | DC COMICS |
| 31 | SUICIDE SQUAD #1 | $4.99 | OCT190476-M | DC COMICS |
| 32 | EXCALIBUR #4 DX | $3.99 | OCT190916-M | MARVEL COMICS |
| 33 | YEAR OF THE VILLAIN HELL ARISEN #1 [*] | $4.99 | OCT190463-M | DC COMICS |
| 34 | MARAUDERS #4 DX | $3.99 | OCT190920-M | MARVEL COMICS |
| 35 | X-FORCE #4 DX | $3.99 | OCT190913 | MARVEL COMICS |
| 36 | VENOM 2099 #1 | $4.99 | OCT190939-M | MARVEL COMICS |
| 37 | SPIDER-HAM #1 | $3.99 | OCT190981-M | MARVEL COMICS |
| 38 | KING THOR #4 | $5.99 | OCT191014-M | MARVEL COMICS |
| 39 | SPIDER-MAN 2099 #1 | $4.99 | OCT190923-M | MARVEL COMICS |
| 40 | AVENGERS #28 | $3.99 | OCT191022-M | MARVEL COMICS |
| 41 | AMAZING MARY JANE #3 | $3.99 | OCT190993-M | MARVEL COMICS |
| 42 | FALLEN ANGELS #3 DX | $3.99 | OCT190910 | MARVEL COMICS |
| 43 | GUARDIANS OF THE GALAXY #12 | $4.99 | OCT191051-M | MARVEL COMICS |
| 44 | FALLEN ANGELS #4 DX | $3.99 | OCT190911 | MARVEL COMICS |
| 45 | SPAWN #303 | $2.99 | SEP190219-M | IMAGE COMICS |
| 46 | CAPTAIN MARVEL #13 | $3.99 | OCT191027-M | MARVEL COMICS |
| 47 | FANTASTIC FOUR #17 | $3.99 | OCT191045-M | MARVEL COMICS |
| 48 | BATMAN SUPERMAN #5 | $3.99 | OCT190513 | DC COMICS |
| 49 | DETECTIVE COMICS #1017 | $3.99 | OCT190519 | DC COMICS |
| 50 | WONDER WOMAN DEAD EARTH #1 (MR) [*] | $6.99 | OCT190490-M | DC COMICS |
| 51 | BATMANS GRAVE #3 | $3.99 | OCT190509-M | DC COMICS |
| 52 | UNDISCOVERED COUNTRY #2 (MR) [*] | $3.99 | OCT190250-M | IMAGE COMICS |
| 53 | SAVAGE AVENGERS #8 | $3.99 | OCT191021 | MARVEL COMICS |
| 54 | MORBIUS #2 | $3.99 | OCT190962-M | MARVEL COMICS |
| 55 | TALES FROM THE DARK MULTIVERSE THE JUDAS CONTRACT #1 | $5.99 | OCT190482-M | DC COMICS |
| 56 | STAR WARS RISE KYLO REN #1 | $4.99 | OCT191067-M | MARVEL COMICS |
| 57 | DAREDEVIL #14 | $3.99 | OCT191058-M | MARVEL COMICS |
| 58 | STAR WARS EMPIRE ASCENDANT #1 | $5.99 | OCT191072-M | MARVEL COMICS |
| 59 | BLACK CAT #7 | $3.99 | OCT190998-M | MARVEL COMICS |
| 60 | GREEN LANTERN BLACKSTARS #2 [*] | $3.99 | OCT190533-M | DC COMICS |
| 61 | VAMPIRELLA #6 | $3.99 | OCT191150-M | DYNAMITE |
| 62 | DAREDEVIL #15 | $3.99 | OCT191060-M | MARVEL COMICS |
| 63 | CAPTAIN AMERICA #17 | $3.99 | OCT191017-M | MARVEL COMICS |
| 64 | MILES MORALES SPIDER-MAN #13 | $3.99 | OCT190988-M | MARVEL COMICS |
| 65 | THOR WORTHY #1 | $4.99 | OCT190955-M | MARVEL COMICS |
| 66 | GHOST RIDER 2099 #1 | $4.99 | OCT190932-M | MARVEL COMICS |
| 67 | WONDER WOMAN #83 | $3.99 | SEP190517-M | DC COMICS |
| 68 | DOOM 2099 #1 | $4.99 | OCT190935-M | MARVEL COMICS |
| 69 | LEGION OF SUPER HEROES #2 [*] | $3.99 | OCT190559 | DC COMICS |
| 70 | ANNIHILATION SCOURGE SILVER SURFER #1 | $4.99 | OCT190871-M | MARVEL COMICS |
| 71 | DEJAH THORIS (2019) #1 [*] | $3.99 | OCT191191-M | DYNAMITE |
| 72 | 2099 OMEGA #1 | $4.99 | OCT190942-M | MARVEL COMICS |
| 73 | AMERICAN JESUS NEW MESSIAH #1 (MR) [*] | $3.99 | OCT190035-M | IMAGE COMICS |
| 74 | GHOST RIDER #3 | $3.99 | OCT190967-M | MARVEL COMICS |
| 75 | FLASH FORWARD #4 | $3.99 | OCT190529-M | DC COMICS |
| 76 | SHAZAM #9 | $3.99 | OCT190576-M | DC COMICS |
| 77 | DOCTOR DOOM #3 | $3.99 | OCT190969-M | MARVEL COMICS |
| 78 | ANNIHILATION SCOURGE OMEGA #1 | $4.99 | OCT190877-M | MARVEL COMICS |
| 79 | TONY STARK IRON MAN #19 | $3.99 | OCT191036-M | MARVEL COMICS |
| 80 | HISTORY OF MARVEL UNIVERSE #6 | $4.99 | OCT191033-M | MARVEL COMICS |
| 81 | ANNIHILATION SCOURGE BETA RAY BILL #1 | $4.99 | OCT190873-M | MARVEL COMICS |
| 82 | SPIDER-VERSE #3 | $3.99 | OCT190985 | MARVEL COMICS |
| 83 | ANNIHILATION SCOURGE FANTASTIC FOUR #1 | $4.99 | OCT190875-M | MARVEL COMICS |
| 84 | BASKETFUL OF HEADS #3 (MR) | $3.99 | OCT190593-M | DC COMICS |
| 85 | CATWOMAN #18 | $3.99 | OCT190515-M | DC COMICS |
| 86 | FLASH #84 | $3.99 | OCT190525 | DC COMICS |
| 87 | ANNIHILATION SCOURGE NOVA #1 | $4.99 | OCT190869-M | MARVEL COMICS |
| 88 | HARLEY QUINN #68 | $3.99 | OCT190535-M | DC COMICS |
| 89 | SCREAM CURSE OF CARNAGE #2 | $3.99 | OCT190959-M | MARVEL COMICS |
| 90 | INFECTED DEATHBRINGER #1 | $3.99 | OCT190479 | DC COMICS |
| 91 | STAR WARS TARGET VADER #6 | $3.99 | OCT191083 | MARVEL COMICS |
| 92 | PUNISHER SOVIET #2 (MR) | $3.99 | OCT190957-M | MARVEL COMICS |
| 93 | CONAN SERPENT WAR #2 | $3.99 | OCT190898-M | MARVEL COMICS |
| 94 | INFECTED THE COMMISSIONER #1 | $3.99 | OCT190480 | DC COMICS |
| 95 | GHOST-SPIDER #5 | $3.99 | OCT190986-M | MARVEL COMICS |
| 96 | BATMAN #84 CARD STOCK VAR ED | $4.99 | OCT190502 | DC COMICS |
| 97 | VALKYRIE JANE FOSTER #6 | $3.99 | OCT191024-M | MARVEL COMICS |
| 98 | FAR SECTOR #2 (MR) | $3.99 | OCT190606 | DC COMICS |
| 99 | BATMAN #85 CARD STOCK VAR ED | $5.99 | OCT190504 | DC COMICS |
| 100 | SPIDER-MAN & VENOM DOUBLE TROUBLE #2 | $3.99 | OCT190991-M | MARVEL COMICS |
TOP 100 GRAPHIC NOVELS
Based on Total Unit Sales of Products Invoiced in December 2019
| | | | | |
| --- | --- | --- | --- | --- |
| RANK | DESCRIPTION | PRICE | ITEM CODE | VENDOR |
| 1 | HOUSE OF X POWERS OF X HC | $60.00 | SEP190963-M | MARVEL COMICS |
| 2 | BATMAN TP VOL 11 THE FALL AND THE FALLEN | $17.99 | SEP190554 | DC COMICS |
| 3 | WATCHMEN TP | $24.99 | JUN190614-M | DC COMICS |
| 4 | SILVER SURFER BLACK TP TREASURY EDITION | $29.99 | SEP190990 | MARVEL COMICS |
| 5 | BLACK HAMMER TP VOL 04 AGE OF DOOM PART II | $19.99 | MAY190209 | DARK HORSE COMICS |
| 6 | BOYS OMNIBUS TP VOL 06 (MR) | $29.99 | OCT191313-M | DYNAMITE |
| 7 | GREEN LANTERN TP VOL 01 INTERGALACTIC LAWMAN | $17.99 | SEP190568 | DC COMICS |
| 8 | DAREDEVIL BY CHIP ZDARSKY TP VOL 02 NO DEVILS ONLY GOD | $15.99 | SEP190982 | MARVEL COMICS |
| 9 | MY HEROES HAVE ALWAYS BEEN JUNKIES TP (MR) | $12.99 | AUG190092 | IMAGE COMICS |
| 10 | STAR WARS DOCTOR APHRA TP VOL 06 UNSPEAKABLE REBEL SUPERWEAP | $15.99 | SEP190997 | MARVEL COMICS |
| 11 | HARLEY QUINN & THE BIRDS OF PREY TP | $12.99 | SEP190574 | DC COMICS |
| 12 | DOG MAN GN VOL 08 FETCH | $12.99 | JUN198128 | GRAPHIX |
| 13 | ANNIHILATION OMNIBUS HC | $125.00 | JUL191087 | MARVEL COMICS |
| 14 | FAITHLESS TP (MR) | $17.99 | AUG191384 | BOOM! STUDIOS |
| 15 | SHARKEY BOUNTY HUNTER TP | $19.99 | SEP190083 | IMAGE COMICS |
| 16 | DEAD MAN LOGAN TP VOL 02 WELCOME BACK LOGAN | $17.99 | SEP190985 | MARVEL COMICS |
| 17 | GREEN LANTERN HC VOL 02 THE DAY THE STARS FELL | $29.99 | SEP190569 | DC COMICS |
| 18 | FIREFLY UNIFICATION WAR HC VOL 02 | $19.99 | AUG191379 | BOOM! STUDIOS |
| 19 | SNOOPY BEAGLE OF MARS ORIGINAL GN PEANUTS | $9.99 | AUG191380 | BOOM! STUDIOS |
| 20 | SONATA TP VOL 01 (MR) | $19.99 | OCT190065 | IMAGE COMICS |
| 21 | WATCHMEN COMPANION HC | $39.99 | SEP190609 | DC COMICS |
| 22 | UNBEATABLE SQUIRREL GIRL GN TP POWERS OF A SQUIRREL | $12.99 | SEP191020 | MARVEL COMICS |
| 23 | BIRTHRIGHT TP VOL 08 | $14.99 | OCT190081 | IMAGE COMICS |
| 24 | CRITICAL ROLE TP VOL 01 VOX MACHINA ORIGINS | $19.99 | JUN190303 | DARK HORSE COMICS |
| 25 | ICE CREAM MAN TP VOL 04 TINY LIVES (MR) | $16.99 | OCT190104 | IMAGE COMICS |
| 26 | RICK & MORTY TP VOL 10 | $19.99 | AUG192129 | ONI PRESS INC. |
| 27 | MY HERO ACADEMIA GN VOL 01 | $9.99 | JUN151643 | VIZ MEDIA LLC |
| 28 | MMW FANTASTIC FOUR HC VOL 21 | $75.00 | JUN191034-M | MARVEL COMICS |
| 29 | DCEASED HC | $29.99 | AUG190650 | DC COMICS |
| 30 | PEARL TP VOL 02 (MR) | $16.99 | SEP190592 | DC COMICS |
| 31 | AQUAMAN TP VOL 01 UNSPOKEN WATER | $17.99 | SEP190546 | DC COMICS |
| 32 | LUMBERJANES TP VOL 13 | $14.99 | AUG191424 | BOOM! STUDIOS |
| 33 | MARVEL ACTION BLACK PANTHER TP BOOK 01 STORMY WEATHER | $9.99 | MAR190636 | IDW PUBLISHING |
| 34 | INJUSTICE 2 TP VOL 06 | $16.99 | SEP190580 | DC COMICS |
| 35 | LEAGUE OF LEGENDS TP LUX | $15.99 | JUL191064 | MARVEL COMICS |
| 36 | SUPERIOR SPIDER-MAN TP VOL 02 OTTO-MATIC | $17.99 | SEP190996 | MARVEL COMICS |
| 37 | ATTACK ON TITAN GN VOL 29 (MR) | $10.99 | OCT192381 | KODANSHA COMICS |
| 38 | BATGIRL TP VOL 06 OLD ENEMIES | $16.99 | SEP190548 | DC COMICS |
| 39 | FIVE YEARS TP VOL 01 FIRE IN THE SKY | $15.99 | OCT191459 | ABSTRACT STUDIOS |
| 40 | MAN AND SUPERMAN DELUXE ED HC | $19.99 | AUG190673 | DC COMICS |
| 41 | SUPERGIRL TP VOL 02 SINS OF THE CIRCLE | $16.99 | SEP190597 | DC COMICS |
| 42 | DIAL H FOR HERO TP VOL 01 ENTER THE HEROVERSE | $16.99 | SEP190564 | DC COMICS |
| 43 | HAWKMAN TP VOL 02 DEATHBRINGER | $16.99 | SEP190578 | DC COMICS |
| 44 | BLACK ORCHID TP NEW EDITION (MR) | $19.99 | SEP190560 | DC COMICS |
| 45 | KICK-ASS NEW GIRL TP VOL 03 (MR) | $17.99 | AUG190132 | IMAGE COMICS |
| 46 | AVENGERS EPIC COLLECTION TP GATHERERS STRIKE | $39.99 | SEP191013 | MARVEL COMICS |
| 47 | YOUNG JUSTICE TP BOOK 04 | $34.99 | AUG190693 | DC COMICS |
| 48 | JUSTICE LEAGUE BY SCOTT SNYDER DLX ED HC BOOK 01 | $39.99 | SEP190586 | DC COMICS |
| 49 | SAGA TP VOL 01 (MR) | $9.99 | AUG120491 | IMAGE COMICS |
| 50 | LOKI AGENT OF ASGARD COMPLETE COLLECTION TP | $39.99 | SEP191001 | MARVEL COMICS |
| 51 | X-FORCE EPIC COLLECTION TP X-CUTIONERS SONG | $34.99 | SEP191011 | MARVEL COMICS |
| 52 | MONSTRESS TP VOL 01 (MR) | $9.99 | APR160803 | IMAGE COMICS |
| 52 | X-MEN HC SHATTERSHOT | $75.00 | JUN191033 | MARVEL COMICS |
| 54 | SUPERIOR CARNAGE TP | $17.99 | NOV130726 | MARVEL COMICS |
| 55 | BATMAN DETECTIVE COMICS HC VOL 02 ARKHAM KNIGHT | $24.99 | SEP190558 | DC COMICS |
| 56 | ANIMAL MAN BY JEFF LEMIRE OMNIBUS HC | $99.99 | APR190524 | DC COMICS |
| 57 | OUTER DARKNESS TP VOL 02 (MR) | $16.99 | OCT190115 | IMAGE COMICS |
| 58 | BATMAN THE KILLING JOKE HC NEW ED | $17.99 | JUN190574=M | DC COMICS |
| 59 | MOON GIRL AND DEVIL DINOSAUR TP VOL 08 YANCY STREET LEGENDS | $17.99 | SEP190989 | MARVEL COMICS |
| 60 | SPECTACULAR SPIDER-MAN TP LO THIS MONSTER | $19.99 | SEP191014 | MARVEL COMICS |
| 61 | MY LITTLE PONY TP VOL 13 STAR PUPIL | $7.99 | MAR190656 | IDW PUBLISHING |
| 62 | GHOST TREE TP | $15.99 | JUL190719 | IDW PUBLISHING |
| 63 | JOE HILL GRAPHIC NOVEL COLLECTION TP | $29.99 | AUG190806 | IDW PUBLISHING |
| 64 | DEFENDERS EPIC COLLECTION TP END OF ALL SONGS | $39.99 | SEP191012 | MARVEL COMICS |
| 65 | DIE TP VOL 01 FANTASY HEARTBREAKER (MR) | $9.99 | MAR190080 | IMAGE COMICS |
| 65 | TIGRA COMPLETE COLLECTION TP | $39.99 | SEP191017 | MARVEL COMICS |
| 67 | RONIN ISLAND TP VOL 01 | $14.99 | AUG191395 | BOOM! STUDIOS |
| 68 | ART & MANY MISTAKES ERIC POWELL HC | $49.99 | JUN191288 | BOOM! STUDIOS |
| 68 | DEADPOOL VS MARVEL UNIVERSE TP | $24.99 | FEB082310 | MARVEL COMICS |
| 70 | CHAMPIONS BY JIM ZUB TP VOL 02 GIVE AND TAKE | $15.99 | SEP190984 | MARVEL COMICS |
| 71 | KILL OR BE KILLED DLX ED HC (MR) | $49.99 | AUG190076 | IMAGE COMICS |
| 72 | FEMALE FURIES TP | $16.99 | SEP190567 | DC COMICS |
| 73 | MAGIC THE GATHERING CHANDRA TP VOL 01 | $15.99 | JAN190759 | IDW PUBLISHING |
| 74 | Y THE LAST MAN OMNIBUS HC (MR) | $150.00 | APR190576 | DC COMICS |
| 75 | HOUSE OF SECRETS THE BRONZE AGE OMNIBUS HC VOL 02 | $125.00 | FEB190586 | DC COMICS |
| 76 | LOCKE & KEY TP VOL 01 WELCOME TO LOVECRAFT | $19.99 | JUN090991 | IDW PUBLISHING |
| 77 | INJUSTICE GODS AMONG US OMNIBUS HC VOL 01 | $125.00 | MAR190580 | DC COMICS |
| 78 | MONSTRESS TP VOL 04 (MR) | $16.99 | JUL190105 | IMAGE COMICS |
| 79 | BLOODSHOT (2019) TP VOL 01 | $9.99 | OCT192188 | VALIANT ENTERTAINMENT LLC |
| 80 | KABUKI OMNIBUS TP VOL 01 | $29.99 | AUG190293 | DARK HORSE COMICS |
| 81 | DIRTY PAIR OMNIBUS GN (MR) | $18.99 | SEP192357 | SEVEN SEAS ENTERTAINMENT LLC |
| 82 | BERSERK DELUXE EDITION HC VOL 03 (MR) | $49.99 | JUN190381 | DARK HORSE COMICS |
| 82 | RUMBLE TP VOL 06 LAST KNIGHT (MR) | $19.99 | OCT190134 | IMAGE COMICS |
| 84 | BATMAN WHITE KNIGHT TP | $19.99 | JUL180733 | DC COMICS |
| 85 | GO GO POWER RANGERS TP VOL 05 | $16.99 | AUG191391 | BOOM! STUDIOS |
| 86 | ABSOLUTE DARK KNIGHT III THE MASTER RACE HC | $125.00 | APR190525 | DC COMICS |
| 87 | WEATHERING WITH YOU LIGHT NOVEL HC | $20.00 | SEP198616 | YEN ON |
| 88 | FIVE NIGHTS AT FREDDYS GN VOL 01 SILVER EYES | $12.99 | OCT192048 | SCHOLASTIC INC. |
| 88 | MONSTER MUSUME GN VOL 15 (MR) | $12.99 | SEP192368 | SEVEN SEAS ENTERTAINMENT LLC |
| 90 | SONS OF EL TOPO ORIGINAL GN HC VOL 02 ABEL | $19.99 | AUG191416 | BOOM! STUDIOS |
| 91 | GIANT SIZE X-MEN 40TH ANNIVERSARY HC | $39.99 | DEC140960 | MARVEL COMICS |
| 92 | X-MEN SUMMERS AND WINTER TP | $14.99 | SEP191003 | MARVEL COMICS |
| 93 | SPIDER-MAN LIFE STORY TP | $24.99 | JUL191106 | MARVEL COMICS |
| 94 | SAINT YOUNG MEN HC GN VOL 01 (MR) | $23.99 | OCT192395 | KODANSHA COMICS |
| 95 | X-MEN MILESTONES TP PHALANX COVENANT | $39.99 | SEP191006 | MARVEL COMICS |
| 96 | TEEN TITANS DEATHSTROKE THE TERMINUS AGENDA HC | $24.99 | SEP190603 | DC COMICS |
| 97 | PROMETHEA THE DELUXE EDITION HC VOL 02 | $39.99 | SEP190594 | DC COMICS |
| 98 | AVENGERS DEFENDERS WAR TP | $19.99 | SEP190998 | MARVEL COMICS |
| 99 | MS MARVEL HC VOL 01 | $34.99 | MAR150785 | MARVEL COMICS |
| 100 | X-MEN RELOAD BY CHRIS CLAREMONT TP VOL 02 HOUSE OF M | $34.99 | SEP191005 | MARVEL COMICS |