Stanley "Artgerm" Lau is one of the artists who can definitely "move the needle" when it comes to sales for books. As reported before DC, Marvel, Dynamite, Image, every company that can loves to get him to do variant covers, because they sell. His Supergirl covers are still hot books, everyone wanted his Punchline variant for Batman #94, sorry #92, and often any variant he does for a book is "the" hot variant cover for that issue.
The Artgerm DC Poster Portfolio
Realizing how hot his covers were DC released a book of his variant covers as a "Poster Portfolio" last year in June. Artgerm's book was the first in a series, followed by books for Jim Lee, Frank Cho, Joshua Middleton, theme series of Year of the Villains Portraits, and a second portfolio for Artgerm. These will soon be followed by books for James Jean, Francesco Mattina, Clay Mann, and another theme set for DCeased. Following suit Marvel will be releasing a similar book but in hardcover in September. Marvel and DC though aren't the only ones looking to make good money off Artgerm.
Making A Great Profit Off A $25 Book
Being a hot artist many fans want Artgerm's art for their walls, and signed prints sell out quickly at the few conventions he appears at and go for at least $45 and much higher on the secondary market. Several sellers though on eBay has figured out that the demand for Artgerm is so high that a great profit can be made off buying the Artgerm DC Poster Portfolio and selling each individual heavy paper poster for at least $12, and some selling for over $40 (in fact 14 have sold at this price it seems).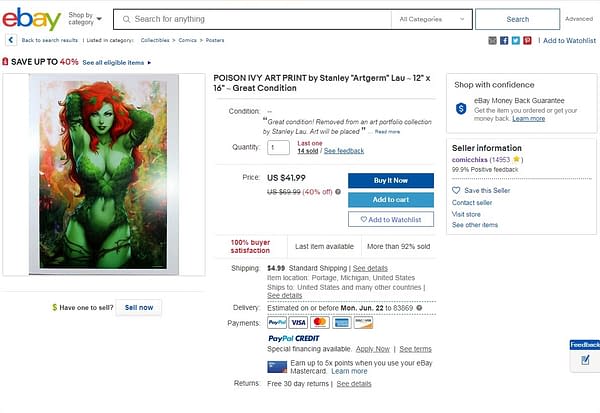 The main seller selling the most of the posters from the portfolio is comicchixs, who had the brilliant idea to see other sellers like hfagallery and follow suit, but sell copies of all 20 posters, and posters from other portfolios like Vampirella's 50th Anniversary Portfolio.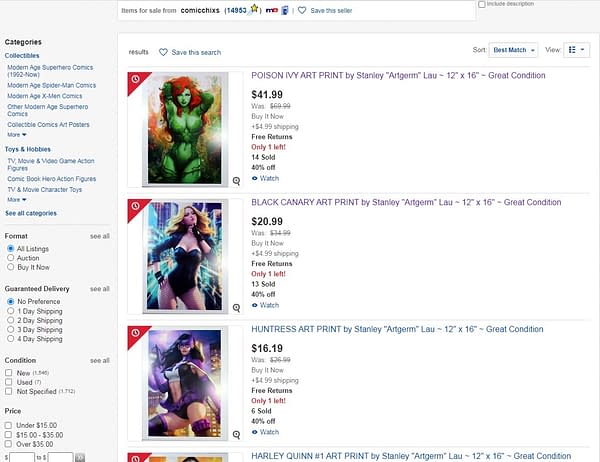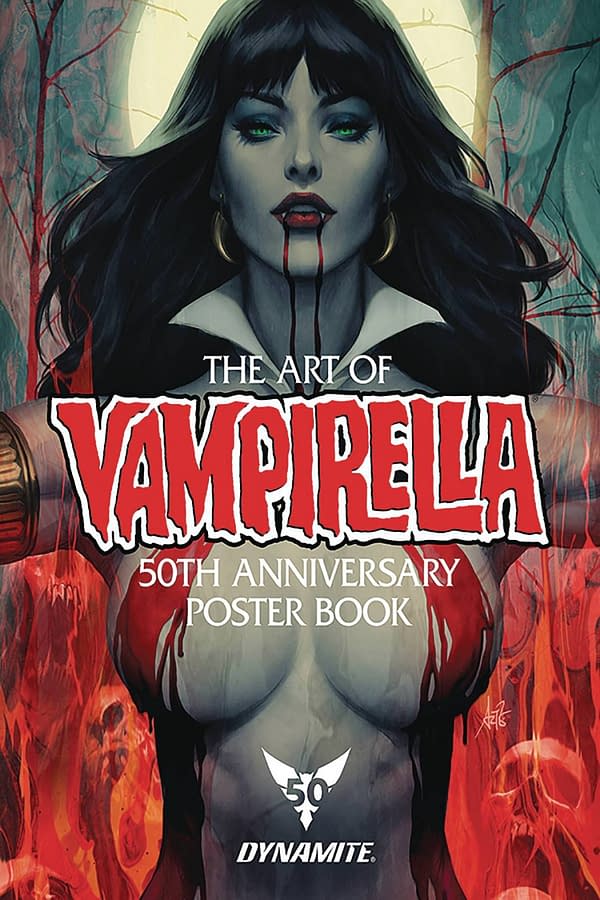 Now without buying one of posters, people could question if these posters belong to the Artgerm DC Poster Portfolio, since people are paying almost twice what the book is worth for just one poster. However, prints that Artgerm has sold or given out at conventions measure about 11" X 17" (the standard that most artists use for sale at conventions, or 12" X 18"). Also the text for all of the auctions, no matter the seller, list that the posters come from a "Artgerm Portfolio" and that all of them are 12" X 16".
hfgallery goes further to note that the prints have white borders "1" on the sides and 1/2" on the top and bottom". Well if one looks at the Artgerm DC Poster Portfolio and measures, that exactly matches the description as the book is exactly 12" X 16" and each print inside is the same size with borders "1" on the sides and 1/2" on the top and bottom". (Please note all measurement pictures were taken by the author from a personal copy of the portfolio.)
Please note nothing about this is illegal, and simply shows a very smart business sense to turn a book costing at least $25, as many copies of this book are still for sale, into maybe $300 making at least $240 in profit maybe. Buyers interested in great Artgerm prints should explore getting the art portfolios for themselves, and if they are buying posters or prints off eBay maybe get ones from conventions that are signed, though they are going to run you a lot more.