 Welcome to the Fourth Bleeding Cool Top 100 Power List for the next Bleeding Cool Magazine, being serialized right now on the Bleeding Cool website.
It's an attempt to list the most powerful people working in the English speaking comic book marketplace. It's judged by all manner of attributes, the ability to influence what comics exist and sell, but also the willingness to use that power and the ability to retain said power if one aspect is taken away – a job, a gig or a prominent role. Which is why you will see a number of people on a higher spot than their bosses.
The Power List rewards those who combine roles, those who are double and triple threats and also where power is concentrated in one person or perceived identity. But it also notes certain teams who work together, who've built up a joint identity, a gestalt more powerful than the sum of their parts. Some powerful organisations or groups, where power is diffused amongst many, drop down or drop out altogether.
It does not measure talent or likeability and also does not intend to represent diversity. All it does is note power, used for the betterment – or the detriment – of comics.
The list has been created in consultation with a number of senior figures in the comics industry. However, I'm aware the one thing that can be guaranteed is that everyone will think it's wrong and prefer their own take. Including all of those who were consulted.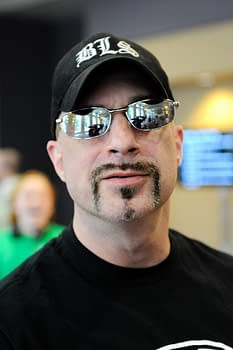 There will be a new post every day on Bleeding Cool. This is the fourth. We'll run the previous ones below as well, so, in reverse order…
73. Greg Capullo – DOWN
Greg Capullo Decision to move to DC for Batman with Scott Snyder has seen him transformed into the most popular artist at DC Comics, on their most popular book. Massively in demand at the publisher, he is able to set his own terms more than other artists and where he goes next keeps certain DC executives up at night.
His upcoming Image collaboration with Mark Millar is likely to entrench that position. Also he can bench press me.
Position next year depends upon: Whether or not the Mark Millar collaboration is just a catalogue about closets in the 19th century.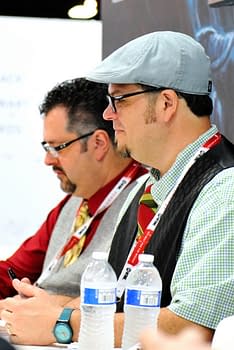 72. Art Baltazar & Franco – NEW ENTRY
A double threat from these cartoonists, seemingly joined at the hilt. Art Baltazar & Franco not only are a very popular cartooning team from everything from Tiny Titans to Itty Bitty Hellboy, but they also own a small comic book chain of stores, Aw Yeah Comics which doubles as a publisher as well, giving them greater control over their work, destiny and position within the comic book industry.
Position next year depends upon: Growing, growing, growing!

71. Neil Gaiman – DOWN
The collected Sandman Overture is giving DC Comics a merry Christmas. It took a while, but it got here.
Co-creator of the comic Sandman, his return to the series was only achieved after intense negotiation with DC that saw them amend their previous contracts with him for Sandman reprints, definitely in his favour. That's quite some sway. Add to that his upcoming work for Marvel to finish the long awaited Miracleman comic has given him a comics presence again, while he still pursues his great love of being a novelist – and a new Dad.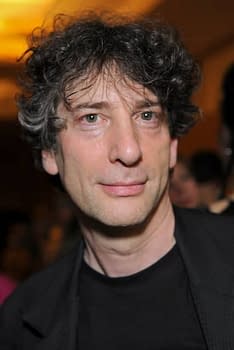 Position next year depends upon: How the new Miracleman goes down.
#100-#98 – Dennis Barger, Janelle Asselin, Matthew Rosenberg
#97-#95 – Rich Johnston, Marc Silvestri, James Killen
#94-#92 – Jim Demonakos, Tim Buckley, Gahl Buslov
#91-#89 – Rob Liefeld, Peter Dolan, Catlin DiMotta
#88-#86 – Ken Levin, David Alpert, Kate Leth
#85-#83 – Jason Aaron, Stephen Christy, Jon Goldwater
#82-#80 – Stan Lee, Lorelei Bunjes, Marc Toberoff
#77-#79 – Jason Kingsley, Fiona Staples, Neal Adams
#76-#74 – Jim Sokolowski, Robbie Robbins, Corey Murphy
And catch up on previous years, here:
2014:
#100-#81
#80-#61
#60-#41
#40-#21
#20-#11
#10-#1
2013:
#100-#81
#80-#61
#60-#41
#40-#21
#20-#11
#10-#1
2012:
#100-#81
#80-#61
#60-#41
#40-#21
#20-#11
#10-#1
Bleeding Cool Magazine #19 is out now in all good comic book stores. Bleeding Cool Magazine #20 with the full Top 100 Power List will be out in January.
Enjoyed this article? Share it!