The Bleeding Cool Top 100 Power List 2018 Countdown: #21-25
Three-quarters of the way…
Every year, Bleeding Cool runs its Top 100 Power List of members of the comics industry. And every year we get told how wrong we are. Somehow, it's always for completely different reasons and from completely different directions. Why was X in when Y was not? Why is Z is high when W is so low? And neither U or T should be on this list after that incident involving V… and condemning us for being either infested with SJW virtue signalling or providing platforms for fascists – and sometimes simultaneously. Man, I don't know how Time Magazine manages.
But that's part of the process. This attempt to list the most powerful people working in the English-speaking comic book marketplace is, of course, flawed. It is judged by all manner of attributes, the ability to influence what comics exist and sell, but also the willingness to use that power in the industry to affect things, and the ability to retain said power if a job is taken away. Which is why you will see a number of people on a higher spot than their bosses.
The Power List rewards those who combine roles, creator, publisher, distributor, retailers, those who are double and triple threats, and also where power is concentrated in one person rather than being spread out among many. Some powerful organisations or groups, where power is diffused amongst several individuals, may drop down or drop out altogether.
It does not measure talent or likeability, respect or fairness, and it does not intend to represent diversity or balance. All it does is note power, used for betterment — or detriment — in the English speaking comic book world.
The list was created in consultation with a number of senior figures in the comics industry, and I thank them for their help. Although because they all disagree, they'll all think the final list is wrong, too.
If you really hate this list, then do the obvious thing. Write your own. Otherwise, watch for new batches every day…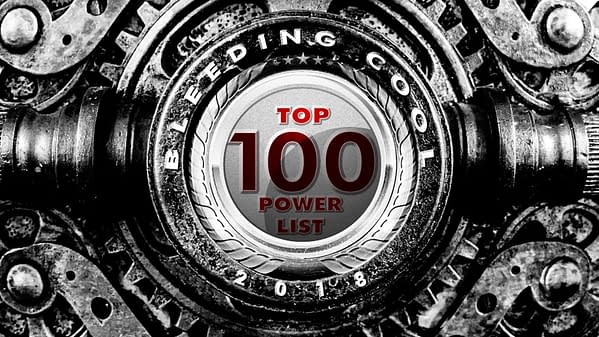 21. Tom Brevoort. Executive Editor and Senior Vice President of Publishing at Marvel Comics, overseeing Marvel's line, and as a strong public face of Marvel Comics with a strong and active social media following. One of the longest standing employees at the publisher, to all intents and purposes, he is Marvel Comics, though a more public role from EIC CB Cebulski has challenged that this year. He also remains the keeper of The Book, green lighting pitches from hopeful editors and creators alike.
21. Jim Lee. CCO and publisher of DC Comics, taking Geoff Johns' title at the publisher this year, he is often dismissed as some kind of artistic figurehead of DC Comics. But he repeatedly. He is always on hand to give the big books a big boost, including Bendis' first Superman story in Action Comics #1000 – and its cover. Find him on the most premium of DC Comics titles – even if Immortal Men was anything but. Now, whatever happened to Milestone, Jim?
23. Marie Javins. Named one of the 29 Women Who Took Over The World In 2018 as part of Refinery 29's Matriarchy Power List, she's been dubbed by people I've spoken to as the 'editor of choice' at DC Comics. A remarkably accomplished Group Editor of the Justice League titles at DC, keeping Scott Snyder (and many others) happy and making the Hanna Barbera books far better than they had any right to be – will Marvel try and steal her back in 2019?
24. Brian Azzarello. Has an uncanny ability to pick and choose the comic books that will make the most fuss. His work with Frank Miller and Lee Bermejo has hit the headlines and its hardly a coincidence. He gets comic books press – whether they, or the company, wants it or not. His rumoured relaunch of Suicide Squad in 2019 will do the same, if only for the proposed identity of one of its new members…
25. Brian Cunningham. Group Editor of the Superman books, while also editing Doomsday Clock for DC Comics, and The Green Lantern, it's his job to keep the peace between certain factions at the publisher, and encourage everyone to play nice – and in Brian Bendis, Geoff Johns and Grant Morrison, all telling the same story. Just about. If only he could have kept DC Nation going…
See you again tomorrow. Happy Postboxing Day one and all. And keep up with this handy-dandy Top 100 Power List tag.