The Bleeding Cool Top 100 Power List 2018 Countdown: #26-30
Every year, Bleeding Cool runs its Top 100 Power List of members of the comics industry. And every year we get told how wrong we are. Somehow, it's always for completely different reasons and from completely different directions. Why was X in when Y was not? Why is Z is high when W is so low? And neither U or T should be on this list after that incident involving V…
We attempt to list the most powerful people working in the English-speaking direct-market-biased comic book marketplace is, of course, flawed. It is judged by all manner of attributes, the ability to influence what comics exist and sell, but also the willingness to use that power in the industry to affect things, and the ability to retain said power if a job is taken away. Which is why you will see a number of people on a higher spot than their bosses.
The Power List rewards those who combine roles, creator, publisher, distributor, retailers, those who are double and triple threats, and also where power is concentrated in one person rather than being spread out among many. Some powerful organisations or groups, where power is diffused amongst several individuals, may drop down or drop out altogether.
It does not measure talent or likeability, respect or fairness, and it does not intend to represent diversity or balance. All it does is note power, used for betterment — or detriment — in the English speaking comic book world.
The list was created in consultation with a number of senior figures in the comics industry, and I thank them for their help. Although because they all disagree, they'll all think the final list is wrong, too.
If you really hate this list, then do the obvious thing. Write your own. Otherwise, watch for new batches every day…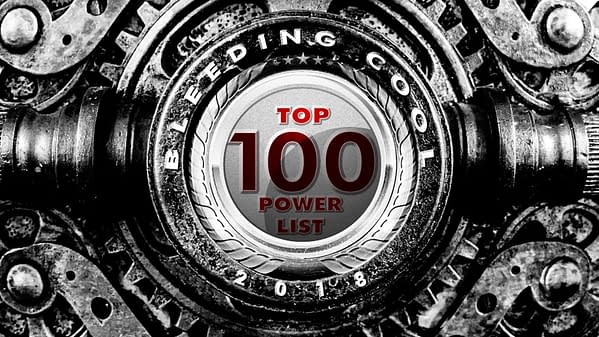 26. Frank Miller. Possibly the best known living comic book writer and artist, through a mixture of films based on his comics and using his name in their titles, as well as the legacy of Dark Knight Returns, his name attachment to The Master Race – however nebulous his involvement with the comic book actually was – saw it rocket to the top in sales. Having got health issues under control, Miller has more Batman and Dark Knight plans for DC with Superman: Year One on the way, and more Sin City and 300 plans for Dark Horse which are likely to keep him near the top of this list if they continue to sell in the same way.
27. Sana Amanat. Marvel Vice president of Content and Character Development Director, co-creator and editor of Ms Marvel, she is a very strong voice internally and Marvel and a face for the publisher to the rest of the world. Her ten years at the publisher combined with her media profile and involvement with new projects at the publisher reaching out to new audiences, with Marvel Rising and Secret Warriors most prominent now. She did much to counter criticism of CB Cebulski when made Editor-In-Chief as well.
28. Bobbie Chase. VP and Executive Editor of the Zoom and Ink lines at DC Comics, that has been running for over a year and will see publication very soon. DC Comics has invested in these imprints as the future for the line, taking successful writers from Young Adults and Children's novels, teamed them with established comic book artists and given them the keys to the DC Comics kingdom, and incorporating the uber-successful DC Super Hero Girls line as well. If DC Comics has 2020 vision, this is it…
29. David Steinberger. In charge of ComiXology, the digital comic book distributor and publisher, the market has been. ComiXology has proved a very strong way for people far from comic shops or bookstores to connect with their favourite stories, and has seen the likes of The Wicked + The Divine, Ms Marvel and Critical Role target a far larger audience than print would have allowed them. And ComiXology's creation and promotion of such titles has changed the rules by which people can successfully publish.
30. Bob Harras. Editor-In-Chief of DC Comics line. This is more of a managerial role than at rival publishers, but Harras has a strong reputation for keeping the comic books coming out on time and enforcing stringent penalties for those who don't. A strong relationship with Jim Lee going back decades, Harras plays certain favourites among the creative teams and ensures Scott Lobdell will always have a comic to write at DC if he wants one.
See you again later today. one and all. And keep up with this handy-dandy Top 100 Power List tag.