The Bleeding Cool Top 100 Power List 2018 Countdown: #36-40
Almost two-thirds of the way? Who would have thought?
Every year, Bleeding Cool runs its Top 100 Power List of members of the comics industry. And every year we get told how wrong we are. Somehow, it's always for completely different reasons and from completely different directions. Why was X in when Y was not? Why is Z is high when W is so low? And neither U or T should be on this list after that incident involving V… and condemning us for being either infested with SJW virtue signalling or providing platforms for fascists – and sometimes simultaneously. Man, I don't know how Time Magazine manages.
But that's part of the process. This attempt to list the most powerful people working in the English-speaking comic book marketplace is, of course, flawed. It is judged by all manner of attributes, the ability to influence what comics exist and sell, but also the willingness to use that power in the industry to affect things, and the ability to retain said power if a job is taken away. Which is why you will see a number of people on a higher spot than their bosses.
The Power List rewards those who combine roles, creator, publisher, distributor, retailers, those who are double and triple threats, and also where power is concentrated in one person rather than being spread out among many. Some powerful organisations or groups, where power is diffused amongst several individuals, may drop down or drop out altogether.
It does not measure talent or likeability, respect or fairness, and it does not intend to represent diversity or balance. All it does is note power, used for betterment — or detriment — in the English speaking comic book world.
The list was created in consultation with a number of senior figures in the comics industry, and I thank them for their help. Although because they all disagree, they'll all think the final list is wrong, too.
If you really hate this list, then do the obvious thing. Write your own. Otherwise, watch for new batches every day…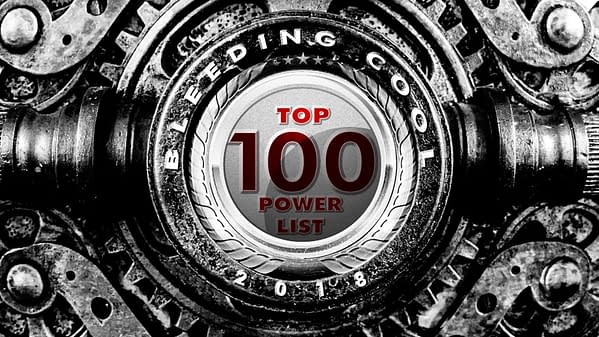 36. Nicola Barrucci. Dynamite Entertainment of New Jersey is the largest comics publishing company owned by one man – Nicky. He also owns Dynamic Forces and is rumoured to have fingers in comics-focussed websites as well. With a mixture of strong licenses and pulp reimaginings of the public domain, Barrucci maintains a solid marketplace share and comic book indusry presence.
37. Jeph Loeb. Writer of Teen Wolf and Commando, his first love was comics, and he managed to combine both careers and loves on Smallville and Heroes before becoming the go-to man for Marvel TV series. Head of Marvel TV, and the shows he managed to get on air heavily impact Marvel Comics offerings for the year. The film/TV divisions being at loggerheads has diluted his impact, as has the Netflix dropping of shows, but the upcoming Disney Plus and Hulu possibilities may reverse that.
38. Ross Richie. Publisher of Boom! Studios, now co-owned by Fox Studios, he continues to grow the company as they publish a mixture of originated work, licensed work and celebrity name titles, all with an eye to future media exploitation. They have continued the Adventure Time titles past the lifespan of the show, grabbed a bunch of licenses previously associated with Dark Horse and was canny enough to make sure something as successful as Lumberjanes was not creator-owned….
39. Kieron Gillen. Writer of smash digital hit The Wicked + The Divine with Jamie McKelvie. and has just followed it with Die with Stephanie Hans, as well as Star Wars for Marvel, Uber and Cinema Purgatorio for Avatar and Pete Cannon for Dynamite, he is a writer much in demand and able to pick and choose his future.
40. Mark Doyle. The man behind Black Label and the smash hit that is Batman Damned at DC Comics – and all that came with it, as well as Vertigo and Young Animal. If he can find a future for Black Label post-Batpenis, DC could be his. Being married to Boom Studios' Executive Editor Jeanine Schaefer also given him access to a much wider group of talents than he may have encountered by himself.
See you again tomorrow. Happy Postboxing Day one and all. And keep up with this handy-dandy Top 100 Power List tag.