The Final Hours Of Voting In The Harvey Awards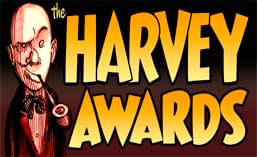 Tonight is the last night to vote in the 2015 Harvey Awards, to be presented at the upcoming Baltimore Comic Con.
So if you are a comic book creator, write, draw, ink, color, letter, design, edit, or are involved in the creative aspect of comics, you get a vote.
Or if you don't, you don't.
I apparently do.
I really should go and vote. So I will.