The Hamilton Graphic Novel That Never Was, Sadly
Today sees the release of the Hamilton stage musical on Disney Plus, with the Broadway cast and starring its writer and producer, Lin Manuel Miranda. But it's not the only version of that play we could have seen. Comic book creator Brent Schoonover, best known for his comic book work on Captain Marvel, Ant-Man and Batman, shared a piece of never-seen comic book history, the graphic novel adaptation that never was. He writes "Few years back I had a shot at doing the @HamiltonMusical graphic novel. Sadly it never worked out. They tried to move ahead without using actor likenesses but decided that wasn't the course to go. Still crazy having my work in front of Lin- Manuel Miranda. Deadline was crazy tight for designing characters and doing sample pages. And I was also working on another gig. Wish I more time to do them right. @wastedwings [Kelly Fitzpatrick] did an amazing job coloring my rushes pages though. Would of been a fun gig. Happy #HamiltonFilm day everyone!" Here's an initial look at what it might have been.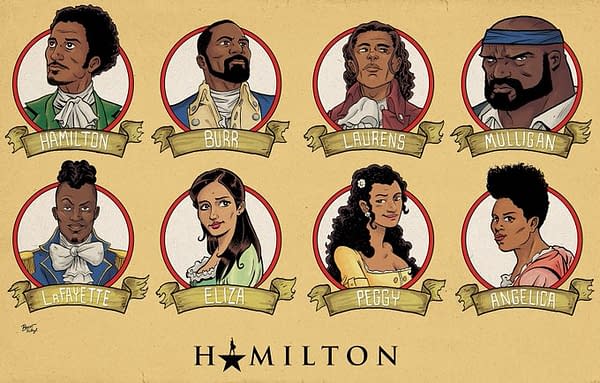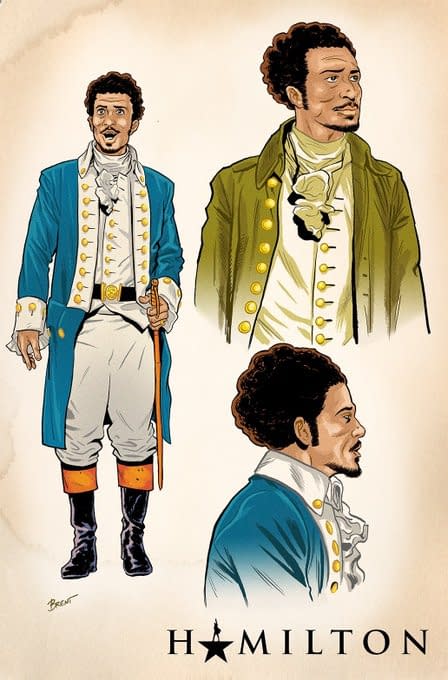 Hamilton: An American Musical tells the story of American Founding Father Alexander Hamilton. Inspired by the 2004 biography Alexander Hamilton by Ron Chernow, the show's music draws heavily from hip hop, as well as R&B, pop, soul, and traditional-style show tunes. The show also casts POC actors as the Founding Fathers and other historical figures, described as being about "America then, as told by America now." After massive commercial and critical success, it has travelled the world – I saw the London performance a few years ago – and a 2016 filming of the Broadway show was released on Disney Plus today.
Which is a very good excuse for Brent to release the original Hamilton plans for what once was, and you never know, may one day be again.