The Image Comics Expo Announcements That Went Missing In Action, Lost And Found…
Over the years, Image Expo has showcased plenty of their now-familiar comic book titles for the first time. But some, it seems, never made it from announcement to publication. Black Road is out in April. Snotgirl is out in June. Throwaways and Blue Monday in July. We may see some in the upcoming August solicitations. But some others are yet to be scheduled.
Here's a look at what once was – and still could be. Projects get delayed and moved around all the time. This is just an attempt to collate information for those who want it, sourced from all manner of places.
The collection of previous Blue Monday comics, Blue Monday: Germfree Adolescents, announced at Image Comics July 2016
For the first time ever, Chynna Clugston Flores' entire original catalog of BLUE MONDAY comics are collected together in one, massive volume from Image Comics in BLUE MONDAY: GERMFREE ADOLESCENTS. Experience the Pepsi-fueled misadventures of Bleu L. Finnegan, comics' favorite blue-haired, Buster Keaton-obsessed, Adam Ant-worshipping teenager from the very beginning. GERMFREE ADOLESCENTS collects in order all of the previously-published miniseries and one-shot comics, along with all of the rare short stories of the critically-acclaimed comedy that has often been compared to the comics work of Rumiko Takahashi and the John Hughes/Molly Ringwald film collaborations of the 1980s. This collection also includes tons of behind-the-scenes material you won't want to miss.
This will follow the Blue Monday trades that begin in July. "Germfree" will be volume 5, out in Spring 2017. And Chynna Clugston Flores' Scooter Girl also announced at Image Expo July 2015.
a love letter to southern California mod and scooter culture. SCOOTER GIRL is Chynna Clugston Flores' screwball romantic comedy classic. Ashton Archer has it all. He's the biggest man on his high school campus, he's got a huge family fortune waiting for him, and his closet and garage are full of the coolest accoutrements available, from flashy suits to swank shoes to a slick Vespa scooter. It appears that nothing can go wrong for this hard-hearted hottie—that is, until the confident and fashionable Margaret Sheldon motors by on her Lambretta. At that moment, Ashton's life takes a turn for the worse. Everyone at school suddenly hates him, his father declares bankruptcy, and his scooter gets run over by a truck. Even high-tailing it out of town does him no good, because wherever he goes, Margaret follows. How can he get out of the black curse this woman has placed on his life? By getting her to fall in love with him, or else! "I am extremely excited to be announcing that Blue Monday and Scooter Girl are back to print with Image Comics," said Clugston Flores. "These series are near and dear to my heart, I'm hoping that not only new readers will embrace them, but that original fans will be pleased to see these sharp new collections as well as brand new Blue Monday material. There's a lot in store, a lot of laughs, and a hell of a lot of fun to be had!"
This should be out in the Winter of 2016.
UPDATE: Chynna writes, confirming and expanding, saying,
Volume one of Blue Monday will be out July 27th, again the whole lot will be in standard comic book size and color this time around. The following volumes should be hitting the racks about every three months after that. Vol. 2 in October, vol. 3 in January and vol. 4 in April. I'm planning to schedule the new series' release around the time of vol. 4 coming out, if not sooner. A lot of the original digital files had been lost over the years for the earlier work, so I've been hunting down what I can and scanning pages, which has been a challenge, but we're looking good. The remastered versions are coming first. In July, October, January and April. Thieves like Us #1 around April. Germfree Adolescents should be after Thieves Like Us so it can all be included in the collection.

Scooter Girl is scheduled for December. Sunset Park and Slave Punk by Ron Wimberly were announced at Image Expo July 2015.
Something's up in Sunset Park, and it ain't just the rent. Are Brooklyn's gentrifiers more than just economic vampires? A cartoonist draws a macabre story from a collection of notes, journals, movies and other ephemera he finds boxed, abandoned in the studio he's recently rented along the latest frontline in gentrification's relentless march over Brooklyn in SUNSET PARK. Among the boxed items are what could be a copy of an old Warhol vampire film and what looks to be a journal belonging to Jean Michel Basquiat. SUNSET PARK is an all-new, limited series by Ron Wimberly coming from Image Comics.

Ron Wimberly teased a second forthcoming project with Image Comics, SLAVE PUNK: WHITE COAL. SLAVE PUNK tells the story of how a genius slave defied the powerful King Cotton and ignited the Civil War in an attempt to end slavery.
Ron also announced a remastering of his Vertigo book Prince Of Cats at Image Expo 2016, which will come first in September. Sunset Park should be early 2017 with Slave Punk to follow, either late 2017 or early 2018.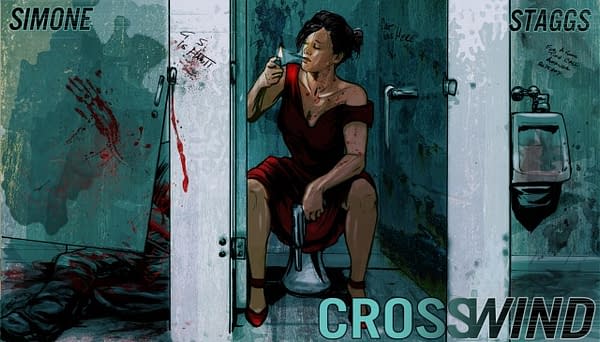 Crosswind by Gail Simone and Cat Staggs, announced at Image Expo 2015.
CROSSWIND is the cutting edge story of a suave, sharp hitman from Chicago and a seemingly unremarkable housewife from Seattle, and how they accidentally end up switching lives. It's a suspense fantasy full of sex, violence, and the blackest of humor. Written with sardonic wit by Gail Simone and stunningly realized by Cat Staggs, CROSSWIND will be one of the most talked about books of the year. Simone assured fans: "This is the comic that might make Dr. Wertham come back from the dead to try to ban comics again."
But which year? No schedule, but we have one page from earlier.
I am told to expect an announcement very soon.
The Other Side: Deluxe Edition by Jason Aaron and Cameron Stewart was announced at Image Expo July 2015. New material is being added to the volume, looking to late 2016 or early 2017 for release. Heartless by Warren Ellis and Tula Lotay was announced at Image Expo July 2015.
Legendary comics writer Warren Ellis teams up with artist Tula Lotay again for a modern folktale about love, revenge, and the deadly grip of the supernatural in, HEARTLESS. A female musician returns to northern England, where her family owned a little cottage in the middle of a forest. She wrote her first album there, and she's "going back to the countryside," as musicians used to, to write her next one. But the forest doesn't want her there. She's returning to face her demons—one in particular—and put herself back together, but the forest remembers what she did, and the devil wants his due. Ellis said of the new project: "I wrote this for Tula, and it's full of all the stuff we love: the spooky stories, the landscape, the folklore, and the things that haunt us."
In May, Ellis said "And for those who were asking, Tula and I have broken ground on HEARTLESS, but we're working at our own pace on it, and you'll know when we're ready." Start looking at for it around the beginning of 2017, but December is always possible. Hadrian's Wall by Kyle Higgins, Alec Siegel, and Rod Reis. Announced at Image Expo July 2015, it was due in November 2015. We do have one page…
From the creative team behind the critically-acclaimed series C.O.W.L.—Kyle Higgins, Alec Siegel, and Rod Reis—comes a new psychological thriller in HADRIAN'S WALL, where the secrets of everyone involved are as dark as the space that surrounds them. The series is set to launch from Image Comics this November 2015. In 1983, tensions between the United States and the Soviet Union culminated with nuclear detonations in New York City and Moscow. In the decades following, the two superpowers found peace through a partnership focused on building the first colony in space. But now, seventy years later, a new Cold War simmers… between Earth and that very Colony. "With C.O.W.L., Image afforded us the tremendous opportunity to launch a creator-owned series focusing on dark, complex, morally ambiguous characters in a time of great change," said Higgins. "We're thrilled to continue that trend with Hadrian's Wall, and even more thrilled to continue our partnership with Image." When a crewmember dies aboard one of Earth's survey ships, HADRIAN'S WALL, investigator Simon Moore looks to determine whether foul play is involved. However, once on board, it doesn't take Simon long to realize that few things are what they seem… including the identities of the crew and the real reason HADRIAN'S WALL is on the edges of Colony Space. With every crewmember a suspect, and tensions between Earth and the Colony mounting, the fate of both worlds may come down to one man and a ship.
And I am told I will see it in September 2016 Image solicitations. Expired by Jimmie Robinson and Richard Pace, announced at Image Expo July 2015.
Written by Jimmie Robinson (THE EMPTY) with art by Richard Pace, Shadowline/Image Comics also announced an all-new, five-issue supernatural crime series, EXPIRED. In EXPIRED, a homeless war vet ends up helping a ghost who is connected to an old coin-operated parking meter. He can only see and communicate with her as long as he feeds the meter. He has to solve the murder before the city replaces the meter with a modern version — and before the killer finds him, but who's going to believe a homeless guy who looks like he's talking to himself?
No sign. I am told the plug was pulled on this last September after a cash flow crisis. One issue has been completed. But the project has… expired.

Scott Snyder and Jeff Lemire's A.D. After Death?
New York Times bestselling writer Scott Snyder (WYTCHES, Batman) and artist Jeff Lemire (Trillium, Sweet Tooth) come together to launch AD: AFTER DEATH, from Image Comics this November 2015. AD: AFTER DEATH will be set in a near future where death has been cured and one man must come to grips with what comes next.
Announced at Image Expo January 2015, it is expected in in November 2016 after increasing in size and scope. There's a fifteen page preview in Image+1 #1 if you want to check it out.
Heaven by James Robinson and Phillip Tan. Announced at Image Expo January 2015.
James Robinson (The Saviors) and Phillip Tan (SPAWN, Uncanny X-Men) team up for an all-new space opera series titled HEAVEN. HEAVEN introduces readers to a distant future where the forces or man and alien combined have used religion to conquer this universe and are now ready, about to invade the next one—Heaven itself. The "Good War" between man and angel will span galaxies and dimensions, building to a final conflict that threatens to negate all of reality itself. Along the way many players on both sides of the war will be featured; soldiers, spies and politicians all with different goals and agendas even as their two distinct and differing realities explode around them.
Was planned for the end of last year. The Ludocrats, by Kieron Gillen, David Lafuente, Jim Rossignol, and Ricardo Venancio.
Today, Image Comics announced THE LUDOCRATS, a new comic by Kieron Gillen (THE WICKED + THE DIVINE, PHONOGRAM), David Lafuente (Ultimate Comics: Spider-man), Jim Rossignol, and Ricardo Venancio. "The Ludocrats is a decade-in-the-making opulent fantastical comedy," said writer of THE WICKED + THE DIVINE and PHONOGRAM, Kieron Gillen, "This is a book which has hyperbole as its baseline, and considers the impossible as an aim only fitting for underachievers. It'll change your life. Primarily by letting you own a comic called The Ludocrats, where BARON OTTO VON SUBERTAN and PROFESSOR HADES ZERO-K are the last defenders of a ludicrous aristocracy against the insipid forces of normalisation."
Announced at Image Expo January 2015 and planned for last summer. Kieron did say back in October….
But right now expect it more summer of 2018. Announced at Image Expo January 2015, Darwyn Cooke was to have launched Revengeance in June 2015.
REVENGEANCE is a psychological thriller with darkly humorous overtones. When Joe Malarky is faced with a criminal tragedy, he sets out to make things right on his own. What follows is Joe's odyssey through the underside of the city and the madness that seems to drive his crazy world.
It was apparently, put on the backburner… and in the light of earlier news is unlikely to be revisited.
Tadaima by Emi Lenox, announced at Image Expo January 2015, was planned for the end of 2015.
Writer and illustrator Emi Lenox (EMITOWN) takes readers along on her personal journey back to Japan in a touching and in-depth look at Japanese roots and cultural influences in a new graphic novel, TADAIMA. Throughout childhood, Emi visited her Grandmother in Japan frequently. But through the years of high school and after, she hadn't been back in nearly twelve years. Sadly, within those twelve years, both her Japanese grandparents passed away. TADAIMA is a travelogue documenting a trip back to Japan with her mother for a memorial service to renew the sobota, a wooden grave marker, at her grandparents' tomb in Fukushima. Touching on Japanese spirituality and cultural differences, TADAIMA is more than a book about landmarks and foreign cuisine. It's about family.
Like AD, this has grown in scope and size so is looking more like a Spring 2017 release.
Great Beyond by Nick Spencer and Morgan Jeske was announced at Image Expo 2014.
In the GREAT BEYOND, featuring art by Morgan Jeske (ZERO, SEX) a "post-life community" values the size of your bank account over morals and values—and your place in the hereafter is determined by it. But then polite society is rocked by the apparent suicide of one of its own. – See more at:
As was Paradigms by Nick Spencer and Butch Guice
A contemporary fantasy epic with a spy thriller aesthetic, PARADIGMS will showcase art by Butch Guice (Captain America, Superman) and explore a world that exists beyond, or more specifically behind, ours. In the shadows where magic is real, warring clans of sorcerers battle for power and the favor of their gods.
As was Cerulean by Nick Spencer and Frazer Irving
A sci-fi thriller of dead worlds, lost secrets, and hidden dangers, CERULEAN, with art by Frazer Irving (MORNING GLORIES, BEDLAM, Batman), follows the last survivors of the destruction of Earth as they struggle to rebuild civilization on a distant planet full of its own mysteries.
None happened. Spencer tells me they are all on indefinite hold, mostly due to various scheduling conflicts and unexpected things coming up on all sides. But The Fix is out and ahead of schedule, issue 2 dropped this week and was marvellous.
Restoration by Bill Willingham and Barry Kitson was announced at Image Expo 2014. It was to have been written after Fables concluded, but no sign yet.

Alone by J. Michael Straczynski and Bill Sienkiewicz was announced at Image Expo 2013. No sign yet. But he said would not be solicited until all six issues were completed.
Revival of The Book Of Lost Souls with JMS and Colleen Doran also announced at Image Expo 2013 didn't happen.
Crime And Terror by Scott Morse and Steve Niles, was announced at Image Expo 2012 planned as an ongoing series for release that year.
"It's filled with episodes detailing the events in the life of a detective named Mike Fallon who's going through some serious personal problems. On top of THAT, we'll be smacking you upside the head with a bunch of short, stand-alone stories: noir, horror, sci-fi, whatever we want. All drawn by me, some written by me, some by Steve. On top of THAT, we'll be throwing in new prose stories with spot-illos by me. Seriously, monthly is the plan, and every month, you'll cry with glee as you scream your face off." – Scott Morse.
It never happened. Steve tells me that nothing is happening with it as far as he knows… but some of it was serialised in Creator-Owned Heroes.
And with that… we're kinda caught up!