During their presentation at the Diamond Retailer Breakfast at New York Comic Con this morning, Titan Comics announced a new comic hitting stores in February billed as… The League of Extraordinary Gentlewomen?! No, it's not from Alan Moore and Kevin O'Neill… so call it an unauthorized sequel to League of Extraordinary Gentlemen? Of course, League of Extraordinary Gentlemen itself was an unauthorized sequel for various public domain characters. But all of that is beside the point.
What Titan is really offering is a follow-up to Adler, Woman of Mystery, as the titular Irene Adler teams up with "famous female faces from science, history, and literature" to take on villain Moriarity.
From writer Lavie Tidhar and artist Paul McCaffrey, the first issue is set to hit stores in February.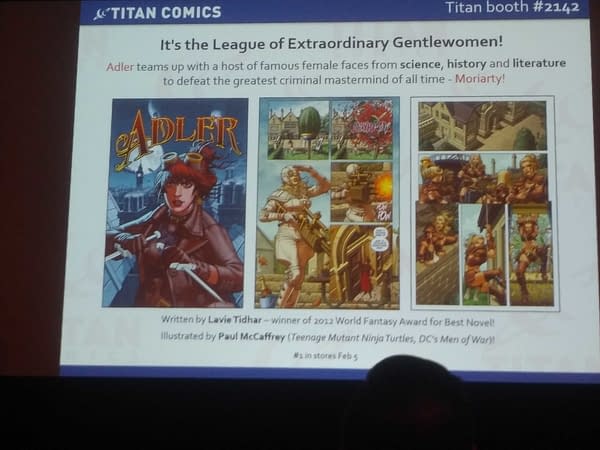 Somebody ought to tell Lavie Tidhar though:
Hey, it's news to me, but you never know! https://t.co/rELa5MQFEJ

— Lavie Tidhar (@lavietidhar) October 3, 2019
Keep an eye on the NYCCBreakfast tag for more breaking news from the Diamond Retailer Breakfast, where Bleeding Cool Ace Reporters Sofia Annunziata and Richard Epstein are on the scene, and as always, make yours Bleeding Cool.
Enjoyed this article? Share it!