The Man Who Got Darwyn Cooke To Sign Over Twice The Maximum Comics Allowed, Then Got A Bit Snippy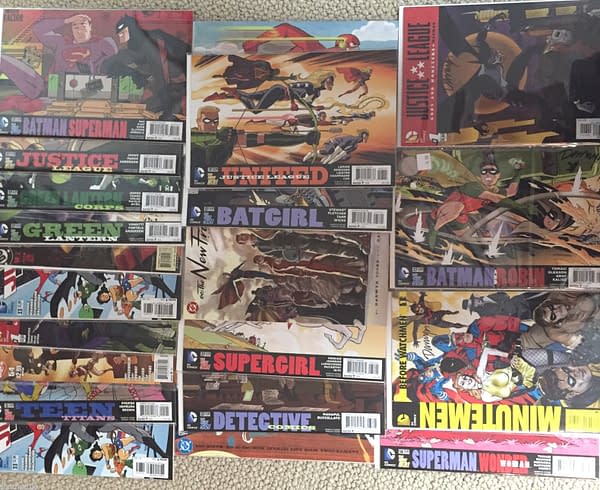 This is from a listing on eBay, titled, "21 item Darwyn Cooke Lot – Variants, Signed, TPB #DumpDarwyn"
If you are a fan, buying this lot is priceless. It will save you the trouble of standing in a line for over an hour to have Darwyn sign your books and when you get to the front, do you know what happens? He makes all those around feel embarrassed and awkward as he rants that he should charge you $30 per signature and asks loudly if people think he is retarded because he knows what you are going to do with these signed comics (yes, I'm sure that I'll make a veritable fortune on this auction… LOL). Then, if you are like me, just stand there in shock and silence, hoping that he will calm down.
I talked to the seller on-line who told me,
When I got to the front and he saw some of my books were window-bagged, he began ranting loudly that he should charge $30 per signature and asked if people think he is retarded (his word choice, not mine) because he knows what they are going to do with these signed comics. I was embarrassed for both him and me as well as the others in line who just witnessed this guy blow up. I just stood there in shock and silence. The only thing that I managed to say is that I was not going to argue with him.

I tend to be sensitive so this experience sort of ruined the rest of the day for me. I took the rest of the books that I had planned on getting signed back to my car. For the rest of the day, I tried to enjoy other aspects of the con that I had paid over $200 for tickets, parking, etc.
As John Stewart has occasionally said, three things here.
The "window" bag is usually used by people looking to get the book signed. Darwyn does charge to sign books to be CGC slabbed. And the fan does seem to have sold a few comic books that he had signed at events then slabbed, recently on eBay.
Secondly, he had 21 books. And Darwyn did sign them all, even though he doubted the veracity of the signee. Even though the line has a ten book maximum.
And thirdly – he did actually sell them all on eBay!
So it may make for an amusing eBay listing. But there are a few elements that don't quite add up.