We ran the Insanely Big After Party List for all of New York Comic Con 2019 earlier this week. But we're splitting it up for each night, for easier attendee access. This is the list for Saturday alone… though expect some of the events to keep going into Sunday…
Saturday 5th October
Creator After Con Network's Annual After Con Networking event. bringing together comics creators to connect, collaborate, and discuss their medium. Welcome to Writers, Illustrators, Pencillers, Inkers, Colorists, Letterers, Editors, Publishers, Printers, and all facets of the industry. Discover your next, or first collaborator. Twins Pub upstairs – 421 9th Ave, 8 pm
Marvel Comics – Talent Celebration. Invite only for Marvel Comics creators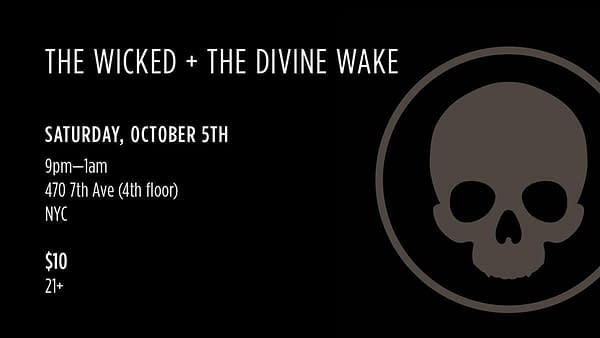 The Wicked + the Divine Wake,
Kieron Gillen and Jamie McKelvie DJing.
470 7th Avenue,
$10 General Admission,
$40 Valhalla access. 21+
9pm-1am.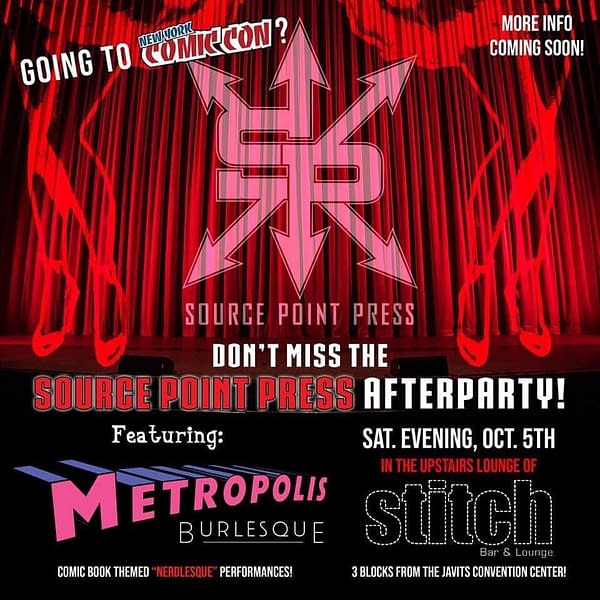 Source Point Press Afterparty,
drinks and burlesque, STITCH Bar & Lounge,
247 West 37th Street. RSVP.
Harry Potter Trivia Night, Stone Creek NYC, 140 East 27th Street, 5-6.30pm. Free.
#SaveDaredevil Fandom Without Fear Meetup, Social Drink and Food, 570 10th Avenue, 6-9pm. Free.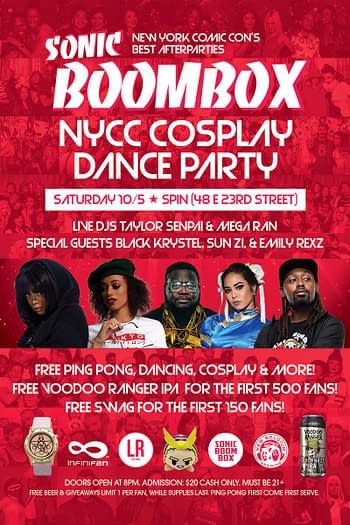 Sonicboombox NYCC 2019 Cosplay Dance Party, Spin, 48 E 23rd St, 8pm-2am, $15 advance, two for $20, $30 cash on door.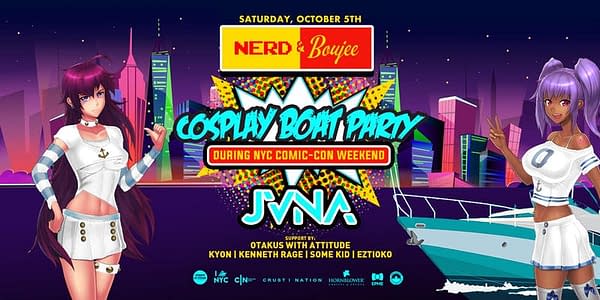 JVNA: CATCH ME feat. OWA "NYCC Yacht Cruise Boat Party" –, Statue of Liberty, the Brooklyn Bridge & many more iconic views of NYC, Pier 40 Hornblower Cruises, 353 West St. Boards 9pm, departs 10.30pm, returns 2am. 21+
RTNY NYCC After Party 2019, Carragher's, 228 West 39th Street, 7:30 PM – 11:30 PM. $10 inc first drink.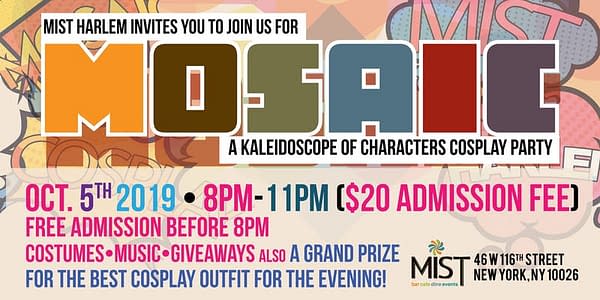 Mosaic Cos Play Party, Mist Harlem, Event includes cosplay contest with cash prizes $20 but free before 8pm. MIST Harlem, 46 West 116th Street, 8pm-midnight.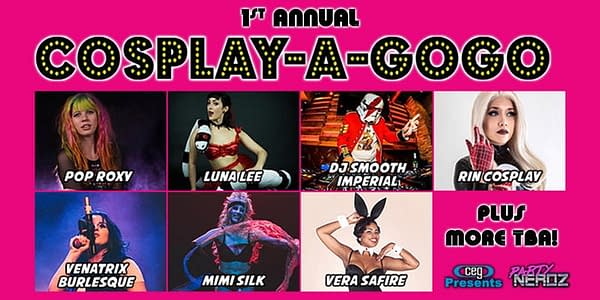 Comic Con After-Party with Cosplay A Go-Go, Cutting Room, 44 East 32nd Street 9:30pm – 12.30am, $20
NYCC 2019 Comics & Cocktails Party, In Partnership with the Black Gotham Experience, Blerd City Con, & the New York Cosplay Network we're hosting Comics & Cocktails 2019, Death Ave, 315 10th Avenue, 8:30 – 11:30 pm, $25 for one, $45 for two, inc two drinks per guest.
Funimation Experience @ Lightbox NYC – A multi-sensory experience with motion and still art for One Piece. Giveaways while supplies last. Lightbox ,248 W. 37th St. 8pm-midnight. Free
Geek Girl Brunch – Geek ladies can meet up to talk fandoms, network and just have fun. First attendees get gift bags, all get raffle tickets, tasty treats and custom cocktails. Houndstooth Pub, 520 8th Ave. 7pm-midnight. $10.
Johnnie Walker A Song of Ice and A Song of Fire – Game of Thrones blend tasting pop up, Crossing Arts Galley – 559 West 23rd St, 1 to 7 pm. 21+ RSVP.
NYCC Official Cosplay After Party: Anime Fest 2019 Cosplayers, anime fans, and gamers can enjoy incredible EDM remixes and themes from their favorite series like Overwatch, Legend of Zelda, and Dragon Ball Z. Cosplay is encouraged, but not required. Hudson Mercantile, 500 West 36th Street. $10. 21+. 8pm-midnight,
An Evening in the Pensieve, is a progressive dance party in honor of Mugglenet's 20th anniversary. We will kick off the night with the hottest jams from the year of our founding, progress through the 2000s and 2010s, and close out with the chart-toppers of today. The glamour of the Yule Ball meets the energy of a Quidditch match in a night of cocktails, dancing, and reminiscing. Hard Rock Cafe, 1501 Broadway 21+. 8:30pm. $25
Summoners War Community Event. Free food, drinks, merch and raffle giveaways fromHard Rock Cafe – 1501 Broadway, 2-7pm. Free
DC Universe Headquarters – DCU subscribers get brunch, talent meetups, screenings, signings and private events. 447 W. 36th Street – third floor.
Enjoyed this article? Share it!