The New York Comic Con #NYCC Sunday Only Party List, 5th October 2019
We ran the Insanely Big After Party List for all of New York Comic Con 2019 earlier this week. But we're splitting it up for each night, for easier attendee access. This is the list for Sunday alone… though expect some of the events to keep going into Monday…
Sunday 6th October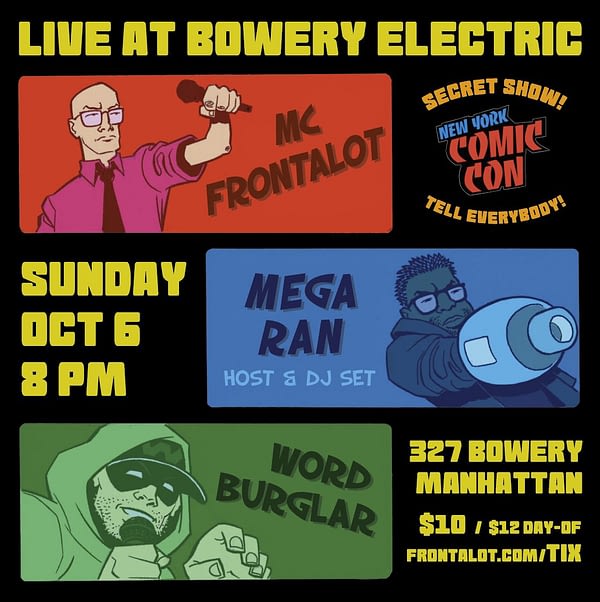 Nerdcore After Party featuring MC Frontalot, Mega Ran & Wordburglar at The Bowery Electric, 327 Bowery, with the NY Debut for Wordburglar's new album, SpaceVerse.
CIB x Mr. Robot Present fsociety Can Release. f society beer release, 4 packs for $18 and screening of the fourth season premiere 2pm, screening starts at 5pm. Coney Island Brewery, 1904 Surf Ave. Free, till 10pm.
All Nerds Night: End of NYCC 2019, Michael's Cosplay, O'Lunney's Times Square Pub, 145 W 45th St, 6pm-late.
Jobber Tears Presents Hell in The Cell Viewing Party, Legends Bar, 6 West 33rd Street, 7-11 pm
NYCC Sunday After Party, $100 COSPLAY CONTEST. Hosted by Pandii Marie Hamilton, Legends Bar, 6 West 33rd Street, Free, $5 advance or $10 on door. 21+
DC Universe Headquarters – DCU subscribers get brunch, talent meetups, screenings, signings and private events. 447 W. 36th Street – third floor.