The Punisher isn't generally known for his skills as a philosopher or a poet. He's more well-known for his skills with bullets and murder. But nevertheless, Frank Castle waxes philosophical in this preview of War of the Realms: Strikeforce: Dark Elf Realm #1. Frank is having a conversation with Freya after being recommended by Captain America for an important role in the War of the Realms…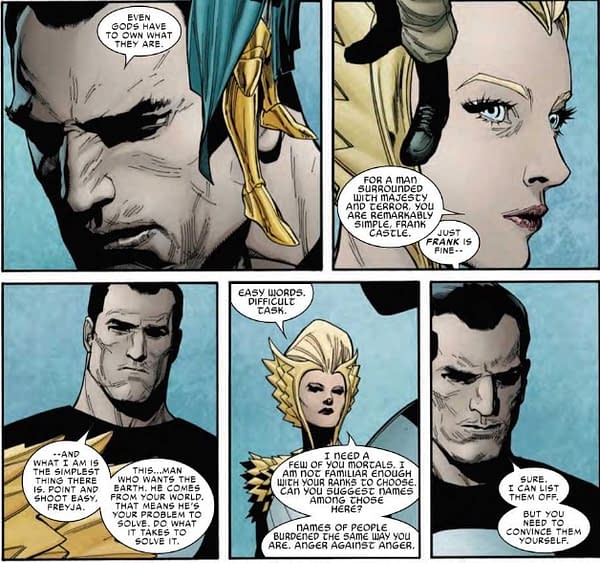 Frank is happy to reveal exactly which Marvel Heroes are messed up enough to join a team with the Punisher: She-Hulk, Ghost Rider, and Blade.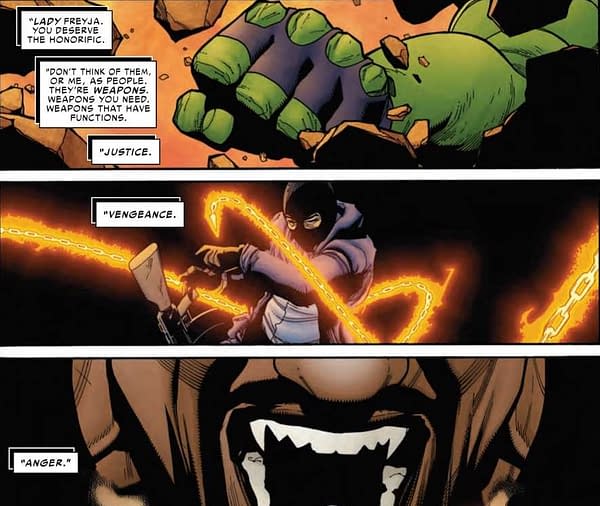 But that's not all. In describing himself, Frank decides to share some wisdom on exactly what hate leads to…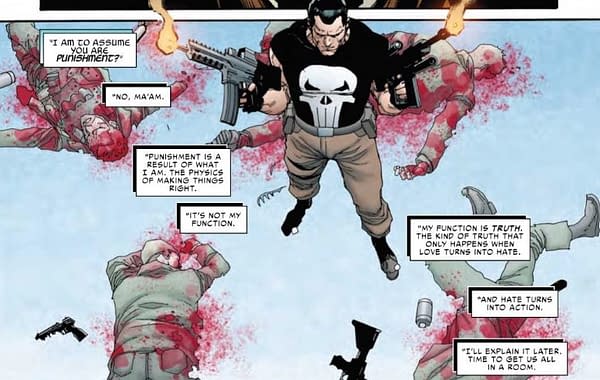 Though he does appear to have a more complimentary view of it than Yoda.
War of the Realms: Strikeforce: Dark Elf Realm #1 hits stores on Wednesday.
War of the Realms Strikeforce Dark Elf Realm #1
(W) Bryan Hill (A/CA) Leinil Francis Yu
THE PUNISHER LEADS THE CHARGE TO SHUT DOWN THE BLACK BIFROST!
Deep in the swamps of Svartalfheim stands the Black Bifrost, Malekith's corrupted Rainbow Bridge and the only reliable means of travel between the realms with the true Bifrost in pieces. If the gods are going to stop Malekith's invasion, the Black Bridge must fall. With her son missing and husband injured, Lady Freyja must take up the challenge herself. But she won't go alone. Hulk (Jen Walters), the Punisher, Blade and Ghost Rider follow the All-Mother of Asgard straight into Malekith's home territory!
Rated T+
In Shops: May 01, 2019
SRP: $4.99
Enjoyed this article? Share it!