The Race to Save Humanity is On with 'Low' #22
[rwp_box_recap id="0"]
The story of Low may be coming to an end, but this epic science-fantasy saga does not appear to be prone to some of the short-comings that are plaguing certain media darlings at the moment.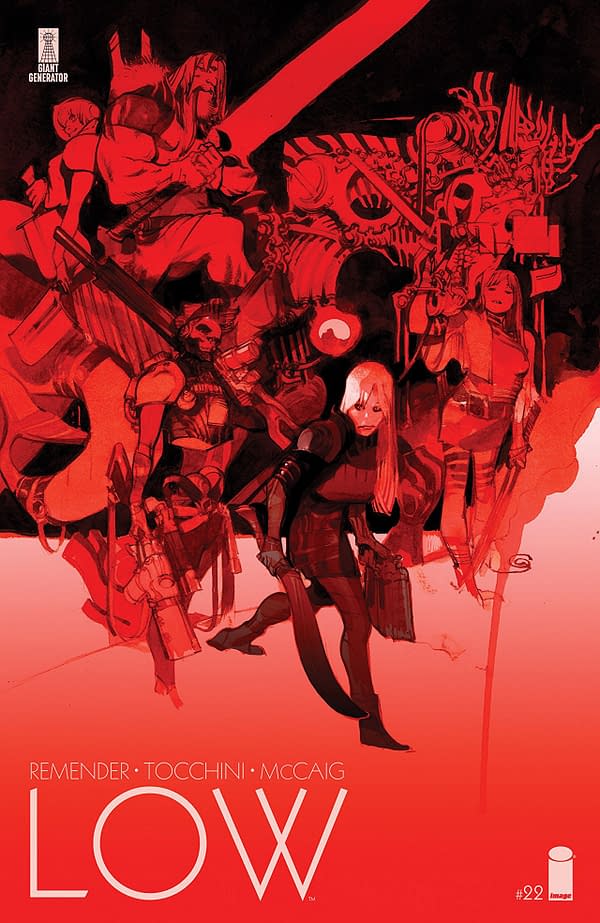 This story knows full well where it's going, and it really feels like Rick Remender's plot is fully capable of sticking the landing.
Low takes place thousands of years after the human race was forced to flee beneath the sea in order to save themselves from the scorched, radioactive hellscape they had created.
Before humanity fled the surface world, they launched probes into the cosmos, in hopes of finding a habitable world. One such probe made it back to earth, signalling that it had indeed found a new home for the human race.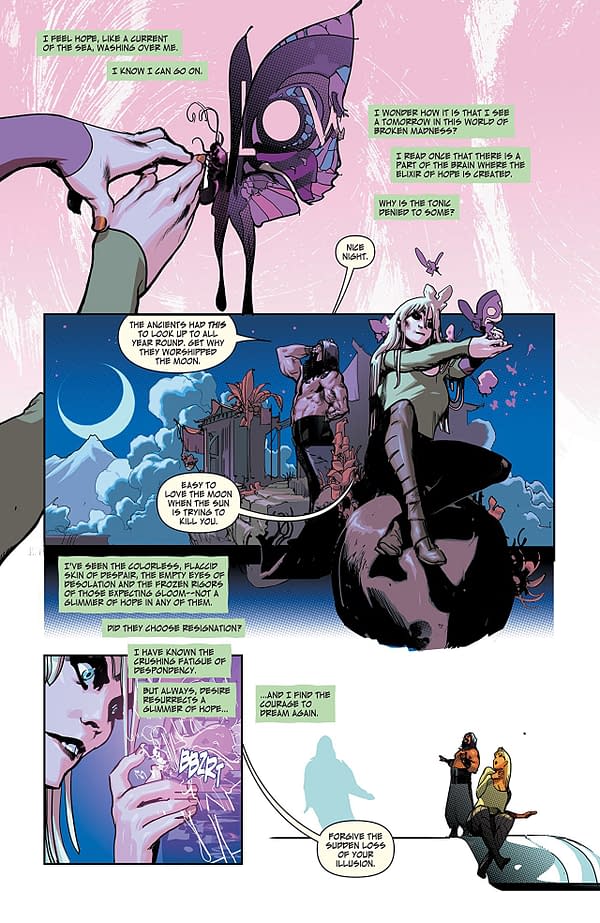 Stel Caine lives in the domed city of Salus, and set out to find the probe and return with its data. Salus, like all of the domes humanity escaped the surface in, was built to sustain life in space as well as the oceans.
What Stel did not know, however, is that a remnant of humanity did survive on the surface. They consider themselves superior to humanity, and call themselves the Burnt. They're also hell-bent on eradicating the last two domes, Salus and Voldin.
When Low #22 starts, Stel and her husband, Zem, are set free by a sympathetic Burnt scientist, who realized that people from the domes aren't savage primitives. She helps the couple navigate the labyrinthine tunnels of the surface city in hopes of gaining their freedom to save the last two domes.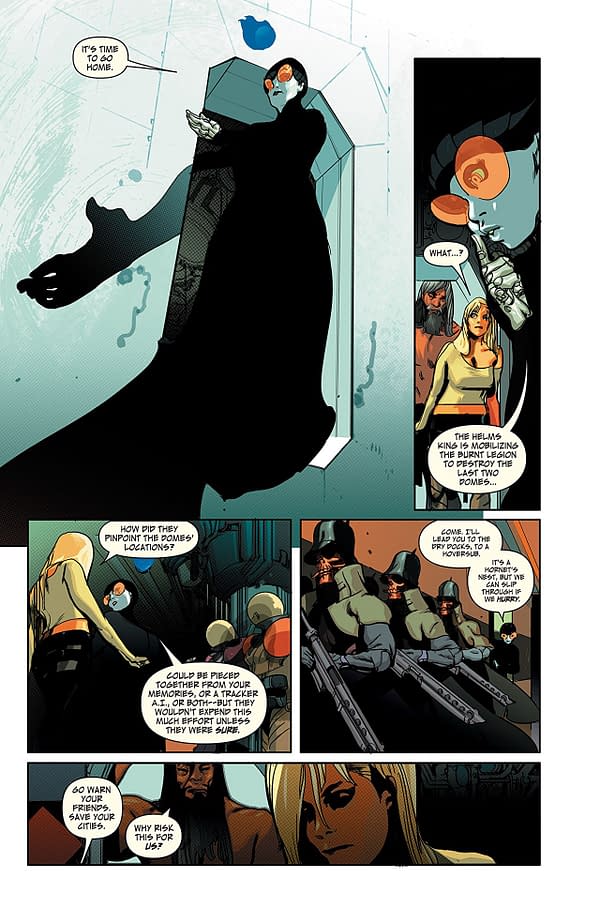 Things aren't going well there, though- Salus is quickly raising to the surface, which is angering the governing body of Voldun. War appears to be eminent.
Remender's script is richly draped with the mythology of this brave new world, where even oppressive regimes can be rendered inert through the unbridled optimism of Stel, the perpetual bearer of hope.
There's several references to old earth myths in this issue, and how myths and legends can change over millennia to adapt to the needs of the teller. It's bold, fantastic work, writ large and fearless in a world wracked with destruction.
Greg Tocchini's art is just flat out stunning- entire civilizations are brought to life, with many of the panels so jaw-droppingly gorgeous that they could grace a cathedral ceiling, if, say, the cathedral were dedicated to the fall of humanity. It's gorgeous to look at, ably graced by the rich color work of Dave McCaig.
There's only 4 issues left to this epic story, and I can't wait to see how it all unfolds. Low #22 is highly recommended for anyone who loves an amazing, expansive saga with strong female characters. When I think about the power the comics medium has to transport us to other worlds, this is one of the titles I'll be referencing.
SUMMARY: Script: Rick Remender; Art: Greg Tocchini; Colors: Dave McCaig; Letters: Rus Wooton; Editor: Briah Skelly; Published By: Image Comics; Release Date: May 15, 2019; Cover Price: $3.99; 26 pages.
[rwp-review-ratings id="0"]
[rwp-review-form id="0"]