The War On Comicsgate Trademarks Continues Apace
Back in August/September 2018, Vox Day, writer, editor, video game designer, blogger and alt-right activist, stated he was going to launch a comic book imprint called Comicsgate. Comics creator Ethan Van Sciver who has become rather associated with that hashtag, stated that Day had no right to the name, and that as Ethan then ran a YouTube show called Comicsgate Live, that he had the rights to make a comic book imprint called 'Comicsgate' rather than Day.
Within days of this conversation, Antonio J Malpica of Floridan comics publisher Scorn Comics, who was then fundraising for his comic book Detective Dead actually applied to register 'Comics Gate' as a publishing trademark. Filing with the US government stated that "Comics Gate appearing in the mark means or signifies or is a term of art for The unity between consumers and creators that have been ostracized in the comic book industry due to their political beliefs and/or from expressing their desires to read A-political storytelling in comics for people of color, creed, nationality, gender, identity, and people from all walks of life. in the relevant trade or industry or as used in connection with the goods/services/collective membership organization listed in the application."
However, in March of this year, the trademark application was marked as "abandoned because no Statement of Use or Extension Request timely filed after Notice of Allowance was issued." Antonio did not show them that he was using the trademark, was going to use the trademark, or asked for an extension.
So in March 2020, Preston Poulter, a Comicsgate critic, publisher and participant as Common Sense Press and Pocket Jacks Comics of Dallas, registered the word 'Comicsgate' for the field of comic books. He stated that only those who fulfilled his own standards of behaviour would be allowed to use Comicsgate on their comics or in their promotion.
But there have been more developments since – and I don't just the discovery and spreading of extremely graphic videos featuring Poulter, by those who didn't appreciate his criticism or plans for the trademark. There are three additions pertaining to the Comcisgate trademark that might be worth considering.
Firstly, Poulter has also added another registration for Comicsgate as a certification mark, the filing stating that it will be used for 'Comic Books conforming to the certification standards as indicated by a Certification Mark.'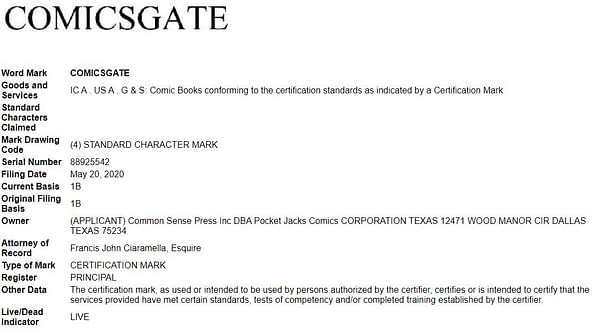 Secondly, that former abandoned trademark 'Comics Gate' has now been revived by Antonio Malpica, a statement of use has been filed and an extension granted by the US government. His registration is back in the game.

But Antony Romano of DarkGift Comics of North Middletown, New Jersey, is also is trademarking Comicsgate Comics, registering it for the field of comic books and graphic novels.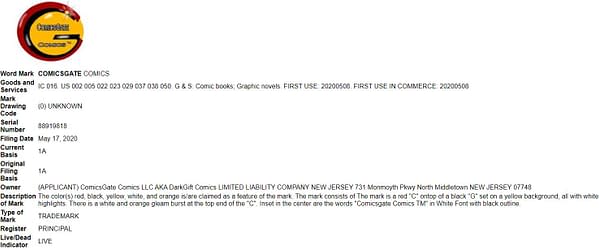 He even have a logo and, unlike the others, his logo is part of the filing.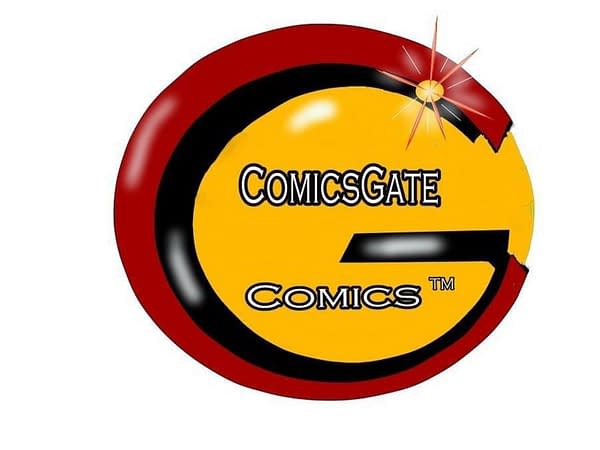 Romano has only published Dark of Midnight: The Art of Anthony Romano, but he is a keen Comcisgate backer and critic. He also has a Comics Gate website with the URL https://comicsgatecomicsllc.com. Because, yes, he has registered Comicsgate Comics LLC as well.
Three men think they have Comicsgate trademarks. I wonder what the US Trademark board will have to say about this