The Words Of The War Of The Realms Panel at C2E2
You've seen some of the pretty pictures and fair few of the videos, time for some of the words from Marvel's War of the Realms panel. But first a pretty picture of my own, a signed copy of the War of the Realms print available at Russell Dauterman's booth in Artist Alley. Dauterman is sandwiched between writer Jason Aaron and colorist Matt Wilson, so if you go back to Artist Alley (as you should, if you can) you can buy a print and get it signed by all three.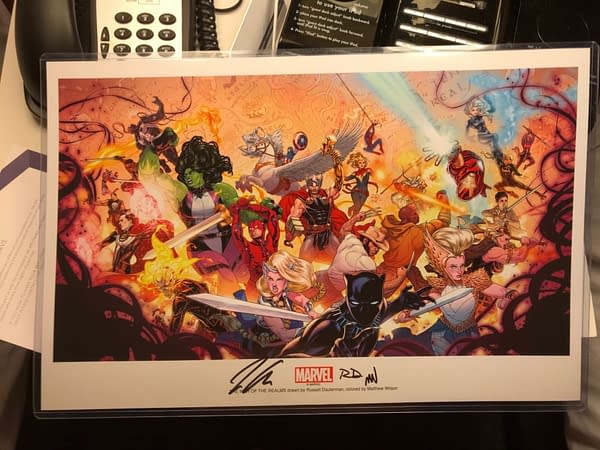 Aaron, Dauterman, and Wilson were joined by editor Will Moss and Assistant Editor Sara Brunstad on the panel. The panel opened with Marvel Editor-in-Chief C.B. Cebulski asking if anyone could name the ten realms. Aaron raised his hand immediately, but Cebulski passed him over for an audience member who got nine of the ten and a chance to read the first issue.
Aaron began the panel itself by saying the War of the Realms has been in the works for seven years and was inspired by the research he did when he began writing Thor. He said that there were many different answers then as to what the realms were and what they stood for, and he decided to firmly establish the realms with what was basically a road trip through the realms over the course of his run. What better way to do it, he added, then to start a war and kill millions?
As regular Thor readers know, the war began several years ago and has slowly been making its way through the realms, so that we are finally at a point where Midgard – or Earth, as you may know it – is the only realm remaining
Dauterman next lauded Wilson's colors over his art and inks, talking about how much Wilson adds to his art. He then went into the challenges and excitement of drawing a book with so many characters and locations. Later during the questions and answers, we find out that Dauterman has been working on the book for eight months now, and that he had asked to get a simple double page splash without thousands of characters and that Aaron had finally written him one.
Wilson returned Dauterman's compliments, mentioning how much he likes Dauterman's characters, specifically citing how angry Dauterman makes the Punisher look. Aaron then joked about the tearful emotional reunion of the Punisher and Wolverine.
Cebulski took the microphone again, talking about how this is one of Marvel's biggest crossovers ever as well as one of the most beautiful things Marvel has ever produced, and considering how much I personally love Dauterman's artwork, I don't find that statement hyperbolic. He added that the story brings back heroes and villains who haven't appeared in a while and that the interconnectedness of the story makes it part of the big Marvel tapestry that Marvel fans love.
The panel then turned to the artwork and discussion of tie-in titles, and you can find those in posts elsewhere at Bleeding Cool.
At that point it was time for audience questions. The first question asked was what was each panelist's favorite Thor story. Dauterman said it sounded like he was sucking up, but his favorite story was the Godbomb Arc in Aaron's first Thor run. Wilson said it was the work J Michael Straczynski did when the character returned after a prolonged absence. Aaron offered that his favorite story was the original Lee-Kirby Mangog story.
An audience member asked if Odin was highlighted in War of the Realms. Aaron said he had a new look and some big crappy father moments, then joked about writing a lot of crappy father moments before apologizing to his own father, saying he has a good relationship with his father and he doesn't know where the crappy father moments come from. Someone else if Dario Agger would play a role. Aaron said yes, Agger would be his usual big piece of crap and Dauterman added that issue five has his favorite panel he has ever drawn of Agger.
A questioner then asked how the team was keeping track of everything, and Moss joked that there was literally nothing else in his head right now but War of the Realms information and that he had to keep editing Thor forever because what else was he going to do with all that information. Dauterman said that their best efforts didn't always work out, mentioning that in the most recent issue he drew a character was holding a weapon Dauterman didn't draw when he showed the character in the issue before, causing him to have to go back and redraw that panel.
An audience member then asked Aaron what other characters he would like to write. He said that he is nearing the end of his Thor run and that while his run wouldn't end when War of the Realms ends, it wouldn't be long after that and he has been thinking about what he wants to do next. Aaron added that he had some thoughts on that, but wasn't going to share them now. He did stress that he was now writing Conan too, a book he has wanted to write since he was 12. After one more question asking if Beta Ray Bill was in War of the Realms (he isn't), the panel ended and audience members received an exclusive C2E2 variant of Thor 11, featuring Thor battling frost giants in the Chicago River.