Chris Claremont Ongoing? A Brief Conversation with C.B. Cebulski at C2E2
While waiting for the Marvel Women of Panel to start, Marvel Editor in Chief C.B. Cebulski came and sat in the front row between me and a writer from another website. I provided this information to my higher-ups at Bleeding Cool [Jude], who asked me to take advantage of the opportunity to ask when Chris Claremont would be given an ongoing series to write.
C.B. (he complimented my writing, so obviously we are on a first-name basis now) said that more Claremont work was forthcoming, but an ongoing, question mark. He literally said question mark after saying ongoing. C.B. said that we all just needed to keep waiting. He then added that he was a huge fan of Claremont and showed me the copy of Amazing Heroes #16, which featured the true first appearance of the New Mutants. He had brought the magazine (yes kids, there used to be print magazines that contained previews of upcoming comics as well as reviews of past comics and interviews with creators – they were truly wondrous things that have long since passed from this world) to C2E2 to get signed by Claremont and artist Bob McLeod.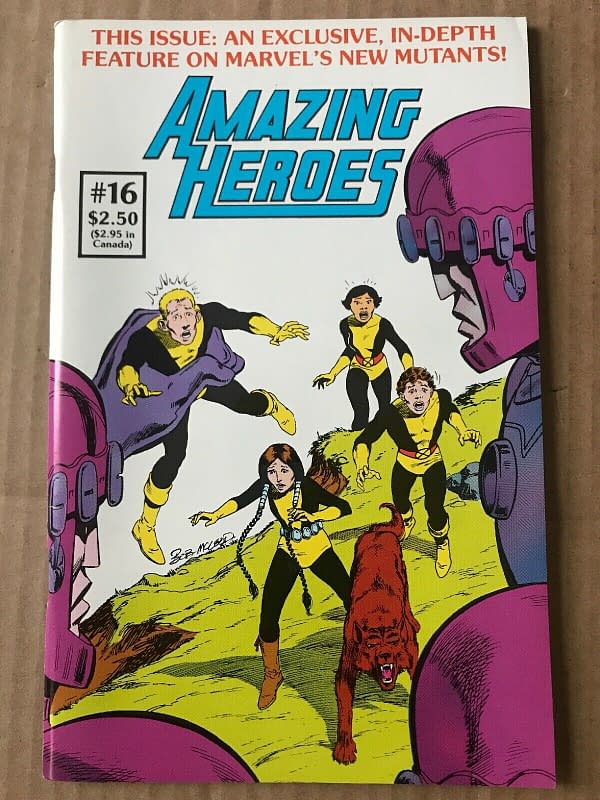 Although not everyone had a great experience with Claremont at the show…