Quick Hits from the X-Men Panel at C2E2 – What Happened to Baby Havok and the Lobsters?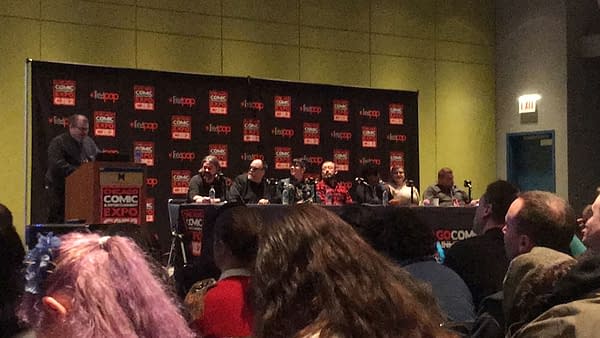 The big announcement from this panel, X of Swords, appeared on Bleeding Cool elsewhere, as did a lot of the preview art released at the panel. There was also a little story about living in the Summers House. So let's just go through some quick hits regarding new X-titles.
New X-Books in General – Jonathan Hickman said that the plan was to gradually introduce new books in groups, and that there are a lot of books yet to be announced down the line, many containing obvious choices to lead a book. He added that just because they haven't announced them that doesn't mean books aren't coming with fan favorite characters yet to be seen or yet to be featured.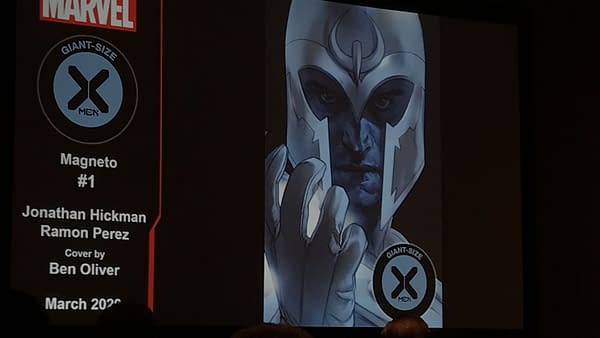 Giant Sized X-Men One Shots – Hickman told the audience that all five issues were created Marvel style, with him creating a story outline, then turning it over to the artists, then dialoguing the issue once the art came in. He asked Russell Dauterman who he wanted to draw and Dauterman came back with Emma Frost and Jean Grey. Alan Davis was asked the same thing and his reply was Nightcrawler. Hickman said last week's relatively dialogue-free issue was an exception and that Davis' Nightcrawler issue was dialogue heavy. Ultimately, all five one shots tell one story and plant the seeds for future stories as well.
Giant Size X-Men: Tribute to Cockrum and Wein – Preview art was revealed for this edition featuring 37 artists, one for each page of the original, recreating the classic book that introduce the new X-Men as a team.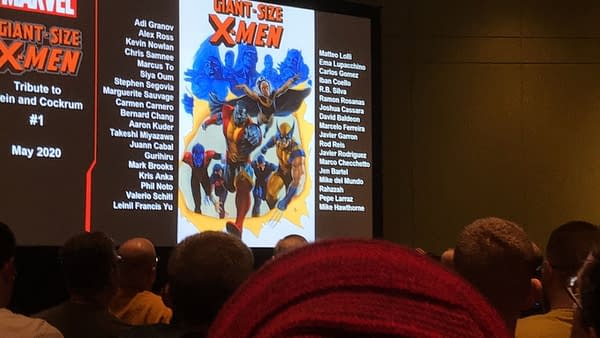 Cable – Gerry Duggan said Cable is among his favorite characters and added that he was willing to write any Cable in any situation and he was also thrilled about the chance to be working with Phil Noto on art. The soon to be released book would delve into some of the aspects of romance on Krakoa.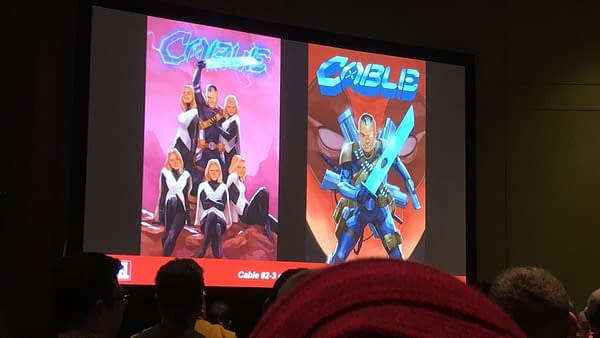 Hellions – Hickman said that when Zeb Wells made his pitch for Hellions along with Stephen Segovia on art, Hickman's first response was "Why?" He didn't say what Wells said in response, just that he was looking forward to the 'strange, little book'.
X-Factor – Leah Williams said the book with art by David Baldeonis about a group tracking down missing mutants and working closely with the Five on resurrection care. She said she filled the book with characters she's emotionally invested in who had powers that would be helpful in an investigation.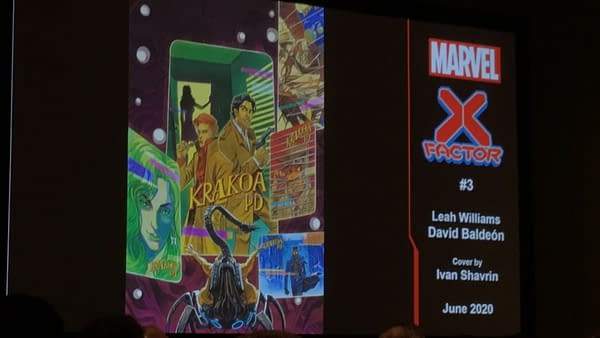 Children of the Atom – Vita Ayala said she was thrilled at the opportunity to work with Bernard Chang to introduce new, younger characters to the world of the X-Men. Her group of 'mouthy, sarcastic zoomers' will be immersed in online culture.
Regarding Fan Response to the Books – During the Q&A. an audience member asked if the audience reaction to the books had impacted how Hickman approached the books. Hickman responded that he had been working on the books for so long, planning as well as writing, that he hadn't really had time to look at fan reaction until relatively recently and that the reaction of fans hasn't really impacted what he has been doing. Duggan and Tini Howard agreed, Duggan saying he has been working on the X-line since 2018 and Howard saying she had been working on the line since early 2019. Hickman joked that he only listened to X-Men Editor Jordan White's description of fan reaction, saying that if White says the fans like it, he thinks White is keeping things from him and that if White says fans don't like it, he think the fans don't know what they're talking about.
Audience Question Lightning Round:
"Why was Apocalypse wearing a suit?" Hickman: "Everyone should have a nice suit."
"Can Carol Danvers reconnect with the X-Men?" Hickman: "Sure, why not?"
"If you personally could take over the powers of two X-Men, who would it be and why?" Howard (it may have been Williams): Emma Frost and Jamie Maddox. That way I could have the powers of one of the world's most powerful mutants in a million different bodies.
"Will Brian Braddock return in Excalbur?" Howard: "Yes"
"Which X-character is most likely to have their own podcast?" The panel agreed Quinton Quire was the most likely, but that Doug Ramsey has an podcast on languages that probably had only two or three listeners.
"What happened to the baby that was on the preview art released at C2E2 2019?" Hickman: "That was Baby Havok, now we have adult Havok so Baby Havok is off somewhere with the lobsters that were also in that cover art."