Falling In Love With the Flash and Other Quick Hits From the Super Heroes of DC Panel at #C2E2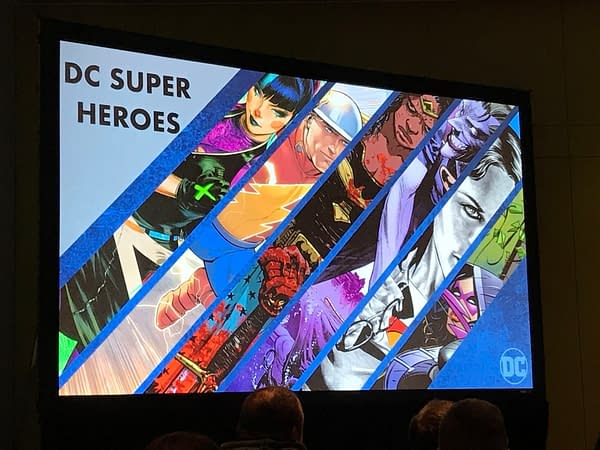 Saturday afternoon saw the Super Heroes of DC panel at C2E2. The panel was hosted by Amy Dallen of DC Daily, who wasted no time introducing the panel: Daniel Warren Johnson, Joshua Williamson, Sean Murphy, James Tynion IV, Mike Perkins, Doug Mahnke, and Gail Simone.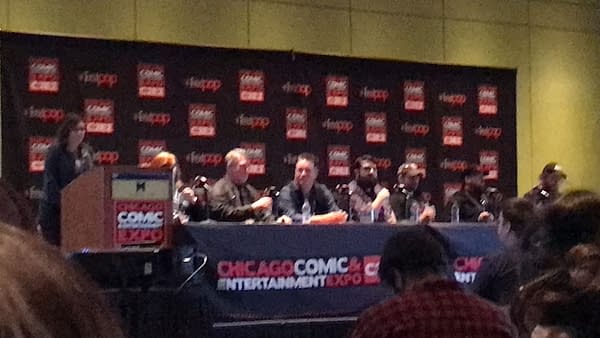 Dallen asked her first question of Mahnke, asking him what motivated him to work. He said he loves getting a good script to draw, no matter the type, though he does love drawing people punching each other as well as emotional scenes with large explosions and combining thoughtful moments with dramatic violence.
Dallen pointed out that Mahnke had been drawing for DC for 25 years. He said he working as a professional 31 years ago, several weeks before his wedding so he always knows how long he has been a professional. He began working at Dark Horse and then was asked to do the art on a Lobo-The Mask crossover. He switched to DC after that, working full time for them since then except for one Marvel job that no one remembers. He said that DC has been good to him and he thinks he has been good to them in return.
Dallen continued with a retrospective of Mahnke's work on Superman, Green Lantern, Batman, the Justice League, Final Crisis, and Multiplicity. This led into the panel presenting Mahnke with a cake based on one of his iconic Detective Comics covers as well as a silver statue of the same cover.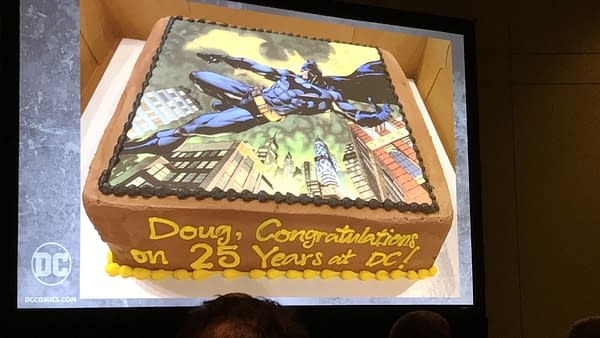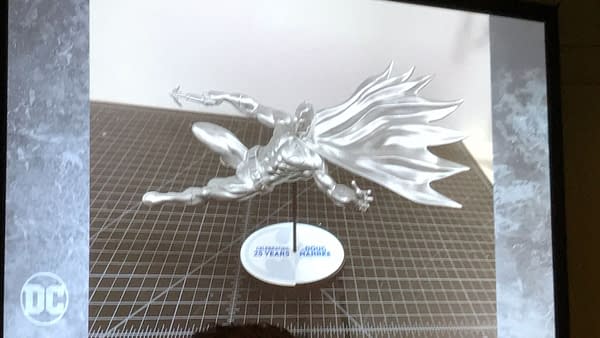 Dallen asked Simone about her work on the Flash Giant issues distributed at first at Wal-Marts. She said her directive from DC was to create a book that would appeal to older readers as well as the newer readers who might discover the book at Wal-Mart. Simone said she never wanted to write the Flash but once she started writing him fell in love with the character. She added that artists make everything so much better and that she still gets excited every time she gets pages back. Simone added that she writes full script but loves it when she has to take dialogue out because the art that comes back tells the story better than the dialogue she wrote.
Later in the panel Simone would say that she read a lot while growing up on isolated dairy farm in Oregon because she enjoyed reading as way to escape the chores of the farm. However, she became frustrated with what she was reading because it didn't speak directly to her. One day she saw Batgirl on reruns of the syndicated Batman show and she described how seeing a smart redhead inspired her. Simone became more confident and when four or five years later she saw comics at a garage sale she bought Justice League 100 and a few Wonder Woman comics and those issues made a difference in how she saw her self, eventually leading her on a path to write comics.
Dallen asked Perkins how he came to be working on Lois Lane. He said that when he first met with DC a couple of years ago at C2E2, he said that working on Lois Lane with Greg Rucka writing was on the list of projects he wanted to do. He then saw Rucka at the con, and Rucka told him how much he wanted to work with Perkins but that Rucka wasn't willing to work at Marvel. Perkins told him to talk to DC about it, and later in the con Rucka came over to his table to tell him they were going to working on the book together. Perkins said he was inspired by the first issue of Captain Britain and then later 2000 AD. He added that as a child his parents rented a room to a rugby player who collected comics and who let him read from his collection.
Dallen then turned to Johnson, who said DC asked him for a pitch on Wonder Woman, He, like Simone said of Flash, said he was never interested in the character so his goal was to write a Wonder Woman he would want to read. That turned into Wonder Woman Dead Earth, which caused Johnson to see Wonder Woman as different from the rest of the trinity in that there is a heart to the character that other major characters don't have as part of their framework.
Next up was Williamson, who said he has written 99 issues so far of Flash and that once the June issue hits he'll have written 100 issues of the character in four years. The next arc of the book is Flash Age which brings back Jay Garrick. Williamson that the Flash has always been one of his favorite super heroes and that Barry Allen is a part of his soul. He said there are times when Barry's hope and inspiration has helped him not just as the book's writer but in his life as a person. He said that what makes Barry unique is that the people in the DC world see Barry as an inspiration. Bringing Jay back helps bring back that aspect of Barry as a character who inspires. He added that he hopes readers can feel how much he, Williamson, loves Barry Allen as a character.
Williamson said he is amazed that so many of the characters he has created have made it to the TV show, saying that a friend who has access to the show sent him a picture of Godspeed and asked him what he thought of it. He said that he didn't realize at first it wasn't someone cosplaying the character, it was the character design for the show. Williamson says he has been seeding one long story since the start of rebirth, a story that goes back as far as Johns' The Return of Barry Allen arc. The upcoming story will feature Reverse Flash coming back and it will be revealed how the Reverse Flash has been acting behind the scenes the whole time.
Later in the panel Williamson would talk about growing up in a house where his parents had long boxes of comics and would encourage him as a writer. His fourth grade yearbook says 'comic book writer' in response to the question 'What are you going to do for a living?' Williamson described how Keith Giffen was asked once what he would be doing if he wasn't doing comics and he replied "What makes you think I had a choice?" and said that he felt the exact same way about it.
Dallen asked Murphy about being able to work on his own private corner of the Bat Verse. He said he loved the first series but did not expect to get asked to do a second series, but when DC came to him and said they wanted more his only request that DC tell Scott Snyder he wasn't going to be available as an artist for him anymore. Murphy added that Snyder has been nothing but supportive. He said that hopefully it is clear how much he loves the character when people they read the book, and if they don't read the book they are dead to him.
Murphy later explained that his inspirations were Calvin and Hobbes and Batman: The Animated Series. When Dallen asked him what it was like that there were now toys based on characters he created, he mentioned that it was surreal that Macfarlane Toys had made incredibly detailed toys of his Batman White Knight characters.
Dallen took a moment to ask the two writer-artist on the panel, Murphy and Johnson, which they found harder, writing or drawing. Murphy said drawing was the hardest part of the process, as it took longer and took much more effort. Johnson said writing, because when you draw the ideas are already there in front of you to work from but when you write you have to come up with the ideas.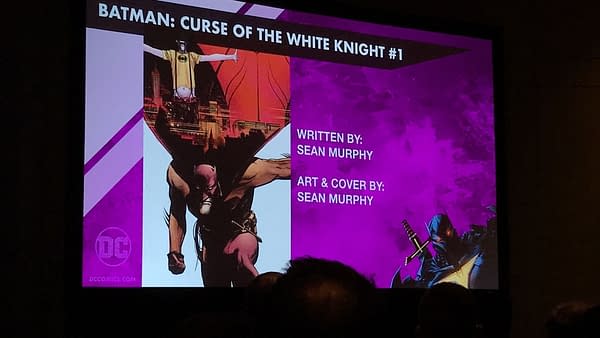 The panel then turned to Tynion who said he had been writing Batman at DC for eight years, and in that time he had written over 200 Batman comics before starting his current Batman run. Tynion added that Batman family stories were his favorite and the supporting characters he wanted to bring in for his run were the villains of Gotham. Tynion had created a new character, the Designer, who had been working behind the scenes for years to guide the villains. The character had created their plans in the past and was now at the fore again, but the plans weren't the same because circumstances are no longer the same.
Dallen asked what made Batman special, and Tynion responded by saying that Batman was about overcoming adversity. The worst thing possible had happened to him as a child, losing his parents, and young Bruce had to overcome that. He explained that Batman was now in a shaky position because he had lost a parent again when Alfred was killed which forces Batman to overcome that type of loss again.
When asked if he anticipated the new character Punchline setting the world on fire as she has (Writer's note: Really? Has she?) he said no, that the character was created out of necessity. The upcoming Joker War had been building and he realized the Joker hasn't had a bunch of followers in a while and that he needed a new second in command now that Harley no longer plays that role. He wanted to create a new character to come in and change the dynamic of what a joker attack is and to show how that character plays off Harley, Batman, and Joker. Tynion added that Joker is constant change while Batman has trouble changing, and that dynamic will play a key role in his story.
As for getting into comics, Tynion said he would go to the Borders store across the street from his mother's apartment and rearranged the comic section because it was a disaster. He would then sit there and read for hours. Tynion's biggest inspiration and the person he felt he owed the most to was his college writing professor, the aforementioned Scott Snyder, who then made a surprise appearance a the panel.
Snyder said that C2E2 was the first convention to ever invite him to appear and that the show still has a special place for him because of that. He said that his infant child recently had surgery, which limited Snyder to being able to fly into Chicago for one day. He assured the crowd that Dark Knights Death Metal was not only still coming out, but would be bigger and better than what was initially planned. Snyder referred to the book as an anti-crisis, that unlike DC's crisis stories, Death Metal was meant to build up DC continuity and make it that case that every story that came before mattered. He added that he felt that the best was yet to come from DC and showed some art from Death Metal. Snyder also talked about what a great thrill it was that one of his former students. Tynion, was now one of his favorite writers.