Things To Do In London This Weekend If You Like Comics TODAY:
Poles Apart, a free exhibition of twelve innovators in the field of Polish comics, begins at Windows Gallery at Central Saint Martins near King's Cross under the 16th, with a free workshop for students at the Platform Theatre Foyer from 2-4pm. E-mail for a free place here.
Then later Gosh! Comics, launches three new anthologies at a mini-event, Anthologize! with contributors signing copies from 7pm.
The Strumpet is a transatlantic, all-female anthology on its third issue and this time, the theme is 'tasty'. Food, sex, and, erm, opera are amongst the avenues of exploration chosen by the Strumpets – not that they stop there! Ever wonder where your street food comes from? Ever fancy a catfight between Sookie Stackhouse and Bella from Twilight? Well, then read on! Contributors include Hannah Berry, Robin Ha, Hazel Newlevant, Colleen Frakes, Hayley Gold, Dre Grigoropol, Ellen Lindner, Kripa Joshi, Jennifer Hayden, Freya Harrison, Becky Hawkins, and many more.

Score & Script features contributions from twenty-six fantastic cartoonists co-ordinated by comics-genius and PhD-researcher John Miers, and started life as an exhibition at C4RD as part of last year's Comica festival. Now it's preserved for posterity in a beautiful double-gatefold volume collecting all the strips in a deeply satisfying smorgasbord, along with a spicy side order of analysis.

Contributors to the new fifth issue of The Comix Reader are a rogues gallery of the UK's funniest, edgiest and weirdest cartoonists, such as Elliott Baggot, Alex Potts, Mike Medaglia Kevin Ward, Lord Hurk, and many, many more.
SATURDAY: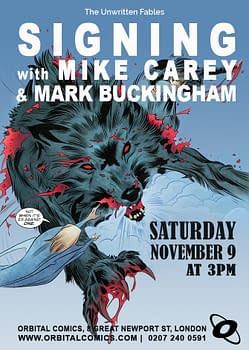 Mike Carey and Mark Buckingham will be signing copies of The Unwritten Fables crossover at Orbital Comics, from 3pm.
Then run over the road for the launch of Fight the Power! : A Visual History of Protest Amongst the English Speaking Peoples at Foyles on Charing Cross Road, a Skype conversation from the UK to Japan from 4-6pm with Ben Dickson, Hunt Emerson, John Spelling and Seán Michael Wilson with Comica's Paul Gravett
This book covers in comics form 14 riveting cases of the Protest Movement over the last 200 years and in several English-speaking countries including not just the US and UK but Australia, Canada, South Africa, Ireland, India and Jamaica. Come and enjoy and be inspired!
[vimeo]http://vimeo.com/73293975[/vimeo]
And then also at Foyles from 6.30pm, Gareth Brookes, Daniel Merlin Goodbrey, Katie Green, John Miers & Woodrow Phoenix talk with Paul Gravett to launch Gravett's new book with Tate Publishing, Comics Art and discuss the emergence and future of comics as 'The 21st Century Medium'.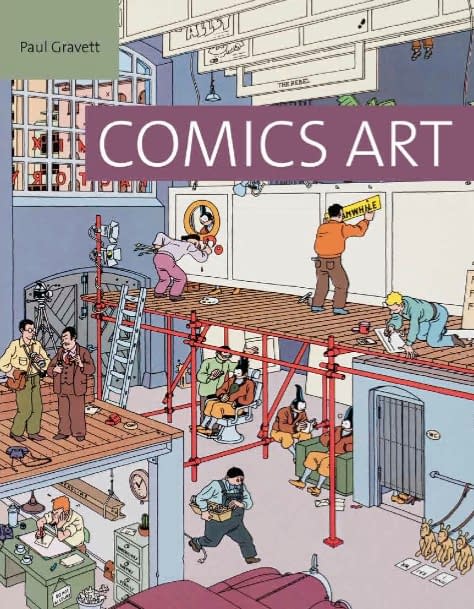 SUNDAY: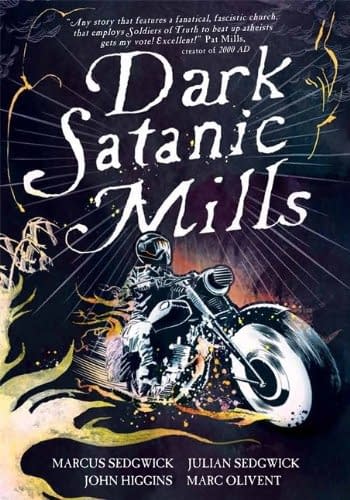 Signing at Forbidden Planet for Dark Satanic Mills by Marcus and Julian Sedgewick from 1pm.
Set in a near-future Britain, Dark Satanic Mills tracks a young woman's journey from the flooded landmarks of London to the vast, scorched and abandoned hills of the North. Framed for a murder she did not commit, fearless and resourceful loner Christy has no other choice but to run for her life. Both a cautionary tale and a rip-roaring road trip, Dark Satanic Mills is altogether an intelligent, captivating and thrilling ride – a punked-up Wizard of Oz for a new generation, told in exhilarating shades of light and dark.
Would you like to write about what's going on, comics-wise, in your city? Get in touch!