This Week's Comics Shipment Could Be The Biggest Of The Year
Pity your book comic book manager and workers. This week's comic book delivery, outside of Free Comic Book Day, could be one of the biggest of the year. And especially in term of the demand by customers as well. Let's break it down a little: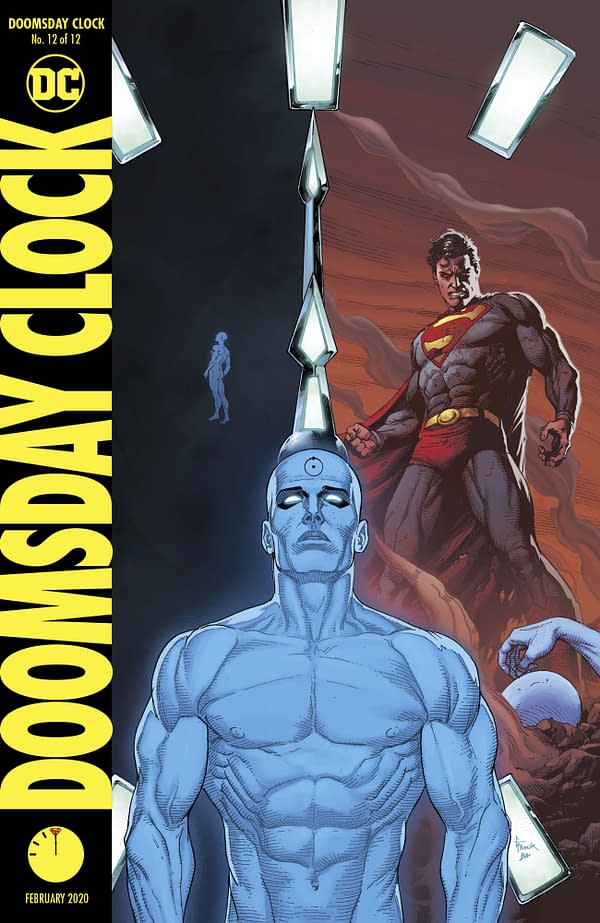 ENDINGS:
This week will see finales of some of the biggest comic books published of late, with fanatical fans demanding the conclusion of the storyline they have been following.
Doomsday Clock #12 – regularly the bestselling title in stores, this unauthorised sequel to Watchmen by Geoff Johns and Gary Frank comes to its much delayed, much-anticipated conclusion.
Batman #85 is Tom King's final issue on Batman, with Mikel Janin, and a double-sized finale of Bruce and Thomas Wayne's… contretemps.
King Thor #4 is Jason Aaron's conclusion to his Thor saga that has run these past five years, with many of the storyline artists returning for this final issue, Esad Ribic, Gabriel Hernandez Walta, Andrea Sorrentino, Chris Burnham, Nick Pitarra, Aaron Kuder, Olivier Coipel, Russell Dauterman, Mike Del Mundo and more.
And it's the same again with Guardians Of The Galaxy #12, concluding Donny Cates' cosmic storylines that began in Thanos, with artists Cory Smith, Geoff Shaw, Dylan Burnett, Ariel Olivetti and Tradd Moore returning.
Batman: Last Knight On Earth #3 by Scott Snyder and Greg Capullo, is their final issue, and final Batman comic.
Talking of Scott, Justice League #38 with Jorge Jimenez is the finale of his Doom War storyline, with just an epilogue to follow.
Tony Stark: Iron Man #19 is the end of the series by Dan Slott and friends before Iron Man 2020 kicks off in the new year. The Ultron Agenda ends here.
Invaders #12 has its own conclusion, with suggestions that this may also lead on to more in the New Year.
Oh and the final History Of The Marvel Universe #6 looking at the future… what is to come…
Harleen #3 from Stepan Sejic reaches its conclusion,
Marvel concludes its 2099 event with 2099 Omega and Amazing Spider-Man #36.
Batman/Superman #5 concludes the Infected storyline and spins off into…
BEGINNINGS:
Year Of The Villain: Hell Arisen #1, out on the same day. As Infected: The Commissioner.
The Low, Low Woods #1 begins from Joe Hill's Hill House line.
A new Suicide Squad #1 launches. As does Daniel Warren Johnson's Wonder Woman: Dead Earth from DC's Black Label.
The Visitor, the new Paul Levitz comic kicks off from Valiant.
Star Wars: Empire Ascendant #1, a direct prequel to The Empire Strikes Back by Charles Soule and Caspar Wijngaard.
Skulldigger & Skeleton Boy is the name of a new spinoff from Jeff Lemire's Black Hammer from Dark Horse.
Read Only Memories #1 by Sina Grace and Stefano Simeone from Dark Horse is based on the hit game 2064: Read Only Memories.
Wellington #1 begins a new horror series by Aaron Mahnke, the creator of the Lore podcast.
Narcos #1 from Ryan Ferrier and Vic Mahotra is the much-delayed adaptation of the hit Netflix show – and it's not the only Netflix comic launching this Wednesday.
SURPRISES:
We also get whatever Project X-Mas #1 is, the surprise sequel to a previously published Mark Millar comic book, from Image Comics/Netflix.
OTHER BIG BOOKS:
There are five, count them, five Dawn Of X comics out this week. Five. Excalibur, Fallen Angels, Marauders, X-Force and New Mutants, all with their fourth issues.
And there's a Klaus Christmas Special from Grant Morrison and Dan Mora turned on its side to resemble the New X-Men Annual
Plus a new Rick And Morty, Once And Future, Folklords, Firefly, Avengers, Teen Titans, Vampire State Buikding, Cerebus In Hell: Vark Thing and a new series from Ablaze, Gung-Ho.
AND ANOTHER WEEK:
Comic book stores will also be receiving an additional week of comic books that they can only put on sale from December 26th, including Marvel's Incoming event, the new Doctor Strange: Surgeon Supreme, the beginning of Venom Island in Venom #21 and a brand new Spider-Ham #1.
Then there's a final conclusion for Fight Club with Fight Club 3 #12. The end of East Of West with #45. And the beginning of Kill Lock #1 from Livio Ramondelli.
Stores will have to sort and separate all those titles too. So maybe this Wednesday, a little patience. A cheery mince pie and mulled wine. Peace to all men. You'll get your comics… eventually.