Thor, Fire Power and Empyre Top Advance Reorders.
Plenty of Thor in the Advance Reorders this week, as multiple printings and new issues crowd the chart. With Fire Power doing similar and a touch of Empyre and Seven Secrets.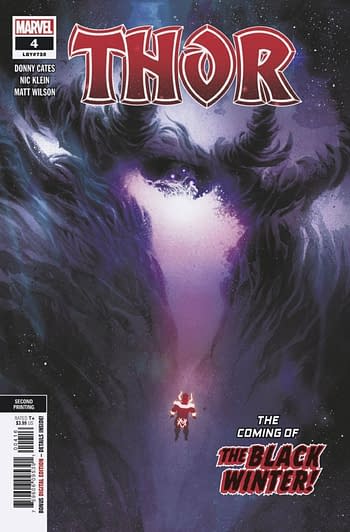 Greetings from the coal face of the direct comics market. Where retailers try to increase their orders of certain comics ahead of sale. Where supply and demand and most accurately reflected, where you can see which books are hot, where new orders are coming in and how retailers are reacting to new, unanticipated desire! And courtesy of stats from
Diamond Comic Distributors.
TOP 25 ADVANCE REORDER COMICS/GRAPHIC NOVELS/TPS
| | | |
| --- | --- | --- |
| Publication | Price | Publisher |
| THOR #4 2ND PTG KLEIN VAR | $3.99 | MARVEL COMICS |
| FIRE POWER BY KIRKMAN & SAMNEE #2 (RES) | $3.99 | IMAGE COMICS |
| EMPYRE #4 (OF 6) | $4.99 | MARVEL COMICS |
| ETERNALS COMPLETE SAGA OMNIBUS HC KIRBY DM VAR | $125.00 | MARVEL COMICS |
| THOR #3 3RD PTG KLEIN VAR | $3.99 | MARVEL COMICS |
| FIRE POWER BY KIRKMAN & SAMNEE #1 (RES) | $3.99 | IMAGE COMICS |
| SEVEN SECRETS #1 FOC LEE VAR | $3.99 | BOOM ENTERTAINMENT |
| HORIZON ZERO DAWN #1 CVR E MOMOKO | $3.99 | TITAN COMICS |
| GIANT SIZE X-MEN FANTOMEX #1 | $4.99 | MARVEL COMICS |
| VAMPIRE THE MASQUERADE #1 CVR D FOIL MACK | $9.99 | VAULT COMICS |
| BLACK CAT #12 SKAN VAR | $3.99 | MARVEL COMICS |
| NEGAN LIVES #1 2ND PTG (MR) | $4.99 | IMAGE COMICS |
| EMPYRE X-MEN #2 (OF 4) | $4.99 | MARVEL COMICS |
| MY LITTLE PONY TRANSFORMERS #4 (OF 4) CVR A FLEECS | $3.99 | IDW PUBLISHING |
| MY LITTLE PONY TRANSFORMERS #2 (OF 4) CVR A FLEECS | $3.99 | IDW PUBLISHING |
| MY LITTLE PONY TRANSFORMERS #3 (OF 4) CVR A FLEECS | $3.99 | IDW PUBLISHING |
| LORDS OF EMPYRE CELESTIAL MESSIAH #1 | $4.99 | MARVEL COMICS |
| SEVEN SECRETS #1 MAIN | $3.99 | BOOM ENTERTAINMENT |
| ETERNALS COMPLETE SAGA OMNIBUS HC ROSS CVR | $125.00 | MARVEL COMICS |
| MAESTRO FUTURE IMPERFECT MARVEL TALES #1 | $7.99 | MARVEL COMICS |
| FANTASTIC FOUR #22 EMP | $3.99 | MARVEL COMICS |
| THOR #6 | $3.99 | MARVEL COMICS |
| SEVEN SECRETS #1 SECRET SPOILER VAR | $4.99 | BOOM ENTERTAINMENT |
| GUARDIANS OF THE GALAXY #5 | $3.99 | MARVEL COMICS |
| IMMORTAL HULK TP VOL 07 HULK IS HULK | $15.99 | MARVEL COMICS |
TOP 25 REORDER COMICS/GRAPHIC NOVELS/TPS
| | | |
| --- | --- | --- |
| Publication | Price | Publisher |
| NEGAN LIVES #1 (MR) | $4.99 | IMAGE COMICS |
| MILES MORALES ULTIMATE SPIDER-MAN OMNIBUS HC NEW PTG | $125 | MARVEL COMICS |
| FANTASTIC FOUR OMNIBUS HC VOL 01 NEW PTG | $100 | MARVEL COMICS |
| SUPERMAN BATMAN OMNIBUS HC VOL 01 | $125 | DC COMICS |
| MMW FANTASTIC FOUR HC VOL 01 NEW PTG | $49.99 | MARVEL COMICS |
| DARK NIGHTS DEATH METAL #1 (OF 6) | $4.99 | DC COMICS |
| BERSERK DELUXE EDITION HC VOL 05 (MR) (C: 0-1-2) | $49.99 | DARK HORSE COMICS |
| X-MEN VS APOCALYPSE TWELVE OMNIBUS HC | $125 | MARVEL COMICS |
| MMW CHAMPIONS HC VOL 01 | $100 | MARVEL COMICS |
| BATMAN #93 | $3.99 | DC COMICS |
| MMW DAREDEVIL HC VOL 01 NEW PTG | $49.99 | MARVEL COMICS |
| DOOMSDAY CLOCK HC PART 01 | $24.99 | DC COMICS |
| FIRE POWER BY KIRKMAN & SAMNEE TP VOL 01 PRELUDE | $9.99 | IMAGE COMICS |
| MMW CAPTAIN AMERICA HC VOL 01 NEW PTG | $49.99 | MARVEL COMICS |
| CROW LETHE #1 (OF 3) 2ND PTG | $3.99 | IDW PUBLISHING |
| ONCE & FUTURE TP VOL 01 (C: 0-1-2) | $16.99 | BOOM ENTERTAINMENT |
| LADY KILLER LIBRARY ED VOL 01 (MR) (C: 0-1-2) | $39.99 | DARK HORSE COMICS |
| HOUSE OF X POWERS OF X HC | $60.00 | MARVEL COMICS |
| MMW MIGHTY THOR HC VOL 01 NEW PTG | $49.99 | MARVEL COMICS |
| SAVAGE SWORD CONAN ORIG MARVEL YRS OMNIBUS HC VOL 03 (MR) | $125 | MARVEL COMICS |
| DARK NIGHTS METAL TP | $19.99 | DC COMICS |
| JOHNNY DYNAMITE HC COMP ADV PETE MORISI WILD MAN | $29.99 | IDW PUBLISHING |
| MMW SAVAGE SHE-HULK HC VOL 01 | $75 | MARVEL COMICS |
| MMW X-MEN HC VOL 01 NEW PTG | $49.99 | MARVEL COMICS |
| DOOMSDAY CLOCK HC PART 02 WITH SLIPCASE | $24.99 | DC COMICS |