Both Thor and X-Men Placed On Angouleme Official Selection List For 2020
The Angouleme Festival for 2020 has announced their Official Selection of comic books published in the French language over the last year. These will be voted on for the Grand Priz, as well as individual categories, to be presented at Angouleme in the New Year. This is the most prestigious comic book award in the world. And Marvel have a record number of placements this year. Two.
Entries originally published in the English language, published in the US and the UK include Clyde Fans by Seth, Daedelus by Charles Burns, Berlin by Jason Lutes, Descender by Jeff Lemire and Dustin Nguyen, Thor by Jason Aaron and Russell Dauterman, and X-Men Grand Design by Ed Piskor in the Official Selection, Posy Simmonds' Cassandra Darke in the Crime/Pulp list, Grass Kings by Matt Kindt and Tyler Jenkins, and Stray Bullets by David Lapham in the Heritage section.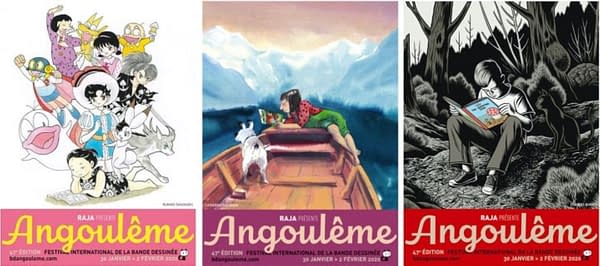 Here are the full lists of titles, lead creators and publishers.
Official Selection
Les trois affiches du FIBD 2020, par Rumiko Takahashi, Catherine Meurisse and Charles Burns
Crime/Pulp:
Heritage:
Kids:
Young Adults: