Thought Bubble is either the best or the second-best comic book arts festival in the UK. Based in Leeds and Harrogate over the last couple of decades, it is not happening in a traditional sense this year as planned, but instead a whole host of panels, socialising and purchase opportunities have been put online. You can subscribe to their YouTube channel here, as panels go live through the weekend. Here's the schedules, on Greenwich Mean Time – New Yorkers subtract 5 hours, Californians 8 hours, the rest of you can work it out. Details of each panel right here. And there's lots to buy in the Bubble Boy Hall, Travelling Man Hall, ComiXology Originals Hall, Gotta Catchem Hall and Valhalla.
Thought Bubble SAT 14 NOV 2020
12:00 CAPE GRAPHIC NOVELS PRESENTS…PUBLISHING A GRAPHIC NOVEL
12:30 IT DOES NOT HAVE TO BE A BLOODY MASTERPIECE!!! – AN IAN KENNEDY DOCUMENTARY
13:00 ARTGECKO PRESENTS…LIVE SKETCHING WITH JOCK
13:30 2000 AD SCRIPT TALENT SEARCH – FINAL JUDGING
14:00 HILDA: FROM COMIC TO SCREEN
14:30 THE PROCESS WITH RAM V
15:00 IN CONVERSATION: JEFF LEMIRE, MATT KINDT AND WARREN SIMONS
15:30 STRIP PANEL NAKED – MATT FRACTION, ROSEMARY VALERO-O'CONNELL & EMMA RIOS
16:00 STORYTIME! ODD DUCK READ BY CECIL CASTELLUCCI
16:30 IN CONVERSATION: RAFAEL ALBUQUERQUE AND SCOTT SNYDER
17:00 SERIAL BOX AUTHOR READINGS: BRIAN KEENE & USMAN T. MALIK – IN PARTNERSHIP WITH SERIAL BOX
17:30 IN CONVERSATION: JOE SACCO
18:00 COMICS WITHOUT GATEKEEPERS: SELF-PUBLISHING AND DIY METHODS TO GREEN LIGHT YOUR OWN WORK
19:00 HAPPY HOUR AT THE THOUGHT BUBBLE ARMS – Live on Zoom
20:30 MID CON PARTY FT. KIERON GILLEN – Live on Twitch
Thought Bubble SUN 15 NOV 2020
11:30 ART GECKO PRESENTS…LIVE SKETCHING WITH PRISCILLA BAMPOH
12:00 TALKING PRETTY DEADLY
12:30 COMIXOLOGY ORIGINALS PRESENTS CONVERSATIONS with MARGAUX SALTEL & ABZ J HARDING
13:00 IN CONVERSATION: SANFORD GREENE
13:30 THE END – WHAT MAKES A GOOD COMIC ENDING? with JEREMY DELLER, KIERON GILLEN & MEGHNA GUPTA
14:00 2000 AD ARTIST TALENT SEARCH – FINAL JUDGING
14:30 THE GIRL WITH NO NAME PANEL
15:00 COMIC-CON INTERNATIONAL AND THE WILL EISNER COMIC INDUSTRY AWARDS
15:30 DIE: RPG PLAYTHROUGH WITH KIERON GILLEN
16:30 FEWER CAPES, MORE TEA
17:00 CHIP ON CHIP – IN PARTNERSHIP WITH COMIXOLOGY
17:30 MARVEL'S BLACK PANTHER: SINS OF THE KING – IN PARTNERSHIP WITH SERIAL BOX
18:00 MAKING STORIES: DUNCAN JONES AND ALEX DE CAMPI IN CONVERSATION
18:00 COMIXOLOGY PRESENTS…LIVE DRAWING WITH ABIGAIL JILL HARDING
19:00 IN CONVERSATION: KEVIN SMITH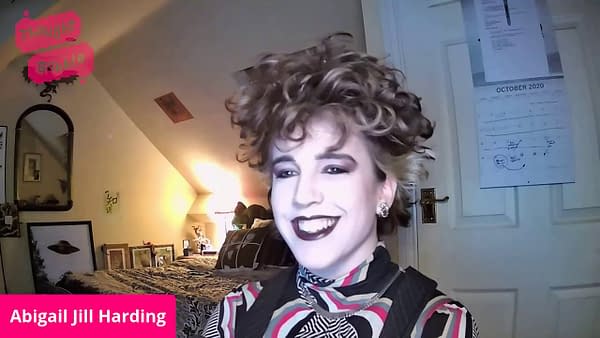 Enjoyed this article? Share it!