Three British Comic Cons In Three Weekends
It is a little ridiculous.

(Photo by Roger Gibson)
This weekend is the Bristol Comic Expo, the genetic inheritor of the old UKCAC conventions. With guests such as Alan Davis, Mark Buckingham, Ian Churchill, Mike Carey, John Higgins, Anne Stokes, Gary Erskine, Dylan Teague, Rob Williams, Ian Edginton, Lee Garbett, Neil Edwards, Paul Cornell, David Hine, Simon Bisley, Shaky Kane, David Roach, Mike Collins, Boo Cook, Paul Green, Cy Dethan, Henry Flint, Paul Grist, Phil Winslade, John Burns, Victor Santos, Luca Erbetta, Patrick Goodard, Steve Sook, Garen Ewing, Dave Taylor, Hunt Emerson, Anthony Del Col, Conor McCreery, John Watson, D'Israeli, Martin Fisher, Terry Wiley, Dave McKinnon, Jason Cobley, Andrew Wildman, Lee Bradley, Roger Langridge, Al Davison, and Valia Kapadai, it's basically a mix of 2000AD and old-school Vertigo creators-now-working-for-Image crowd, with a couple of Canadians visiting. A very cinvivial convention, most of the fun will be in the hotel bars who, every year, forget how quickly the convention will drink them dry. Markosia is launching the Sleaze Castle hardcover, which is worth the trip in and of itself and Knockabout will be showing off more pages from League Century 2009. A good, reliable comic convention.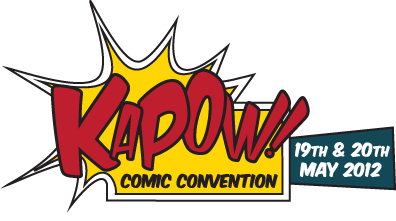 Then next weekend it's Kapow in North London, the MillarCon, with Mark Millar, Joe Quesada, Jonathan Ross, Warren Ellis, Jonathan Ross, Scott Snyder, Sara Pichelli, Olivier Coipel, Terry Dodson, Charlie Adlard, Bryan Hitch, Lucha Britannia, Dave Gibbons, Paul Cornell, C.B. Cebulski, Nick Spencer, Barry Kitson, Eric Stephenson, Kieron Gillen, Peter Milligan, Sean Phillips, Becky Cloonan, Ian Churchill, Andy Diggle, Jock, Steve Parkhouse, Kate Brown, Mike Carey, Duncan Fegredo, Glenn Fabry, Paul Grist, David Lloyd, Rob Williams, Steve Yeowell, Doug Braithwaite, Rian Hughes, Emma Vieceli, Matt Smith, Shaky Kane, John McCrea, Nick Landau, David Hine, Creators of Bayou Arcana, Adi Granov, Simon Furman, Chris Weston, James Hodgkins, Peter Hogan, David Lafuente and Simon Spurrier. There's very little crossover indeed.

And the week after that, it's the MCM London Expo in East London with Marv Wolfman, Matt Moylan, Dax Gordine, Jim Zubkavich, Ben McCool, Dean Haspiel, Rob Pereyda, Rufus Dayglo, Emma Vieceli, Lee Bradley, Tony Lee, Al Davison, Rufus Dayglo, Isabelle Davis, Warwick Johnson Cadwell, Matt Dyson, Valeriya Fedoseeva, Doctor Geof, Jack Lawrence, Lucian Stephenson, Sarah Jones, Zarina Liew, Van Nim, Rowan Clair, Marc Ellerby, Rob Cureton, Neil Gibson, Jennie Wood, Eamon D Standing, Aaron Foster & Stacey Wheeler, Kit Jo Yuki, Liona & Clover Davy Shirley, Jess Bradley, Luke Surl, Lisa Cummins, Evelyn Hewett, Jason Cardy, Jenny Clements, Kat Nicholson, Philippa Rice, Timothy Winchester, Huy Truong, John-Paul Bove, Katherine Ellis, Lily Mitchell, Howard Hardiman, Josceline Fenton, Darren Gendron, Lee Townsend, Josh Clarke, Di San, Curia Regis, Kate Ashwin, Pamela Lokhun, Perrins & White, Elena Babarich, Joe Sparrow, Sarah Childs, Nikki Stu, Vitaly S Alexius and more.
Again very little crossover, even though they're so closely jam packed together. Kapow is the only one I'll be able to get to as I'm stuck in London this weekend and in Phoenix in two weeks, though Bleeding Cool will have people at both shows reporting back. But… which will you choose? And why?