TIme Travel To Be Banned At DC Comics Going Forward? (Spoilers)
There has been a lot of time travel for DC Comics titles of late. From jumping forward to see Future State, Jonathan Kent going to university in the 31st century, as well as Flashpoint, Flashpoint Beyond, and Crisis upon Crisis writing and rewriting history, and The Flash going back and forth like nobody's business. But for how much longer?
Today's Justice League Vs The Legion Of Super Heroes #6 by Brian Michael Bendis and Scott Godlewski concludes the battle against the Greak Darkness wielded by Vandal Savage. Just before they will head towards Justice League #75 to fight the Great Darkness wielded by Pariah and empowering Deathstroke, and die in the process.

Seriously, people should be more careful with that sort of thing. Put the Great Darkness in a high up cabinet with a lock on it. Come on now.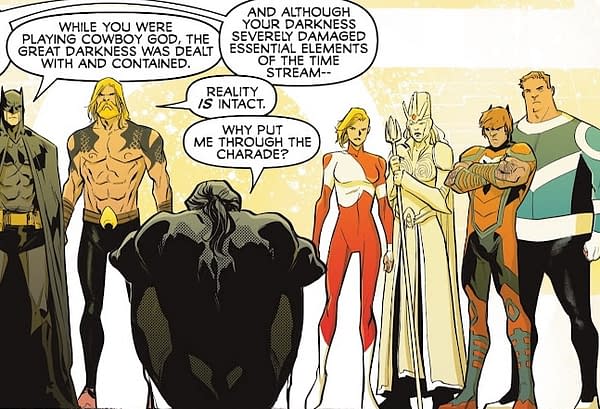 Turns out that his use of the Great Darkness has been damaging the time stream.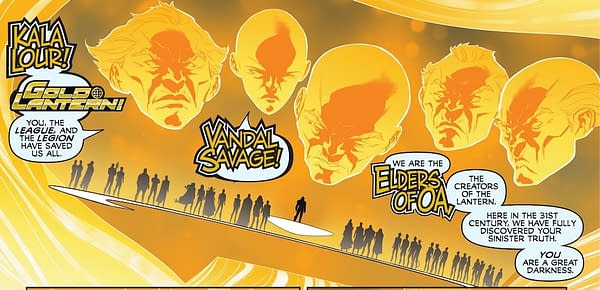 With Vandal Savage blamed and sentenced by big glowing golden heads.
And a decision from the future made to stop all this time travel because of the damage it causes. And maybe the origin of The Time Police, who were originally invented by Jerry Siegel, for the Legion's far future from Adventure Comics #300 back in 1962. But now this League has to go pack to the present day to deal with their own destinies.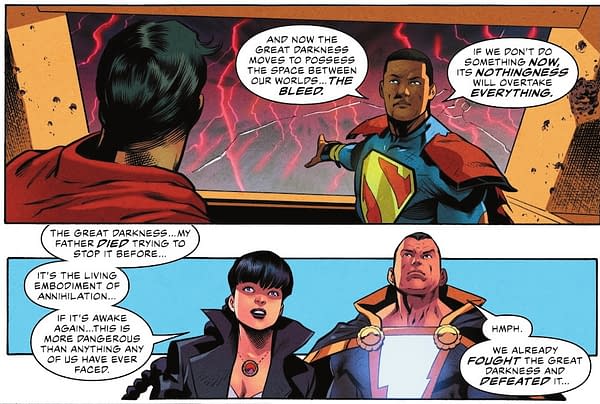 Dismissed by Black Adam a bit, rather, little knowing that it would cause the death of all his Justice League teammates.
JUSTICE LEAGUE VS THE LEGION OF SUPER-HEROES #6 (OF 6) CVR A SCOTT GODLEWSKI
(W) Brian Michael Bendis (A/CA) Scott Godlewski
THE BLOCKBUSTER SHOCKING CONCLUSION TO THE GOLD LANTERN SAGA. Which legendary DC villain is behind this great darkness that is about to destroy all the ages of heroes all at once? Find out right here: all this AND the future of the Legion of Super-Heroes is revealed!
Retail: $3.99 In-Store Date: 09/27/2022