For the first time in the history of comic books, the word "synergy" isn't being used to explain why comics are being changed to be more like their movie adaptations! IDW and Hasbro have announced Synergy: A Hasbro Creators Showcase, a new 48-page anthology celebrating women (and Hasbro intellectual properties – gotta have that synergy after all).
From the press release:
The Synergy anthology features five brand-new stories: autobiographical works written by Mairghread Scott (drawn by Sara Pitre-Durocher, reuniting the creative team behind the Transformers: Till All Are One series) and Katie Cook (of the hit My Little Pony comic), plus original tales inspired by G.I. Joe, Transformers, and Jem and the Holograms.

In addition to storytelling, Synergy: A Hasbro Creators Showcase includes four new pin-ups, as well as a gallery of thirteen fabulous images from the IDW archives – dynamic illustrations that celebrate the women who have already made, or will soon make, an impact on the world of Hasbro for many years to come.
And quotes from Mairghread Scott:
Transformers is a brand that shaped both my childhood and adult life. I'm grateful for the chance to talk about what these amazing robots have meant to me, and others, over the years.
And Katie Cook:
Hasbro was such an integral part of my upbringing. My Little Pony inspired a youth full of pastel imaginings and became a huge part of my cartooning career as I got the chance to make those imaginings real. I bonded with childhood friends over ponies in the 1980s, and as an adult, I crafted stories for My Little Pony alongside creators who have become the friends of a lifetime.
And editor Megan Brown:
This is a great coming together of creative talent and an amazing showcase for a host of wonderful authors, artists, and colorists — both old and new. I am beyond thrilled to be editing this compilation, and to be given the chance to highlight the amazing work of women in the comics industry.
Look for it in stores during Women's History Month (that's March).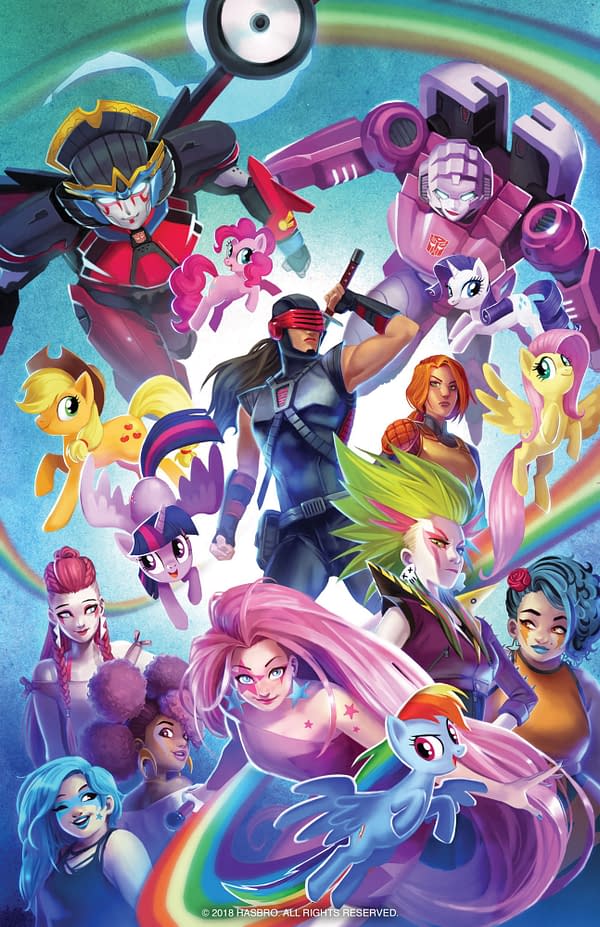 Enjoyed this article? Share it!