And you thought it was an April Fool…
We announced that My Chemical Romance's Gerard Way would be a "showrunner" for a line of books at DC/Vertigo. And so it has come to pass. Well, the DC bit anyway. Though notice it's Vertigo EIC Shelly Bond doing all the Instagramming below… Turning up at the DC Entertainment panel at ECCC, Gerard Way announced his new mature readers imprint would be called Young Animal. And it will stay in continuity wit the rest of the DC Universe.
And the first book? Doom Patrol... though no longer with Becky Cloonan, but with Nick Derington in September.
My take is a brand-new take. I would say, to me- it feels like a cross between, kind of the super strange things that were going on around the time of Grant Morrison and Rachel Pollack, and then it has a lot of the spirit of the original series from the Sixties. It also has this indie kind of feel like Love and Rockets. Love and Rockets is a big influence. He will also be curating a number of other books. Shade, The Changing Girl by Cecil Castellucci and Marley Zarcone, (with covers by Becky Cloonan) which remains within the paradigm of the Peter Milligan Shade series, with the Madness Vest.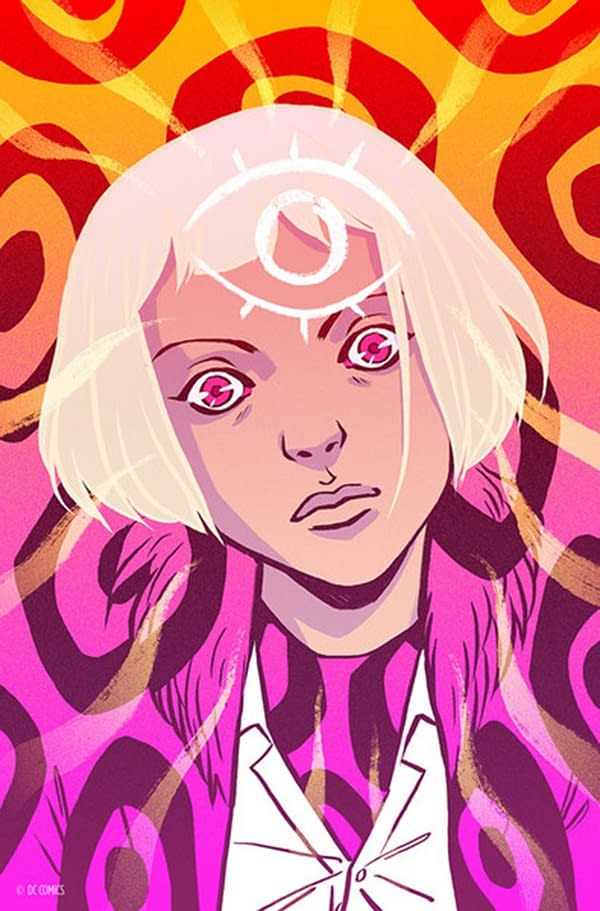 Gerard Way will write Cave Carson Has A Cybernetic Eye with Jon Rivera with art from Michael Oeming, based on sixties DC comic character Cave Carson. And finally Mother Panic co-written by Way with Jody Houser and art from John Paul Leon and Tommy Lee Edwards, a Gotham-set series with a brand new character, Gotham City heiress and street vigilante Violet Paige.. And, presumably, all tweeted out to Way's 1.2 million Twitter followers… Way tells Rolling Stone Magazine,
I like to think everybody is a potentially dangerous human, so one of the things about the line that was really important to me was that it really can reach more people than just a certain type of audience. The books are all constructed to be enjoyed by people that like all different kinds of books. Even the books that have superheroes in them aren't completely superhero books. They're all really unique. It's interesting and different. So [dangerous humans] is a nod to the potential readers. I like to think of dangerous humans as potential readers.
Enjoyed this article? Share it!