The release of Vampirella #1 tomorrow from Dynamite, written by Priest, an intelligent, sophisticated thriller, embracing the legacy of the character but thrusting it deep into modern society and getting orders of 130,000 is all very well and good. But what if you are the kind of person who enjoys the blood'n'gore'n'tits'n'that's-enough of nineties Vampirella? Well, it appears that in October, you will get your wish.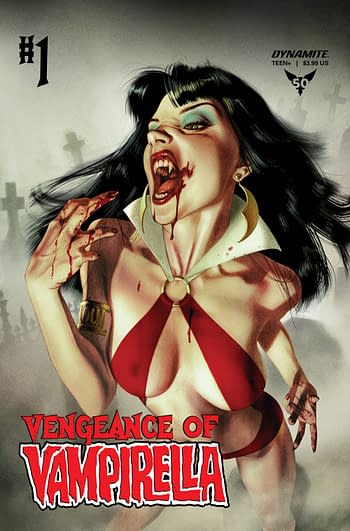 Vengeance of Vampirella returns with Tom Sniegoski and heand picks right up from where he left of with that series, twenty-odd years ago, alongside artist Michael Sta. Maria.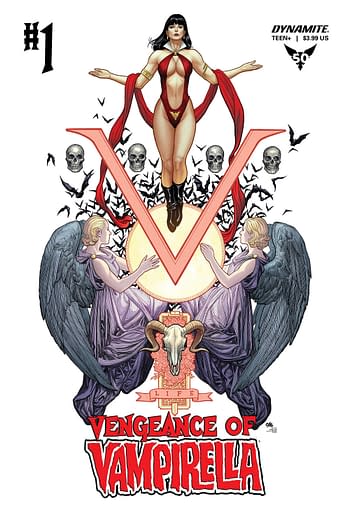 "If somebody had told me just a few years ago that I'd be able to come back to a character I have great affection for, and pick up with her exactly where I left off 25 years ago, I would've said that it would never happen," says Sniegoski. "But here I am, smack dab in the horrific, apocalyptic world that I set up for Vampirella and never got to play in. And I haven't heard the word 'NO' yet, no matter how insane the idea. Just wait until you see Michael Sta. Maria's art, peoples' new favorite Vampirella artist is about to be unleashed! Can you tell I'm excited?"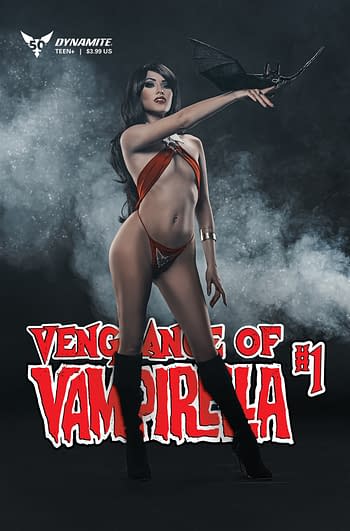 The original Vengeance of Vampirella series debuted in 1994 with a wraparound cover by now-Marvel CCO Joe Quesada and no-Kickstarter star Jimmy Palmiotti, covered in red foil. It ran for two-and-a-half years, and concluded with a series drawn by Amanda Conner.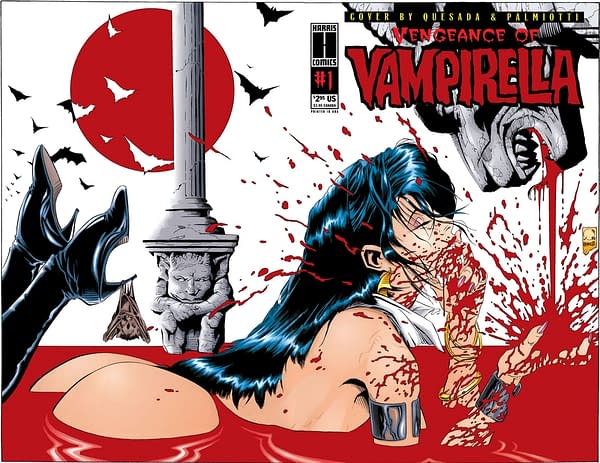 And now it begins again. It will also be accompanied by a Facsimile Edition of the original 199 Vengeance of Vampirella #1, red foil and all.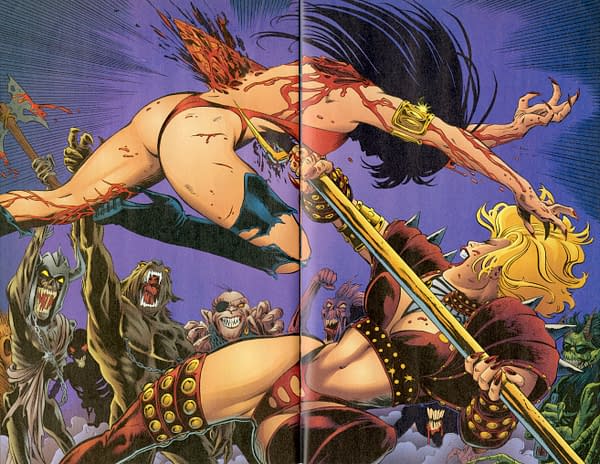 This October's Vengeance of Vampirella picks up from that finale, but 25 years later. With Earth's protector against the supernatural felled, humanity lives in ruins, subjugated by monstrosities ruled by Nyx and her Chaos Lords. Vampirella's martyrdom has achieved mythic status among the bands of rebels on the outskirts of society. Everything takes a turn when some think they may be able to resurrect their savior. But she doesn't come back all there at first… All readers will feel at home in this series – both longtime fans and newcomers who have recently joined with the massively successfuly flagship series by Christopher Priest.

To celebrate this special treat Dynamite has assembled their own Danse Macabre of beloved cover artists. Joshua Middleton (Aquaman, Martian Manhunter) leads the crew with his first ever cover for Dynamite! Perfectly complementing his gorgeous wraparound cover for Vampirella #1, Frank Cho (Harley Quinn, Red Sonja) contributes a cover incorporating his acclaimed ballpoint pen techniques and peerless cheesecake skills. Fellow superstars Ben Oliver (American Carnage) and Lucio Parrillo (Red Sonja Birth of the She-Devil) have painted covers as well. While Joanie Brosas, one of the most popular Vampirella cosplayers, steps in front of the camera for a cover.

Classic Vampi artist Buzz is also returning with a limited edition incentive cover, and shared this, "I'm as excited now as I was 25 years ago when my artwork helped relaunch Vampirella and forever attached me to this badass girl from Drakulon. It's almost kismet that I've been invited to celebrate her 50th as I turn 50. We're both back..with a VENGEANCE!"
Enjoyed this article? Share it!