Posted in: Comics | Tagged: diamond retailer breakfast, eccc, HRL, valiant
---
Harbingers of Harbinger Wars 2 Harbingers at the ECCC Diamond Retailer Breakfast
Valiant's Hunter Gorinson and Adam Freeman are giving Valiant's presentation at the Diamond Retailer breakfast at Emerald City Comic Con, and Bleeding Cool ace reporter Ian Melton is on the scene sending us the latest updates.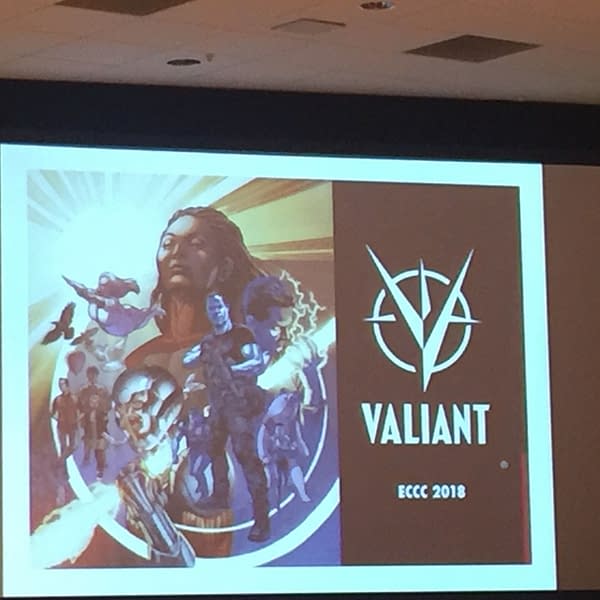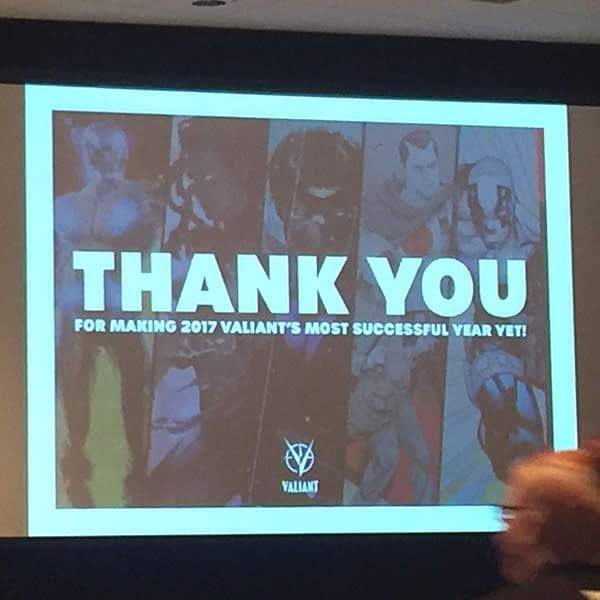 The presentation began with the announcement that 2017 was Valiant's best year yet, with X-O Manowar #1 the company's best-selling book in 2017.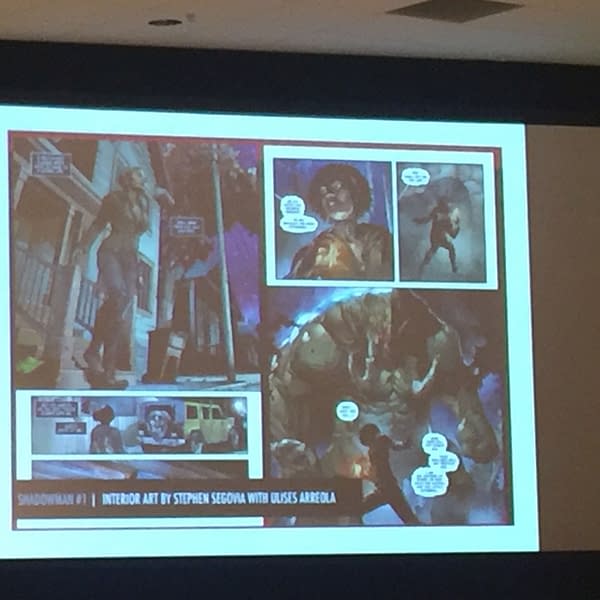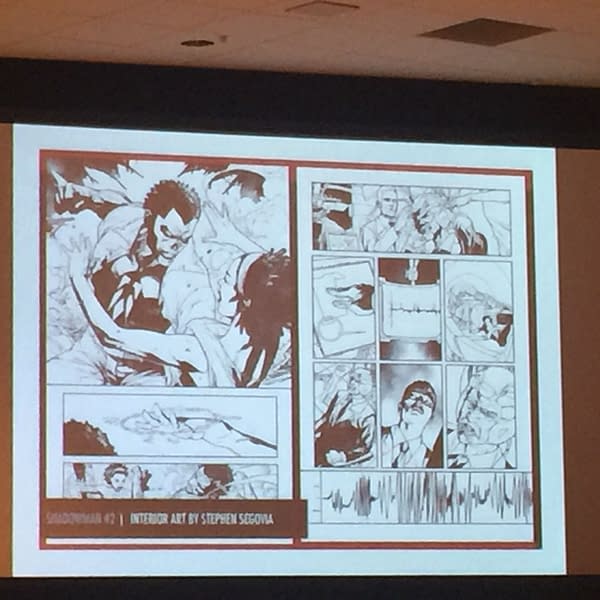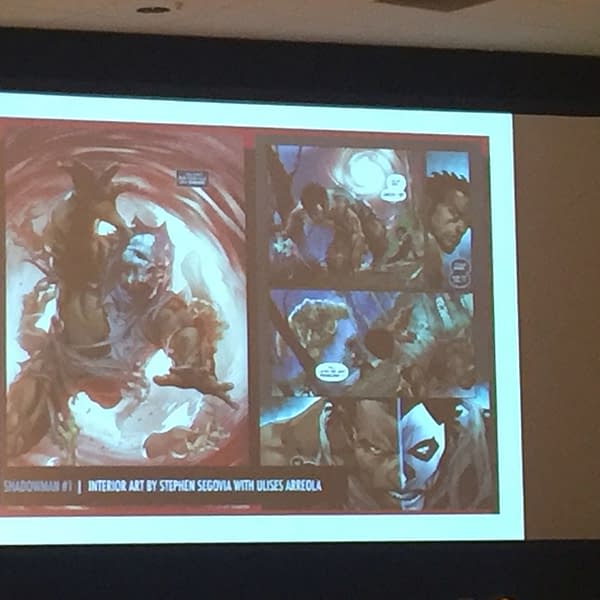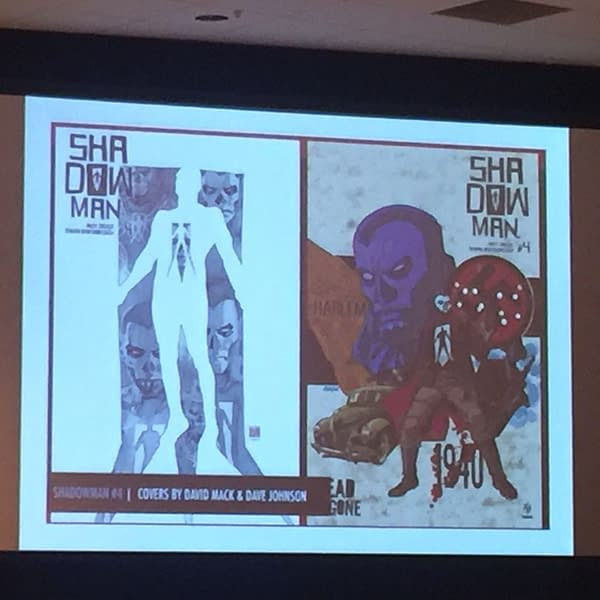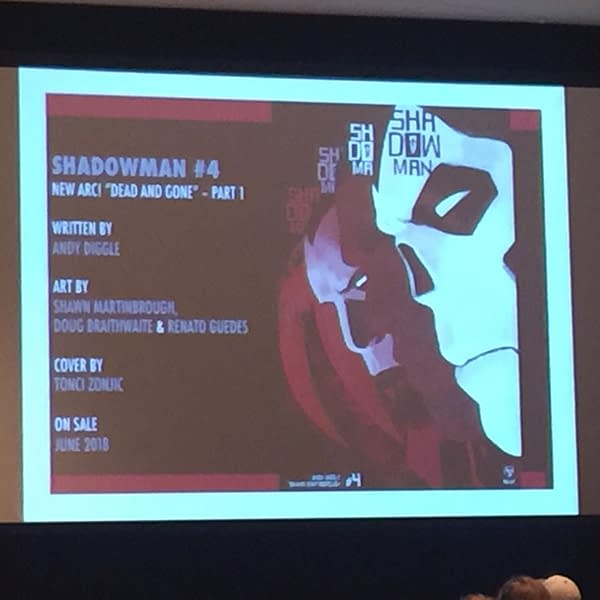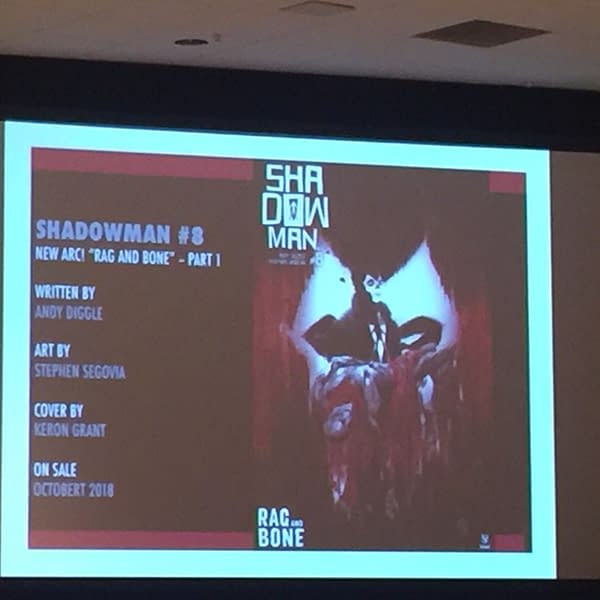 Andy Diggle's Shadowman is coming next month, Diggle's first Valiant book which he's been working on for a year and launching the same week as the aforementioned X-O Manowar #1. Valiant wanted Diggle to have a 2-3 year roadmap for the comic, which he does. Shadowman will flesh out the supernatural corner of Valiant, especially the Deadside that will affect other books. A new arc beginning with Shadowman #4 called Dead and Gone will see Shawn Martinbrough joining Diggle, and introducing the 1940s Shadowman. Shadowman #8 will have a new arc called Rag and Bone bringing back Master Darque and reconnecting him to Shadowman.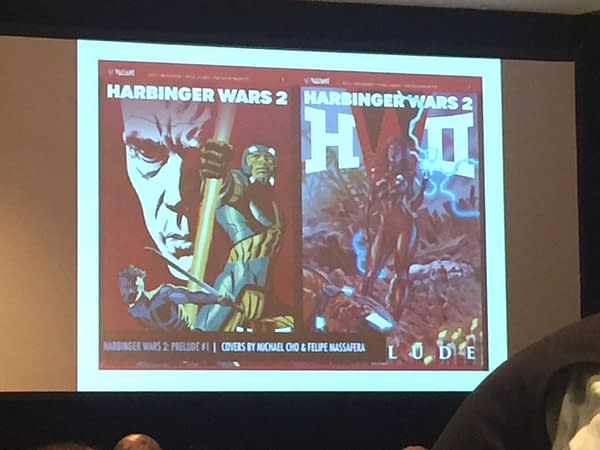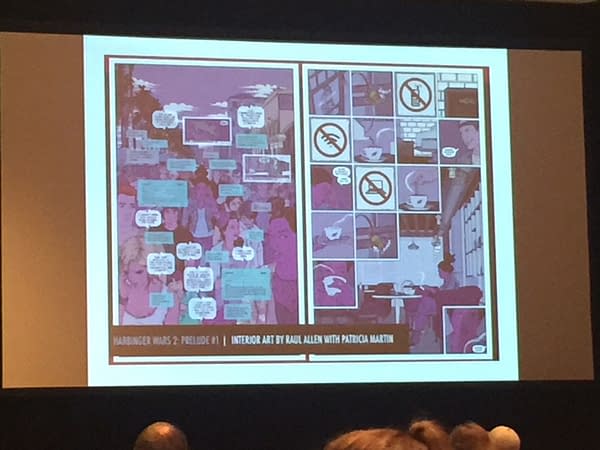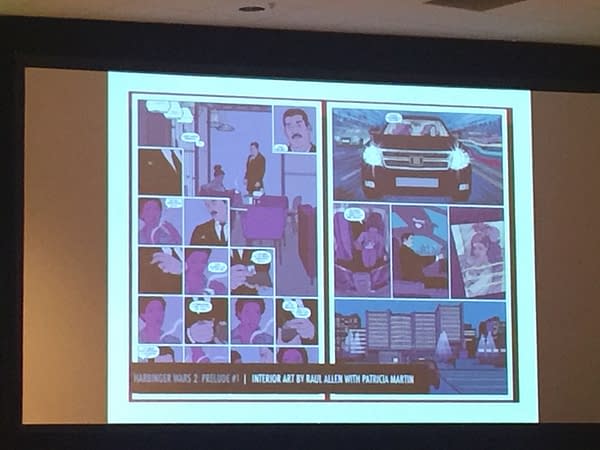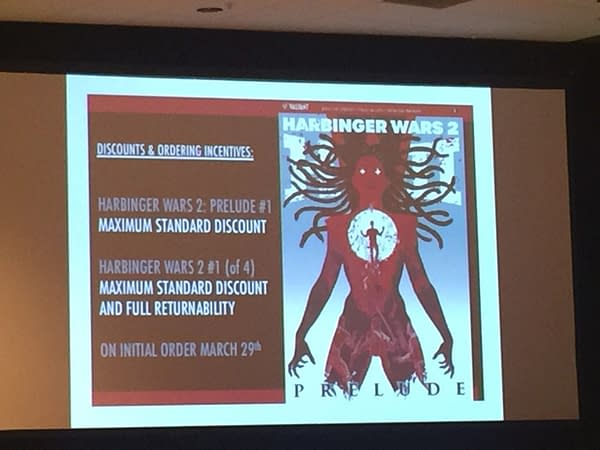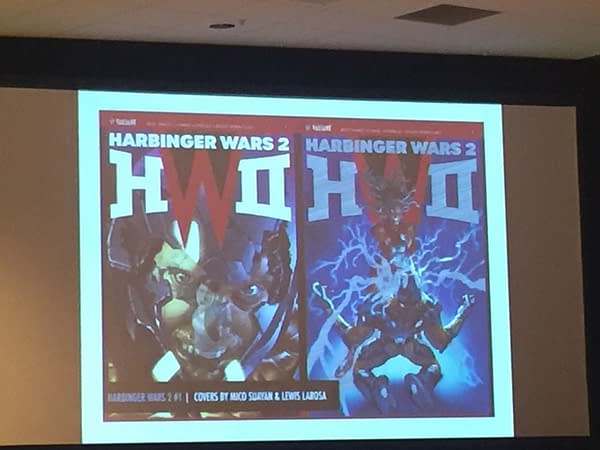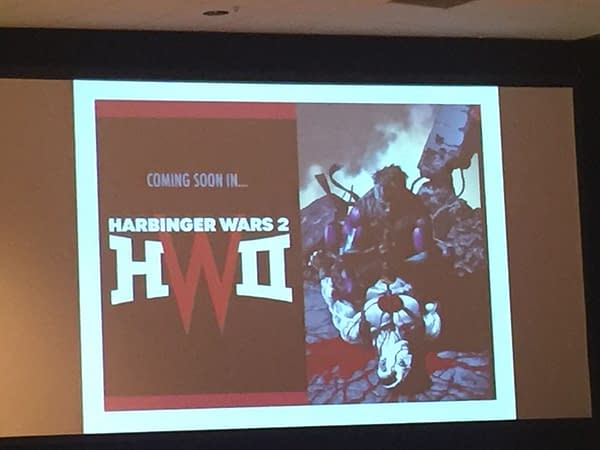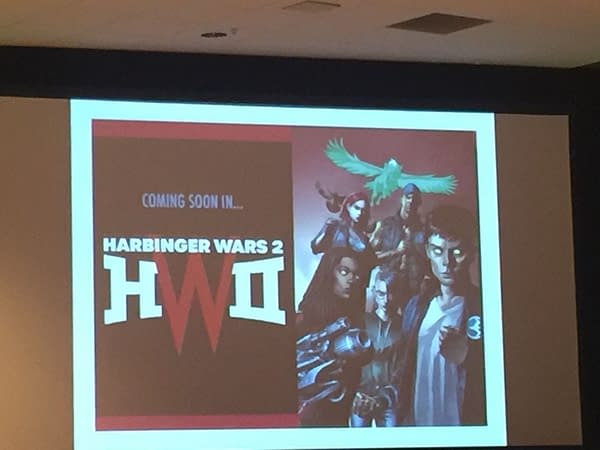 Harbinger Wars 2 is coming, with a prelude designed to come out alongside Free Comic Book Day. You could say the prelude is a harbinger of Harbinger Wars 2. No? Well, we tried. Harbinger Wars 2 #1 is coming at the end of May, along with lots of promotion for the event. The Harbinger part of the Valiant Universe will be coming back "in a big way" with this event, with the biggest characters fighting it out, some for the first time.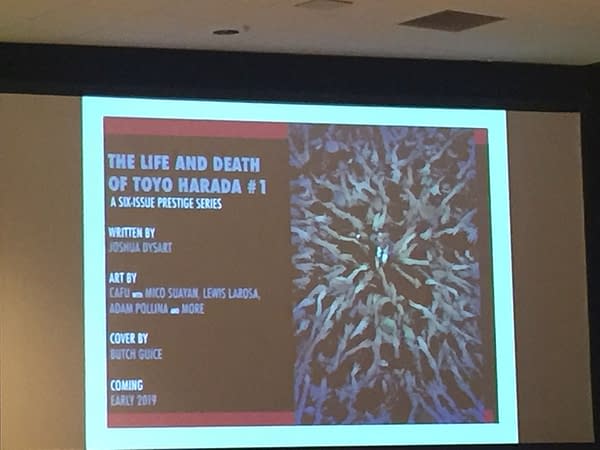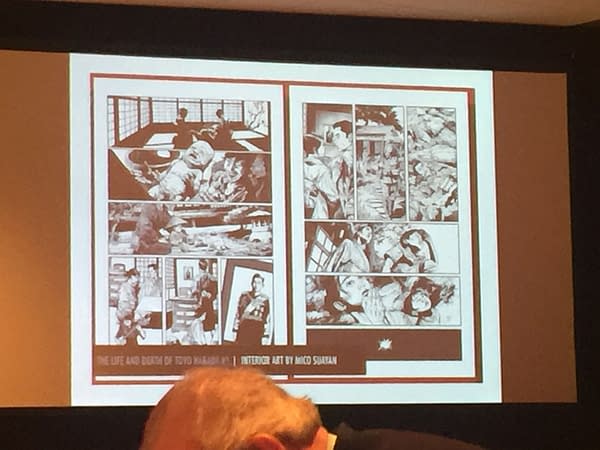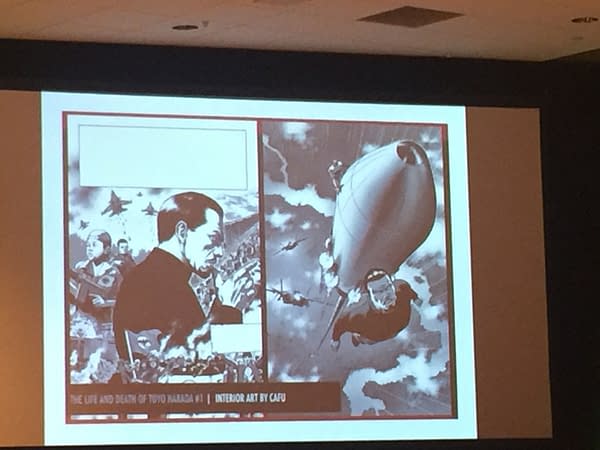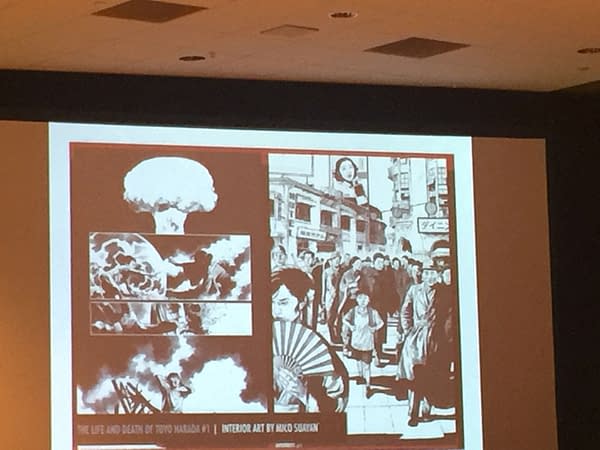 2019 will see The Life and Death of Toyo Harada #1, written by Joshua Dysart. It will be a double-sized prestige mini-series looking at Harada's life from the 1940s to the present. Valiant hopes to have issues #1-4 ready for retailers to see before issue #1 hits stores.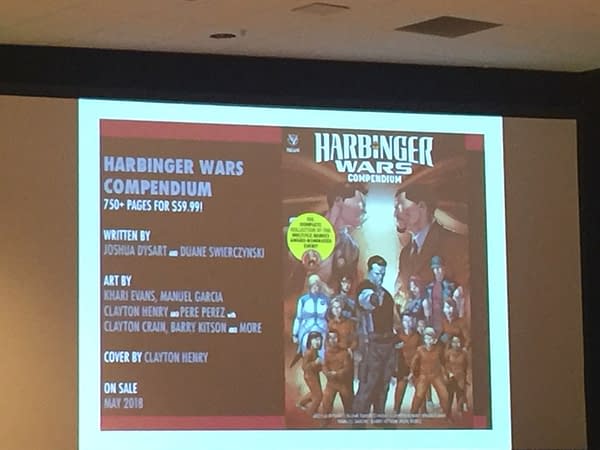 Valiant is also planning to package more comics into "compendiums." In May, Harbinger Wars Compendium will be released, collecting more than 750 pages of comics for $59.99, a great way to catch up on the Valiant Universe or to bludgeon an enemy to death with.
Stick with Bleeding Cool all day for more live reports out of ECCC.
---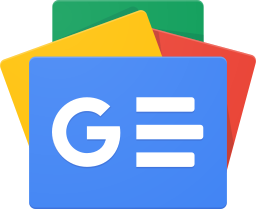 Stay up-to-date and support the site by following Bleeding Cool on Google News today!