Of late, IDW has been publishing a shared universe of a variety of toy franchises that Hasbro have created or acquired. Transformers, GI Joe, Rom, Visionaries, Action Man, MASK, if it's not nailed down it can be part of a cross continuity.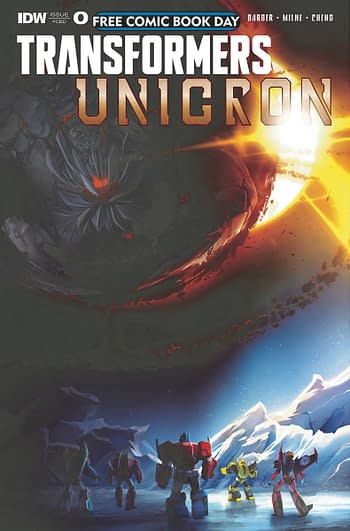 Unicorn is a longstanding Transformers character that first appeared in the 1986 animated movie, that few comic book stories have known what to do, given that he is a planet-sized robot who transforms into… a planet and wants to eat the universe. The most recent Transformers movie even suggested he might be the Earth itself.
In the IDW comic books, Unicron did not exist while a similar figure Mortilus was a being of faith. Then Unicron briefly debuted in the IDW Hasbro Universe at the end of the cross-franchise crossover First Strike, having been awakened by the invasion of Cybertron.
And now the upcoming Transformers: Unicron series for Transformers has been dubbed the end of IDW's Transformers stories. We can confirm that this is indeed the end, but IDW are going out in style.
The upcoming Free Comic Book Day Unicron #0 issue, available on the 5th of May, will kickstart the series as the Transformers deal with Unicron's arrival at… the planet of Elonia.
The home planet of Rom, the Space Knight – the previous origin planet Galador was owned by Marvel Comics – Unicron has come to eat it up. Necessitating the involvement of Transformers. But why Elonia?
Because Elonia is one of the thirteen lost colonies of Cybertron. And the crystalline armour of the Space Knights is revealed to be from the buried body of an ancient Transformer… and now fit to be eaten by Unicron…
It all ties in. While IDW still have Transfomers to publish, that is.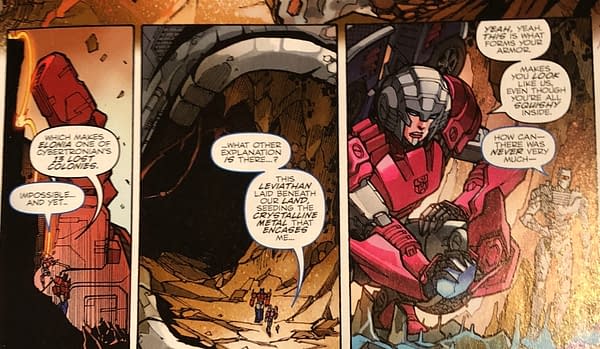 FCBD 2018 TRANSFORMERS UNICRON #0
(W) John Barber (A) Alex Milne (CA) Sara Pitre-Durocher
Not a whimper, nor a bang-the end comes with a squall of entropy shrieking from the ravenous maw of death itself. The message is clear: Unicron has arrived. The Transformers lock into a desperate bid to save Rom's homeworld from the world-killer – but why has Unicron chosen this world on his path to Cybertron… and Earth? The biggest story in the history of Transformers starts now: for Unicron's arrival can mean nothing less than the end of a universe.
Teen Audiences.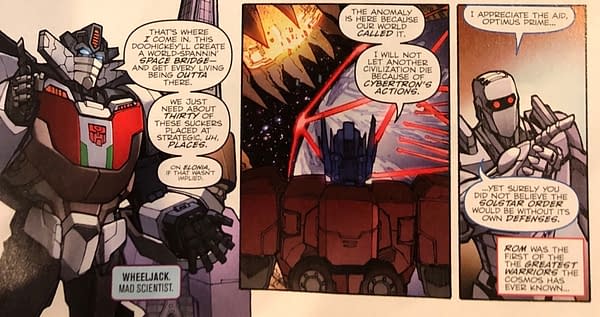 Enjoyed this article? Share it!