Trump Vs Trudeau in Captain Canuck: Invasion for Canada Day in July?
For Free Comic Book Day on May 5th, Chapterhouse Comics are launching a new series, Captain Canuck: Invasion, spinning out of their Captain Canuck series.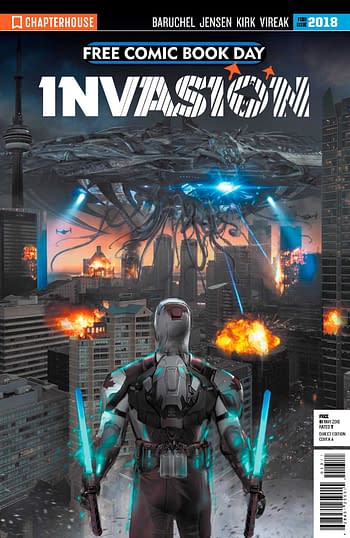 Captain Canuck: Invasion FREE COMIC BOOK DAY 2018
Story by Jay Baruchel and Van Jensen
Art by Leonard Kirk
Cover by John Gallagher
The biggest event in the history of Chapterhouse Comics is here with INVASION, an epic battle between Earth's heroes and the otherworldly threat of the Borealis. The alien race has long observed our planet, and in this special event prologue, they arrive on Earth, ready to pass judgment. This Inquisition reflects on the state of the world today— war and unrest, violence and ugliness—and deliver their verdict; humanity is a failure, too dangerous to be allowed to live. The Borealis has the power to destroy whole planets. But the Borealis did not account for Captain Canuck, who stands to the last to defend his home, no matter the odds. Canuck and his fellow heroes— Kebec, Northguard, Freelance, Fantomah, Pharos, Human-Lizard, and the Agents of P.A.C.T— are proof that all is never lost, and that the world, for all its flaws, is still worth saving.
Our FCBD INVASION prologue features the debut of the Captain Canuck Season Four writing team of Jay Baruchel and Van Jensen, with art by superstar artist Leonard Kirk (Batman, Supergirl, JSA, X-Factor), and a cover by John Gallagher (Riverdale, Supergirl, The Flash). Baruchel is the writer of the film Goon, and writer-director of the sequel, Goon: Last of the Enforcers, as well as a renowned actor in TV and film, and the voice of Hiccup in How to Train Your Dragon. Jensen has written The Flash and Green Lantern Corps for DC Comics, as well as James Bond, Cryptocracy and the upcoming Two Dead. If you haven't visited the Chapterverse, this epic summer event is the perfect welcome to our world!
All fine and dandy. But Bleeding Cool has come across thumbnail images of what may be to come with Invasion for July. With Sunday, July 1st being Canada day. And with choices of Prime Minister Trudeau and President Trump covers.
Is the storyline really about an alien invasion or is it a smokescreen? Is Canada invading the USA? Is the USA invading Canada? Who is going to build a wall first?