We're only what feels like 17 years into Donald Trump's landmark presidency, and it already feels like we're becoming just a tad bit oversaturated. Trump is constantly the subject of our 24-hour cable news channels, our late night talk shows, our satirical comedy, our video games, our movies, and even our clickbait comic book news articles. Everywhere you look, it's Trump, Trump, Trump. But in case you aren't getting enough of that, Keenspot has you covered.
Back in August, we plunked down the cash on your behalf to read Trump's Titans #1, and… well, we couldn't really figure out what the point was. It was parody, for sure, but parody that didn't appear to take any kind of stance, and in an environment already so rich with Trump parody, competing with the near-parody of real life, we just didn't know what niche it was trying to fill. But maybe this is your thing. Maybe you want to be bombarded by even more Trump, but you want it to be Trump bombardment that doesn't choose a side, neither pro nor con. If so, Keenspot has put out four issues of Trumpy goodness so far, and they're collected here.
If you can't get enough Trump — and that's fine, hey… we're not judging you — check out the solicit below and look for Trump's Titans Vol. 1: Sick of Winning in stores in April.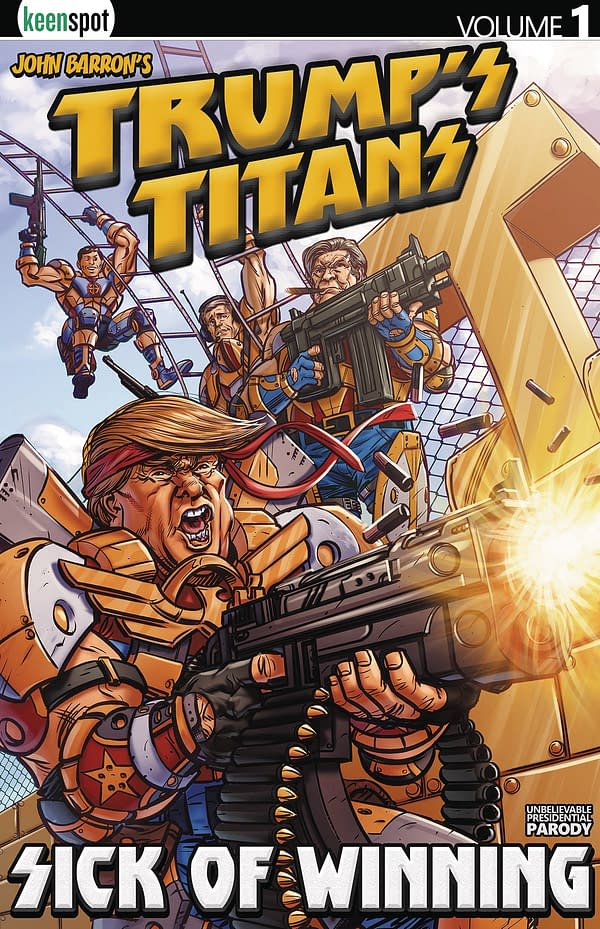 TRUMP'S TITANS VOL. 1: SICK OF WINNING
JAN181757
(W) John Barron (A) Shawn Remulac (CA) Bill Blankenship
Thanks to a secret government technology invented by his genius scientist uncle in the 1980s, President Donald J. Trump becomes not only the most powerful man in the world, but the most powerful being in the universe! Using his very good brain, the best brain, The Donald assembles a superhero team like nobody's ever seen before! They quickly deliver fire and fury to threats against our nation such as Fidget Spinners, Mark Zuckerberg, and The Mandela Effect. This bigly volume collects the fabulous first four issues of Trump's Titans, which some people are saying is the hugest-selling comic book series of all time, believe me! Available in Softcover and Hardcover editions.
In Shops: Apr 25, 2018
Enjoyed this article? Share it!