The New Mutants comes to the end of its run before the Marvel NOW! clear out. So what would you do? That's right, have a party… everyone is invited from aliens to demons to demi-gods to, well, humans. Radical choice that last one. Shame the Disir couldn't bring a bottle… full of pain, tears and regrets. Fashion Beast plays its period of original creation, with fears of nuclear war and nuclear winter, all the time while seen through filters and reflection… Justice League Dark get a new team together with Amethyst, Frankenstein and Andrew from I Vampire, otherwise known as characters-whose-books-could-do-with-a-sales-bump-before-cancellation. Still not convinced by this John Constantine. Though, as Jenny Sparks was created as a bit Constantiney, is Constanine becoming a little Sparky? Aquaman is a bit down on his Hallowe'en costume. Come on Aquaman, one of the rules of cosplay is that you commit to the character! Revival goes for a little but of revolutionary struggle and conspiracy. You know, compared to the dead, we are all the 1%… there are a lot of dead people out there.
The New Deadwardians also continues its class struggle allegory in this final issue. Final issue? Come on chaps, I want a hundred issue series here.It's just not cricket. You've gone out into the field, played an over and then retired to the pavilion. It's just not on.
In Happy we discover that hallucinations can be very useful indeed, once they become sentient. I lost my house keys for a good half hour this morning, this is just the sort of help I could have done with. Fatale gives us a lesson in "how to make a man an unredeemable bad guy in one simple panel"
While we learn everything we need to about how Hit Girl became such a psychopath at such a young age. She reads Mark Millar comics. Case closed? Swamp Thing Annual manages to spoil Swamp Thing #14 a bit. In that we know that Swamp Thing will put on a few extra stones. And grassy lumps, And branches. And basically grow a lot into something sloser to a Swamp King Kong. Swamp King Thong. Something like that. Big fella.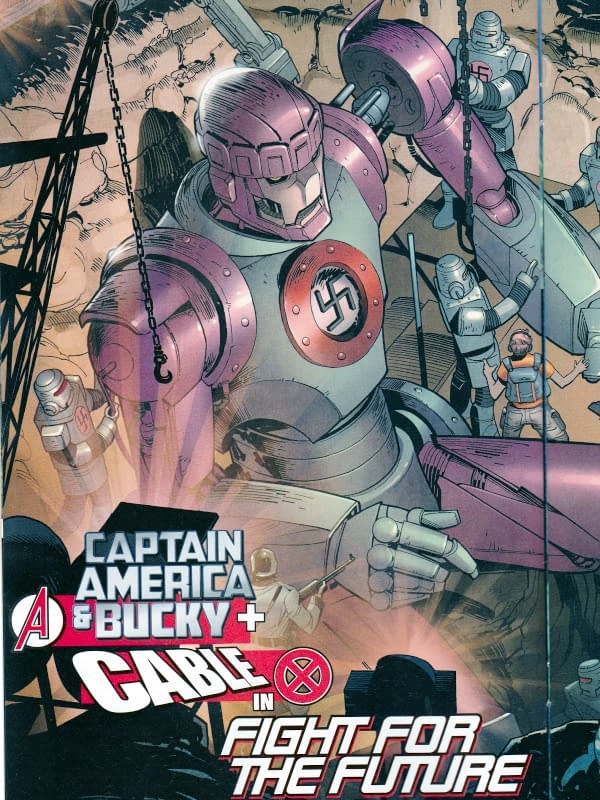 Talking of big fella's A Plus X gives as a World War Two Sentinel operated by punch cards. And, yes, time travel is involved. Funny that.
And Invincible does a Miracleman job on my home town. Cheers guys, hasn't the East Coast been destroyed enough, you folk had to take it out on London today as well?
Comics courtesy of Orbital Comics, London. Who are hosting a Nick Spencer signing of Bedlam #1 today, as well as a gallery of Bedlam original art from Riley Rossmo and a Hallowe'en party tonight…