We know that we're getting a new Fantastic Four from Dan Slott and Sara Pichelli.
Well is Uncanny X-Men #1 and/or X-Men #1 next?
We ask because the current X-Men Gold shows all the signs of coming to an end. But when?
We have this Amazon listing for X-Men Blue for November, taking the series up to August
X-Men Blue Vol. 5 Paperback – November 6, 2018

THE SEARCH FOR JIMMY HUDSON! In the aftermath of VENOMIZED, JIMMY HUDSON has been changed forever! As two sets of memories tear at his mind, JIMMY goes into hiding… but is he a danger to himself and others? The X-MEN try to save their friend, but DAKEN has more lethal plans for Jimmy! And Jimmy finally gets a codename…but is he a hero or a villain? COLLECTING: X-MEN BLUE 29-34
But for X-Men Gold, it only goes up to #30, June's issue, and no other Amazon listing.
X-Men Gold Vol. 6 Paperback – August 21, 2018

Kitty's X-Men and the Xavier Institute have some big changes on the way… Will they be able to keep their doors open? Meanwhile, Rachel Grey current codename "Prestige" might not fit anymore after her dark rebirth. COLLECTING: X-MEN GOLD 26-30
Could Gold conclude and Blue continue? Either way as all the Fantastic Four collections gave an inkling of a new Fantastic Four… the end of 2018 is even fuller with X-Men collections than usual.
It all feels rather… uncanny… almost what we were hearing in NYCC last year.
—–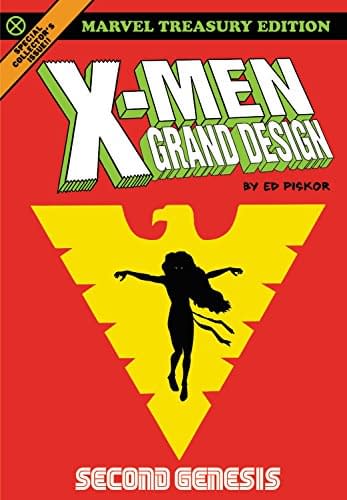 X-Men: Grand Design – Second Genesis by Ed Piskor Paperback – October 30, 2018
The sequel to the critical smash hit X-MEN GRAND DESIGN is here – and it's ALL-NEW and ALL-DIFFERENT! Witness Wolverine, Thunderbird, Colossus, Storm, and Sunfire suit up as X-Men for the very fi rst time all over again! And then the Shi'ar! The Brood! The Starjammers! Watch as Marvel's merry mutants take to the stars. See the fi rst X-Men adventures of Kitty Pryde and Carol Danvers. Marvel at the conclusion of the now-classic DARK PHOENIX SAGA. All through the lens of indie auteur ED PISKOR, who lovingly researches, writes, pencils, inks, colors and letters every page just for you!
COLLECTING: X-MEN: GRAND DESIGN – SECOND GENESIS 1-2
X-Men: Mutant Massacre Omnibus Hardcover – November 20, 2018
The first X-Men crossover event – and still the most brutal! When Sabretooth and the lethal Marauders attack the underground mutant outcasts known as the Morlocks, the X-Men, X-Factor and New Mutants join forces to stop them – with help from Thor, Daredevil and Power Pack! But the cost of victory is very high, and many X-Men come away badly injured. While Shadowcat might be saved with the Fantastic Four's help, the Angel contemplates a much bleaker fate! Psylocke, Longshot and Dazzler join the undermanned X-Men – just in time to clash with the Avengers – as Marvel's mutants struggle to recover and rebuild!
COLLECTING: UNCANNY X-MEN (1981) 210-219; X-MEN ANNUAL (1970) 11; X-FACTOR (1986) 9-17, ANNUAL 2; NEW MUTANTS (1983) 46; THOR (1966) 373-374, 377-378; POWER PACK (1984) 27; DAREDEVIL (1964) 238; FANTASTIC FOUR VS. THE X-MEN 1-4; X-MEN VS. THE AVENGERS 1-4
X-Men: The Magneto War Paperback – October 23, 2018
The Master of Magnetism is back – and he'll do whatever it takes to secure his goal: a safe haven for Homo superior! As Magneto's actions threaten the globe, the X-Men find themselves in the middle of a war for the future of mutantkind! But what is Magneto's connection to their teammate Joseph – and what will be his fate? A new era begins for the island nation of Genosha as Wolverine seeks vengeance, the unstoppable Juggernaut crashes through dimensions, the X-Men find themselves on a world of doppelgangers, and the Red Skull strikes! But when Magneto claims his throne at last, will Rogue and Quicksilver stand with him…against an entire world?
COLLECTING: X-MEN (1991) 85-91, ANNUAL 1999; X-MEN: THE MAGNETO WAR 1; UNCANNY X-MEN (1981) 366-371; X-MEN UNLIMITED (1993) 23; MAGNETO REX 1-3; MATERIAL FROM X-MEN UNLIMITED (1993) 24
X-Men: Phoenix in Darkness by Grant Morrison Paperback – October 16, 2018
Jean Grey's cycle of death and rebirth continues as one of comics' most celebrated writers leaves his unmistakable mark on the Phoenix! As Jean's connection with the cosmic firebird rekindles, Magneto returns! The X-Men thought that his mutant menace had finally been ended – but he was hiding in plain sight all along, waiting to make his move. With the X-Men scattered and blindsided, New York afl ame and Xavier's students corrupted, Jean must reclaim the power of the Phoenix…no matter the terrible cost! Then, 150 years in the future, the X-Men's ultimate foe has finally revealed his true face. But when the Phoenix Egg is discovered, will the X-Men of tomorrow become the next victims to burn in the Phoenix Force's purifying flames? Experience a pivotal chapter in the life and legacy of Jean Grey! COLLECTING: NEW X-MEN (2001) 146-154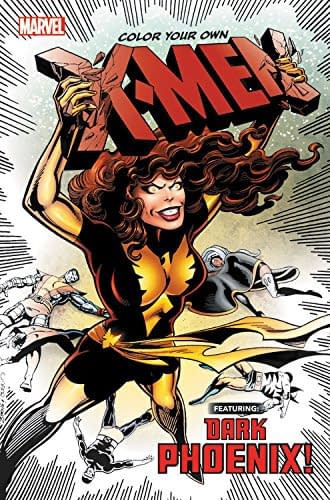 Color Your Own X-Men Paperback – October 16, 2018
In a black-and-white world of hate and fear, the X-Men are a colorful force for good – and now they need your help! We've collected incredible illustrations from some of the fi nest talents ever to draw the Children of the Atom, and now it's time for you to discover your own uncanny mutant coloring ability! X-Men Blue, X-Men Gold, X-Men Red…it's entirely up to you! Whether it's the black-and-yellows of the Original Five, the bold hues of the All-New, All-Different crew or the array of greens, oranges, pinks and purples that have been added to the roster over the years, all your pens, pencils and crayons will have their moment to shine. Featuring your favorite Uncanny, Astonishing, Amazing heroes and evil mutant villains – from Wolverine, Jean Grey and Cyclops to Magneto, Mystique and more!
X-Men Epic Collection: The Sentinels Live Paperback – November 27, 2018
Professor X is dead! The X-Men have gone their separate ways. Searching to find a way to make its poorest-selling super heroes click, Marvel was trying anything and everything. With the title on the verge of cancellation, Roy Thomas and Neal Adams clicked, and the rest is history. Their epic evolution of the X-Men defines the team to this day. Adams' lavish and dynamic visuals and Thomas' challenging and contemporary stories combined in a book that throbbed with the pulse of the times. Their iconic stories collected here introduce Havok, the vampiric villain Sauron, the Mutates and X-Man-to-be Sunfire! Not to mention the Living Pharaoh, a classic Savage Land team-up with Ka-Zar, as well as the return of Magneto!
COLLECTING: VOL. 3: X-MEN (1963) 46-66; MATERIAL FROM KA-ZAR (1970) 2-3, MARVEL TALES (1966) 30
X-Men: Marauders Paperback – November 27, 2018
Mike Carey reinvigorates the X-Men! A shaken Sabretooth arrives at the X-Men's doorstep – asking for asylum! But what could possibly strike terror into the heart of Victor Creed? The Children of the Vault have risen…and they spell doom for the X-Men! Rogue must assemble a dangerous new squad -including Mystique, Cable, Lady Mastermind and Sabretooth – but when a terrifying alien threat emerges, can Rogue hold on to her sanity? Meanwhile, the deadliest foes in the X-Men's history, the Marauders, return – and Gambit is front and center among their ranks! Why are the Marauders eliminating specific mutants? And what prize do they plan to rip from the X-Men's hands? It's an exciting new direction for the X-Men, that sets up the status quo for the "Messiah Complex" event!
COLLECTING: X-MEN (1991) 188-199, 200-204 (A STORIES); X-MEN ANNUAL (2007) 1
X-Men Classic: The Complete Collection Vol. 1 Paperback – November 27, 2018
In 1986, Marvel launched CLASSIC X-MEN, a series that reprinted the "All-New, All-Different X-Men" era – with a twist! All-new backup stories fleshed out the 1970s tales and delved deeper into the characters' lives – and new story pages were even inserted into the reprints, expanding on key moments and sowing the seeds for future storylines! Now, all this newly created material has been collected together – complete with comparisons and text pieces explaining what was changed, what was added, and why! Friendships are forged, allies are mourned and lives are transformed in these rare tales that dance between the raindrops of some of the most revered X-Men comics of all time! It's the perfect companion piece to your UNCANNY X-MEN collection!
COLLECTING: MATERIAL FROM CLASSIC X-MEN 1-23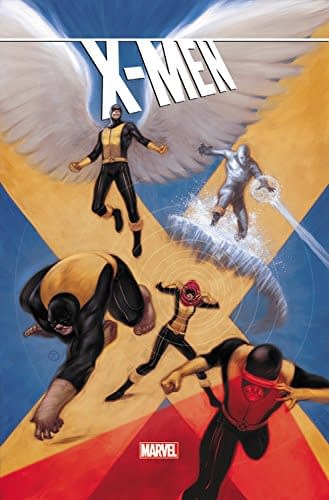 X-Men: Uncanny Origins (X-Men: Uncanny Origins (2018)) Paperback – October 23, 2018
Welcome to the X-Men's first year -hope you survive the experience! Professor Charles Xavier has recruited five of the most powerful mutants he's ever seen to save a world that hates and fears them. But there's only one problem: They're teenagers who have to survive hormones and uncontrollable superpowers, all while fighting for their very lives. So right now's the perfect time for Magneto and the Brotherhood of Evil Mutants – along with the Sentinels, Unus the Untouchable and more – to make their bids for control of the world, right? The first class of X-Men is forged in the fires of combat in ways you've never seen before. You only think you know the story! Plus, the beginning of a new Uncanny era of X-Men in the aftermath of a mutant Schism!
BONUS MATERIAL: UNCANNY X-MEN (2011) 1
X-Men: Cyclops & Phoenix – Past & Future Paperback – October 23, 2018
Join Scott Summers and Jean Grey on a pair of wild adventures in time! First, the newly married couple faces a honeymoon like no other when they're pulled 2,000 years into the future! There, Cyclops and Phoenix must raise Scott's son Nathan in the shadow of Apocalypse! Can this post-nuclear family overthrow the ancient tyrant and his sadistic protégé, the boy called Stryfe? Witness the story that sets Nathan on the path to becoming Cable! Then, Cyclops and Phoenix are thrown back in time to Victorian England to witness the rise of another mutant menace! Meet scientist Nathaniel Essex, and learn for the first time how his obsession with evolution and his own encounter with Apocalypse transform him into…Mister Sinister!
COLLECTING: ADVENTURES OF CYCLOPS & PHOENIX 1-4, FURTHER ADVENTURES OF CYCLOPS & PHOENIX 1-4, MATERIAL FROM MARVEL VALENTINE SPECIAL
X-Men: The Wedding of Cyclops & Phoenix (X-Men: The Wedding of Cyclops & Phoenix Omnibus) Hardcover – September 18, 2018
Wedding bells are ringing for the most star-crossed super hero couple of all…Scott Summers and Jean Grey! But there's a ton of action to go with the romance – as the X-Men and Avengers must keep Magneto's Acolytes from destroying Genosha, the mutant-killing Legacy Virus hits close to home, and Professor X decides to rehabilitate the monster known as Sabretooth! But love conquers all as Jean and Scott tie the knot at last – before a mind-bending honeymoon to the far future, where they must raise Cyclops' long-lost son and overthrow the planet-conquering Apocalypse!
COLLECTING: X-MEN (1991) 26-35, AVENGERS (1963) 368-369, AVENGERS WEST COAST 101, UNCANNY X-MEN (1981) 307-310, CABLE (1993) 6-8, X-MEN UNLIMITED (1993) 3, UNCANNY X-MEN ANNUAL (1992) 18, X-MEN: THE WEDDING ALBUM, WHAT IF? (1989) 60, ADVENTURES OF CYCLOPS AND PHOENIX 1-4, MATERIAL FROM MARVEL VALENTINE SPECIAL
Mutant X: The Complete Collection Vol. 1 Paperback – November 6, 2018
When Alex Summers, A.K.A. Havok, is thrown into a parallel world, he displaces his counterpart and finds himself leading a mutant team with familiar – yet very different – faces! The Six are the Brute, the Fallen, Ice-Man, the vampiric Bloodstorm, and Marvel Woman…better known as Havok's wife, Madelyne Pryor! Life is suddenly a lot more complicated for Havok…especially because his teammates don't believe his claims about being in the wrong universe! But things really get messy when one of the Six puts plans in motion to take over their world – stoking the fires of anti-mutant sentiment! Witness this dimension's versions of Wolverine, Elektra, Nick Fury, Gambit, Magneto, the Fantastic Four and more! But where are the X-Men? And can Havok find a way home before this dangerous dimension becomes the death of him?
COLLECTING: MUTANT X 1-17, ANNUAL 1999
Enjoyed this article? Share it!