Undiscovered Country #1 Outsells Batman #82 in November 2019 Diamond Comics Marketshare
In October's Diamond marketshare figures, the numbers were pretty much level pegging for September when it came to Marvel marketshare, with Marvel on 39.51% dollar share and 45.2% unit share. DC upped their numbers with a 31.67% dollar share and a 32.02% unit share, gaining from Image Comics which dropped to a 7.59% dollar share and a 7.18% unit share.
In November, Marvel dropped down with a 37.41% dollar share and a 42.68% unit share but still ahead of DC Comics as they drop down to a 30.72% dollar share though up a bit to a 32.41%% unit share, while Image Comics has a tiny uptick on 7.90% dollar share and a 7.87% unit share. A four-week month, November 2019 beat November 2018 in comic book sales, which has helped contribute to a small turnaround through 2019, selling around 2% fewer comic book sin the direct market overall, but making around 2% more money due to higher cover prices.
New Mutants #1 by Jonathan Hickman, Ed Brisson, and Rod Reis topped the charts. And Marvel takes the top seven titles in dollars and top six in unit sales. And with acetate covers the same price as cardstock covers, there shouldn't be any cover splitting to excuse DC Comics drop in prominence – we'll find out more on Monday. And also Undiscovered Country #1 co-written by former Batman writer Scott Snyder, from Image Comics beat Batman #82 by Tom King. That is quite a thing.
Among the premier publishers' top books for November, Matt Kindt and Matt Smith's Folklords #1 from Boom Studios' ranked #94, Dynamite's Vampirella #5 ranked #105, Hazel & Cha Cha Save Christmas: Tales from The Umbrella Academy, a spin-off from Gerard Way and Gabriel Bá's The Umbrella Academy, from Dark Horse ranked #110 and IDW Publishing's Sonic the Hedgehog #23 ranked #189.
Tom Taylor and Trevor Hairsine's DCeased was November's best-selling graphic novel, collecting the best-selling mini-series from DC and one of the publisher's two books in the top ten, along with Frank Miller and John Romita, Jr.'s Superman: Year One at #5. Boom Studios' Firefly: The Sting, an original graphic novel based on the television series, ranked #2. Marvel Comics had four titles in the top ten; The Immortal Hulk Volume 5: Breaker of Worlds, was the top book at #3. Image Comics' November Volume 1 ranked #4. Dark Horse Comics had two titles in the top, led by The Legend of Korra Part 2: Ruins of Empire at #6.
Gemstone Publishing's The Overstreet Price Guide to Batman, a guide to eighty years of comics and collectibles focused on the Dark Knight, was November's best-selling book. Also of note, Dynamite Entertainment's Vampirella: 50th Anniversary Poster Collection ranked #3 and Titan Comics' The Philosophy of Deadpool ranked #4.
Mezco Toys' One:12 Collective: Marvel Comics: Classic Cyclops Action Figure, a PREVIEWS exclusive, was November's best-selling toy product. Diamond Select Toys had five products in the top ten, led by the Castlevania Gallery: Trevor Belmont PVC Figure, based on the Netflix animated series. DC Collectibles had three products in the top ten; the Dark Nights Metal: The Batman Who Laughs & Robins Deluxe Statue was their best-selling product at #6.
Paizo Publishing's Starfinder RPG: Character Operations Manual, a sourcebook for the science-fiction role-playing game, was November's best-selling game product and one of the seven Paizo products among the top ten.
TOP COMIC BOOK PUBLISHERS
RETAIL MARKET SHARE
PUBLISHER
SHARE
MARVEL COMICS
37.41%
DC COMICS
30.72%
IMAGE COMICS
7.90%
BOOM! STUDIOS
3.46%
IDW PUBLISHING
3.42%
DARK HORSE COMICS
3.38%
DYNAMITE ENTERTAINMENT
2.03%
VIZ MEDIA
1.48%
TITAN COMICS
0.70%
ONI PRESS
0.57%
OTHER NON-TOP 10
8.93%

UNIT MARKET SHARE
PUBLISHER
SHARE
MARVEL COMICS
42.68%
DC COMICS
32.41%
IMAGE COMICS
7.87%
BOOM! STUDIOS
3.07%
IDW PUBLISHING
3.04%
DARK HORSE COMICS
2.37%
DYNAMITE ENTERTAINMENT
1.45%
VIZ MEDIA
0.56%
VALIANT ENTERTAINMENT
0.54%
TITAN COMICS
0.50%
OTHER NON-TOP 10
5.52%
COMPARATIVE SALES STATISTICS
DOLLARS
UNITS
NOVEMBER 2019 VS. OCTOBER 2019
COMICS
-28.87%
-24.86%
GRAPHIC NOVELS
-12.33%
-14.39%
TOTAL COMICS/GN
-24.86%
-24.19%
TOYS
-8.72%
-13.86%
NOVEMBER 2019 VS. NOVEMBER 2018
COMICS
3.12%
2.91%
GRAPHIC NOVELS
7.43%
3.94%
TOTAL COMICS/GN
4.30%
2.98%
TOYS
-1.30%
15.09%
YEAR TO DATE 2019 VS. YEAR TO DATE 2018
COMICS
4.10%
-1.42%
GRAPHIC NOVELS
-3.21%
-8.65%
TOTAL COMICS/GN
2.02%
-1.96%
TOYS
19.15%
21.54%
NEW TITLES SHIPPED
PUBLISHER
COMICS
SHIPPED
GRAPHIC NOVELS
SHIPPED
MAGAZINES
SHIPPED
TOTAL
SHIPPED
DC COMICS
96
31
0
127
MARVEL COMICS
84
36
0
120
IMAGE COMICS
40
15
0
55
IDW PUBLISHING
36
14
0
50
DARK HORSE COMICS
22
22
0
44
BOOM! STUDIOS
19
15
0
34
VIZ MEDIA LLC
0
27
0
27
DYNAMITE
14
9
0
23
TITAN COMICS
8
7
1
16
ONI PRESS INC.
3
4
0
7
OTHER NON-TOP 10
152
200
24
376
TOTAL
474
380
25
879
TOP 10 COMIC BOOKS BY UNITS SHIPPED
| | | | | |
| --- | --- | --- | --- | --- |
| RANK | DESCRIPTION | PRICE | ITEM CODE | VENDOR |
| 1 | NEW MUTANTS #1 | $4.99 | SEP190749-M | MAR |
| 2 | X-MEN #2 | $3.99 | SEP190778-M | MAR |
| 3 | ABSOLUTE CARNAGE #5 | $4.99 | SEP190790-M | MAR |
| 4 | X-FORCE #1 | $4.99 | SEP190760-M | MAR |
| 5 | FALLEN ANGELS #1 | $4.99 | SEP190769-M | MAR |
| 6 | DEADPOOL #1 | $4.99 | SEP190835-M | MAR |
| 7 | AMAZING SPIDER-MAN #33 | $3.99 | SEP190814-M | MAR |
| 8 | UNDISCOVERED COUNTRY #1 (MR) [*] | $3.99 | SEP190027-M | IMA |
| 9 | BATMAN #82 ACETATE COVER | $3.99 | AUG190599 | DC |
| 10 | AMAZING SPIDER-MAN #34 | $3.99 | SEP190818-M | MAR |
TOP 10 COMIC BOOKS BY DOLLARS INVOICED
| | | | | |
| --- | --- | --- | --- | --- |
| RANK | DESCRIPTION | PRICE | ITEM CODE | VENDOR |
| 1 | NEW MUTANTS #1 | $4.99 | SEP190749-M | MAR |
| 2 | ABSOLUTE CARNAGE #5 | $4.99 | SEP190790-M | MAR |
| 3 | X-FORCE #1 | $4.99 | SEP190760-M | MAR |
| 4 | X-MEN #2 | $3.99 | SEP190778-M | MAR |
| 5 | DEADPOOL #1 | $4.99 | SEP190835-M | MAR |
| 6 | FALLEN ANGELS #1 | $4.99 | SEP190769-M | MAR |
| 7 | UNDISCOVERED COUNTRY #1 (MR) [*] | $3.99 | SEP190027-M | IMA |
| 8 | BATMAN: WHITE KNIGHT PRESENTS: VON FREEZE #1 | $5.99 | SEP190437-M | DC |
| 9 | SCREAM: CURSE OF CARNAGE #1 | $4.99 | SEP190805-M | MAR |
| 10 | AMAZING SPIDER-MAN #33 | $3.99 | SEP190814-M | MAR |
TOP 10 GRAPHIC NOVELS BY UNITS SHIPPED
| | | | | |
| --- | --- | --- | --- | --- |
| RANK | DESCRIPTION | PRICE | ITEM CODE | VENDOR |
| 1 | DCEASED HC | $29.99 | AUG190650 | DC |
| 2 | FIREFLY: THE STING HC | $19.99 | JUL191306 | BOO |
| 3 | IMMORTAL HULK VOL. 5: BREAKER OF WORLDS TP | $15.99 | AUG191149 | MAR |
| 4 | NOVEMBER VOL. 1 HC (MR) | $16.99 | JUL190077 | IMA |
| 5 | SUPERMAN: YEAR ONE HC | $29.99 | AUG190687 | DC |
| 6 | LEGEND OF KORRA PART 2: RUINS OF EMPIRE TP | $10.99 | JUN190359 | DAR |
| 7 | JOURNEY TO STAR WARS: THE RISE OF SKYWALKER: ALLEGIANCE TP | $15.99 | SEP190991-M | MAR |
| 8 | LEAGUE OF LEGENDS: LUX TP | $15.99 | JUL191064 | MAR |
| 9 | SAVAGE AVENGERS VOL. 1: CITY OF SICKLES TP | $15.99 | AUG191148 | MAR |
| 10 | STRANGER THINGS: SIX TP | $17.99 | JUL190353 | DAR |
TOP 10 GRAPHIC NOVELS BY DOLLARS INVOICED
| | | | | |
| --- | --- | --- | --- | --- |
| RANK | DESCRIPTION | PRICE | ITEM CODE | VENDOR |
| 1 | SAVAGE SWORD OF CONAN: THE ORIGINAL MARVEL YEARS OMNIBUS VOL. 2 HC | $125.00 | MAY190943-M | MAR |
| 2 | CRISIS ON INFINITE EARTHS BOX SET HC | $500.00 | APR190537 | DC |
| 3 | ABSOLUTE SWAMP THING BY ALAN MOORE VOL. 1 HC | $99.99 | MAR190601 | DC |
| 4 | DCEASED HC | $29.99 | AUG190650 | DC |
| 5 | DOOM PATROL: THE BRONZE AGE OMNIBUS HC | $125.00 | APR190538 | DC |
| 6 | SUPERMAN: YEAR ONE HC | $29.99 | AUG190687 | DC |
| 7 | FIREFLY: THE STING HC | $19.99 | JUL191306 | BOO |
| 8 | BATMAN BY SNYDER & CAPULLO OMNIBUS VOL. 1 HC | $125.00 | APR190526 | DC |
| 9 | NEW TEEN TITANS OMNIBUS VOL. 4 HC | $99.00 | APR190560 | DC |
| 10 | MARVEL MASTERWORKS: AMAZING SPIDER-MAN VOL. 31 HC | $75.00 | MAY190945-M | MAR |
TOP 10 BOOKS BY UNITS SHIPPED
| | | | | |
| --- | --- | --- | --- | --- |
| RANK | DESCRIPTION | PRICE | ITEM CODE | VENDOR |
| 1 | THE OVERSTREET PRICE GUIDE TO BATMAN SC | $30.00 | SEP191814 | GEM |
| 2 | DRAGON BALL VISUAL HISTORY: THE ART OF AKIRA TORIYAMA HC | $34.99 | AUG192435 | VIZ |
| 3 | VAMPIRELLA 50TH ANNIVERSARY POSTER COLLECTION SC | $24.99 | AUG191226 | DE |
| 4 | THE PHILOSOPHY OF DEADPOOL HC (MR) | $14.99 | MAR192035 | TTN |
| 5 | OVERLORD LIGHT NOVEL VOLUME 11 HC | $20.00 | JUL192435 | YEN |
| 6 | SHIGENORI SOEJIMA & P-STUDIO ART UNIT ART WORKS 2 TP | $39.99 | AUG192423 | UDO |
| 7 | THE SHADOW DOUBLE NOVEL VOLUME 146 SC | $14.95 | SEP191953 | SAN |
| 8 | TRANSFORMERS VISUAL HISTORY HC | $49.99 | SEP192219 | VIZ |
| 9 | DC SUPER HERO GIRLS: WINNER TAKES ALL SC | $6.99 | SEP191935 | RAN |
| 10 | DRAGONS CROWN: OFFICIAL ARTWORKS HC | $49.99 | JUL192399 | UDO |
TOP 10 TOYS BY DOLLARS INVOICED
| | | | |
| --- | --- | --- | --- |
| RANK | DESCRIPTION | ITEM CODE | VENDOR |
| 1 | ONE-12 COLLECTIVE: MARVEL: CLASSIC CYCLOPS FIGURE | SEP188229 | MEZ |
| 2 | CASTLEVANIA GALLERY: TREVOR BELMONT PVC FIGURE | JAN192540 | DST |
| 3 | POP! DC HEROES: HARLEY QUINN WITH BOOMBOX VINYL FIGURE | AUG188545 | FUN |
| 4 | MARVEL SELECT: CARNAGE FIGURE | NOV142179 | DST |
| 5 | KINGDOM HEARTS 3 GALLERY: MALEFICENT PVC STATUE | MAY189403 | DST |
| 6 | DARK NIGHTS METAL: THE BATMAN WHO LAUGHS & ROBINS DELUXE STATUE | MAY190542 | DC |
| 7 | DARK KNIGHTS METAL: BATMAN THE RED DEATH STATUE | APR190588 | DC |
| 8 | DC PRIME: BATMAN ACTION FIGURE | MAR190627 | DC |
| 9 | DC GALLERY: HARLEY QUINN REBIRTH PVC FIGURE | JUN192385 | DST |
| 10 | MARVEL GALLERY: AVENGERS ENDGAME CAPTAIN AMERICA PVC FIGURE | JUL192669 | DST |
TOP 10 GAMES BY DOLLARS INVOICED
| | | | |
| --- | --- | --- | --- |
| RANK | DESCRIPTION | ITEM CODE | VENDOR |
| 1 | STARFINDER RPG: CHARACTER OPERATIONS MANUAL HC | SEP193078 | PAI |
| 2 | STARFINDER RPG: CORE RULEBOOK HC | JUN173371 | PAI |
| 3 | CRITICAL ROLE: TAL'DOREI CAMPAIGN SETTING HC | JUN173357 | GRE |
| 4 | PATHFINDER: LOST OMENS CHARACTER GUIDE HC (P2) | AUG193363 | PAI |
| 5 | PATHFINDER FLIP-MAT: BASIC NEW EDITION | MAR138328 | PAI |
| 6 | PATHFINDER RPG: CORE RULEBOOK POCKET EDITION | APR168770 | PAI |
| 7 | PATHFINDER ADVENTURE PATH: AGE OF ASHES PART 5 | SEP193076 | PAI |
| 8 | MY HERO ACADEMIA: THE CARD GAME | JUL183082 | S7 |
| 9 | POP! FUNKOVERSE STRATEGY GAME: THE GOLDEN GIRLS 100 EXPANDALONE BOARD GAME | JUN198704 | FUN |
| 10 | TOME OF BEASTS HC | JUN168476 | PAI |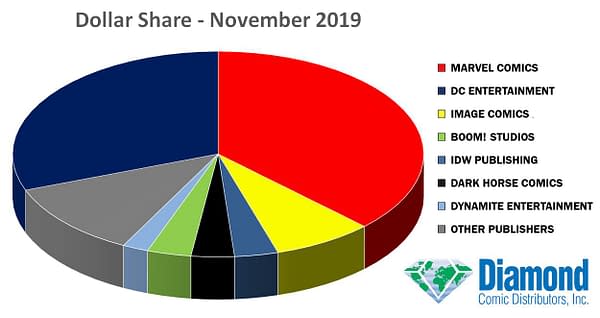 Dollar Market Share – November 2019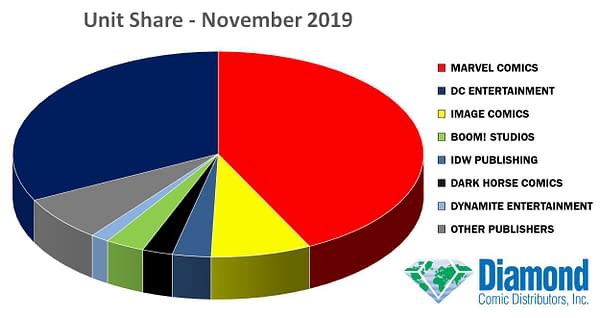 Unit Market Share – November 2019