Undiscovered Country #1 – A Shining City On A Hill of a Comic Book (Minor Spoilers)
It comes from the parable of Salt and Light in Jesus Christ's Sermon on the Mount –
"You are the light of the world. A city built on a hill cannot be hidden. Neither do people light a lamp and put it under a bowl. Instead they put it on its stand, and it gives light to everyone in the house. In the same way, let your light shine before others, that they may see your good deeds and glorify your Father in heaven."
Undiscovered Country, the first issue of a new comic book by Scott Snyder, Charles Soule, Giuseppe Camuncoli, Daniele Orlandi and Matt Wilson published by Image Comics today, is about an America that chose to hide their light, by putting up walls. And there is a familiar phrase that keeps recurring. That of a shining beacon on a hill.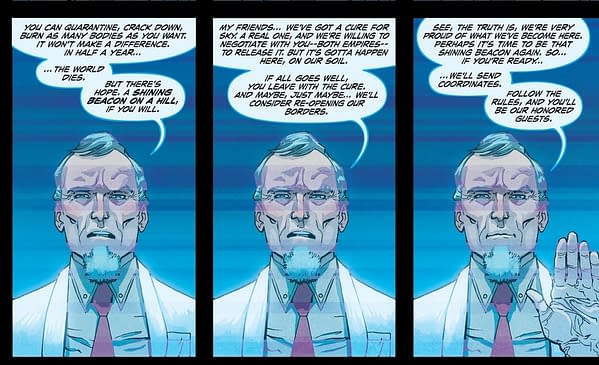 The Sermon on the Mount was cited at the end of Puritan John Winthrop's lecture or treatise, "A Model of Christian Charity" delivered on March 21, 1630 at Holyrood Church in Southampton before his first group of Massachusetts Bay colonists embarked on the ship Arbella to settle Boston. Winthrop warned his fellow Puritans that their new community would be"as a city upon a hill, the eyes of all people are upon us", meaning, if the Puritans failed to uphold their covenant with God, then their sins and errors would be exposed for all the world to see: "So that if we shall deal falsely with our God in this work we have undertaken and so cause him to withdraw his present help from us, we shall be made a story and a byword through the world".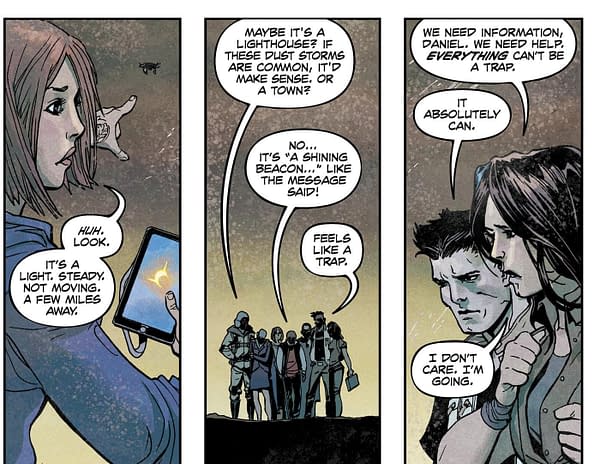 Winthrop's lecture was forgotten for nearly two hundred years until the Massachusetts Historical Society published it in 1838. It remained an obscure reference for more than another century until Cold War era historians and political leaders made it relevant to their time, crediting Winthrop's text as the foundational document of the idea of American exceptionalism.
On 9 January 1961, President John F. Kennedy quoted the phrase during an address delivered to the General Court of Massachusetts, saying
… Today the eyes of all people are truly upon us—and our governments, in every branch, at every level, national, state and local, must be as a city upon a hill—constructed and inhabited by men aware of their great trust and their great responsibilities. For we are setting out upon a voyage in 1961 no less hazardous than that undertaken by the Arabella in 1630. We are committing ourselves to tasks of statecraft no less awesome than that of governing the Massachusetts Bay Colony, beset as it was then by terror without and disorder within. History will not judge our endeavors—and a government cannot be selected—merely on the basis of color or creed or even party affiliation. Neither will competence and loyalty and stature, while essential to the utmost, suffice in times such as these. For of those to whom much is given, much is required."
On November 3, 1980, Ronald Reagan referred to the same event and image in his Election Eve Address "A Vision for America"
I have quoted John Winthrop's words more than once on the campaign trail this year—for I believe that Americans in 1980 are every bit as committed to that vision of a shining "city on a hill," as were those long ago settlers …

These visitors to that city on the Potomac do not come as white or black, red or yellow; they are not Jews or Christians; conservatives or liberals; or Democrats or Republicans. They are Americans awed by what has gone before, proud of what for them is still… a shining city on a hill.
…and in his 1989 farewell speech to the nation:
I've spoken of the shining city all my political life, but I don't know if I ever quite communicated what I saw when I said it. But in my mind it was a tall, proud city built on rocks stronger than oceans, wind-swept, God-blessed, and teeming with people of all kinds living in harmony and peace; a city with free ports that hummed with commerce and creativity. And if there had to be city walls, the walls had doors and the doors were open to anyone with the will and the heart to get here. That's how I saw it, and see it still.
Before he was President, Barack Obama also made reference to the topic in his commencement address on June 2, 2006 at the University of Massachusetts Boston,
It was right here, in the waters around us, where the American experiment began. As the earliest settlers arrived on the shores of Boston and Salem and Plymouth, they dreamed of building a City upon a Hill. And the world watched, waiting to see if this improbable idea called America would succeed.

More than half of you represent the very first member of your family to ever attend college. In the most diverse university in all of New England, I look out at a sea of faces that are African-American and Hispanic-American and Asian-American and Arab-American. I see students that have come here from over 100 different countries, believing like those first settlers that they too could find a home in this City on a Hill—that they too could find success in this unlikeliest of places.
While in 2016, former Republican presidential candidate Mitt Romney did the same, talking about Trump's campaign,
His domestic policies would lead to recession; his foreign policies would make America and the world less safe. He has neither the temperament nor the judgment to be president, and his personal qualities would mean that America would cease to be a shining city on a hill.
And in Undiscovered Country, about a mission from a Euro-African alliance trying to find a cure to the sky virus that is plaguing the rest of the world, it provides much promise.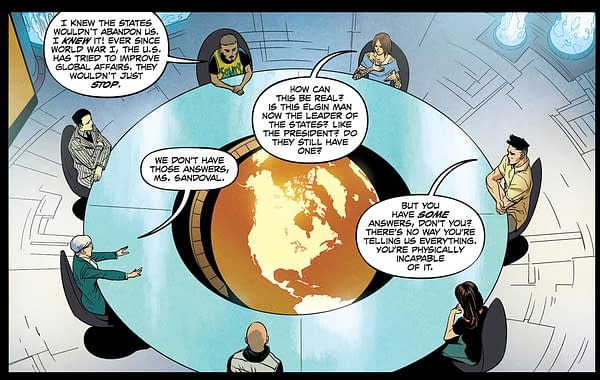 Even if it, with the first issue at least, less than delivered. Undiscovered Country rejects lazy and obvious political parallels with the current administration, but overall while it does celebrate the idea of American exceptionalism, it also suggests that putting up walls and creating isolation harms everyone. And that one person's exceptionalism may be another person's Empirical horrorshow. With other less-magnanimous phrases associated with the country rearing their uglier head too.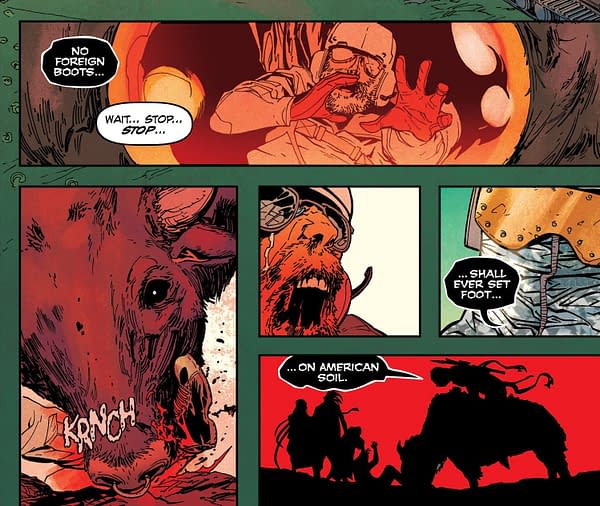 It's a great comic book – and world – to dive into today. All good science-fiction is never about the future, but about the present. This Is America. You just have no idea what it is. Time to discover.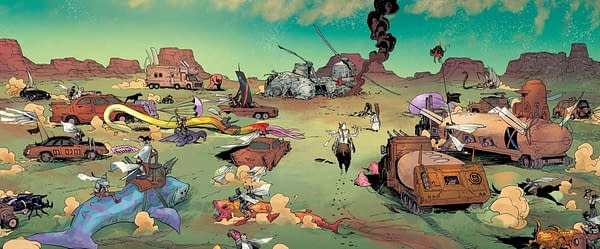 UNDISCOVERED COUNTRY #1 CVR A CAMUNCOLI (MR)
(W) Charles Soule, Scott Snyder (A) Daniele Orlandini (A/CA) Giuseppe Camuncoli
SERIES PREMIERE! This November, New York Times bestselling writers SCOTT SNYDER (WYTCHES, A.D.: AFTER DEATH) and CHARLES SOULE (CURSE WORDS, the forthcoming novel Anyone) will team up with artists GIUSEPPE CAMUNCOLI (The Amazing Spider-Man, Darth Vader, Hellblazer) and DANIELE ORLANDINI (Darth Vader) and 2019 Eisner Award-winning colorist MATT WILSON (THE WICKED AND THE DIVINE, PAPER GIRLS) to embark on an epic adventure in the brand-new ongoing series, UNDISCOVERED COUNTRY!
In this special oversized first issue, readers will journey into the near future, and an unknown nation that was once the United States of America-a land that's become shrouded in mystery after walling itself off from the rest of the world without explanation over thirty years ago. When a team seeking a cure for a global pandemic breaches U.S. borders, they quickly find themselves in a struggle to survive this strange and deadly lost continent!In Shops: Nov 06, 2019
SRP: $3.99
And oh look, it's got a Hickman timeline too… and the Minus 8 Years event could be just around the corner.