Valiant Comics Launches Virtual Creator Portfolio Reviews in July
Valiant Entertainment is announcing a Virtual Portfolio Review programme during what would have been convention season. Instead, Valiant will offer a digital one-on-one portfolio review for aspiring interior artists, cover artists, colourists, and letters. These virtual one-on-one sessions will take place with senior editors Heather Antos or Lysa Hawkins and will run for approximately ten minutes. Here's the when and the where: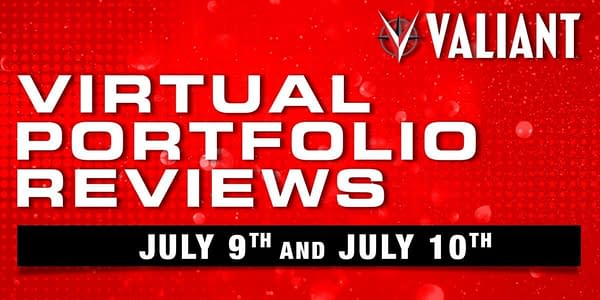 Dates of Valiant Digital Portfolio Reviews
Thursday, July 9th from 12pm-2pm EST
Friday, July 10th from 12pm-2pm EST
How to Submit to Valiant:
Email your submission to PortfolioReview@valiantentertainment.com
Subject line: Name, Discipline, Available Date
Subject line example: Ray Garrison, Cover Artist, July 9th & 10th
Please note: Submissions should be a single PDF document with an information page in the back that includes your name, a link to your online portfolio, and your contact information.
Submission Deadline
For July 9th Session: Wednesday, July 8th at 12pm EST
For July 10th Session: Thursday, July 9th at 12pm EST
Those selected will be notified by Wednesday, July 8th, and Thursday, July 9th, no later than 10pm EST.
Submission Suggestions
Interior artists: Feature action beats and talking heads.
Letterers: Include a variety of genres and SFX.
Colorists: Present covers and interiors.
All submitters: Include no more than 15 pages of materials.
"With convention season on pause due to the pandemic, it's been important to us at Valiant to continue the outreach with both fans and creators alike that we would normally be able to do in person – and that includes one-on-one portfolio reviews with up-and-coming talent," stated Heather. "Furthermore, we recognize that not every creator out there has the means or ability to travel to conventions, and it's important to us to be as accessible as possible to those creators looking to get their feet in the door."
Only ten people will be chosen for each day, so ensure you comply with the guidelines above, or be rejected in favour of those that did.