Coming from the world of comic books, an industry with a particularly pedantic fandom, publisher Valiant Entertainment may feel pretty confident that they can deal with any fan grievances. It's with that in mind that Valiant has committed an affront against all of garmentdom by producing a "holiday sweater" which is not, we will conclusively prove, actually available as a holiday sweater.
A press release revealed the strange new product Thursday:
Valiant Entertainment is feeling extra jolly because the lovable Bloodshot Holiday Sweater and T-Shirt, which features the nanite-infused supersoldier and his adorable ally Bloodhound, is now available exclusively on Zavvi!
A Bloodshot holiday sweater? Sounds good. Except…
Available in men's and women's sizes, this not-so-wholesome Bloodshot Holiday Sweater is made from a 80% cotton and 20% polyester mix, ensuring Bloodshot fans will be cozier than Bloodshot himself relaxing in a nanite bath when they put it on. The eye-catching design is inspired by the work of immensely talented artist Mico Suayan (BLOODSHOT REBORN, HARBINGER)!
Wait a minute. That is *not* a sweater. It's a sweatshirt. You can't just slap a pixelated logo on a sweatshirt and pretend that makes it a sweater! Ignoring this basic truth, the press release goes on…
If you want to feel festive but it's too warm for a sweater, there's the truly terrific Bloodshot Holiday T-Shirt, also available in men's and women's sizes. The shirt featuring Valiant's virtually unstoppable weapon is 90% cotton and 10% polyester, meaning it'll make you feel more comfortable than Bloodshot after he enjoyed a buffet full of meat! Feast your eyes on more images of these spectacular sweaters and t-shirts below!
While we can understand why Valiant might believe they can… wait for it… pull the wool over our eyes, since sweaters and sweatshirts are similar, the Oxford dictionary clearly states that a sweater is a knitted garment, whereas a sweatshirt, even if it is made from knitted fabric, is cut and sewn together.
A knitted garment worn on the upper body, typically with long sleeves, put on over the head.
And if you need even more proof, just take a look at the website that's selling them: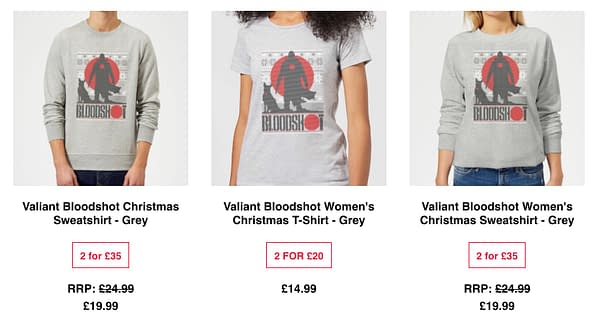 We rest our case.
So go ahead, if you want, and purchase a Bloodshot holiday *sweatshirt* or the also-available t-shirt varieties. Just do so with the full understanding that what you are buying is definitively not, as Valiant claims, a sweater.
Enjoyed this article? Share it!