Vampire State Building Variant Homages The Walking Dead
The new English-adaptation-in-print version of Vampire State Building by Ange-Renault and Charlie Adlard is coming out shortly from Ablaze Comics.
Each issue features its own homage cover to a famous comic book. But there's one notable comic book that hasn't been homaged yet. Which may be because the NYCollectorCave has commissioned its own retailer exclusive cover by Vinz El Tab with a print run of 300, published in around four weeks time. With its own take on The Walking Dead #1, a cover originally by Tony Moore.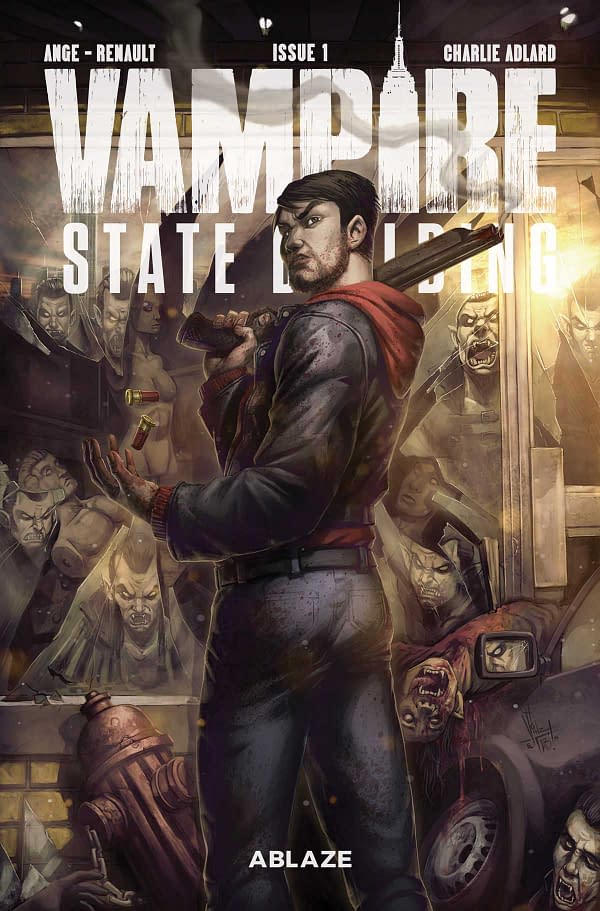 VAMPIRE STATE BUILDING #1
(W) Ange, Patrick Renault (A/CA) Charlie Adlard
The newest horror series from the artist of The Walking Dead, Charlie Adlard! Just in time for Halloween, get ready to be bitten from the first full color page. Terry Fisher is a young soldier on the verge of being sent away for active military duty, and is going to meet his friends at the top of the Empire State Building for a farewell party. But suddenly a legion of vampires attacks the skyscraper and massacres its occupants. Hounded in the 102 floors that have become a deadly trap, Terry must take decisive action to save himself and his friends – and the city of New York – before the army of abominations, and the terrible vampire god within, walled in the building since its construction, spill into the city!In Shops: Sep 18, 2019
SRP: $3.99