Vampires Attack in Atomic Robo: Dawn of the New Era #3 (REVIEW)
[rwp_box_recap id="0"]
There are whole lot of rabid vampires invading the pages of Atomic Robo: Dawn of the New Era #3, a title that claims it wanted to "step back from big sci-fi action action for a little while and try out a slower paced story".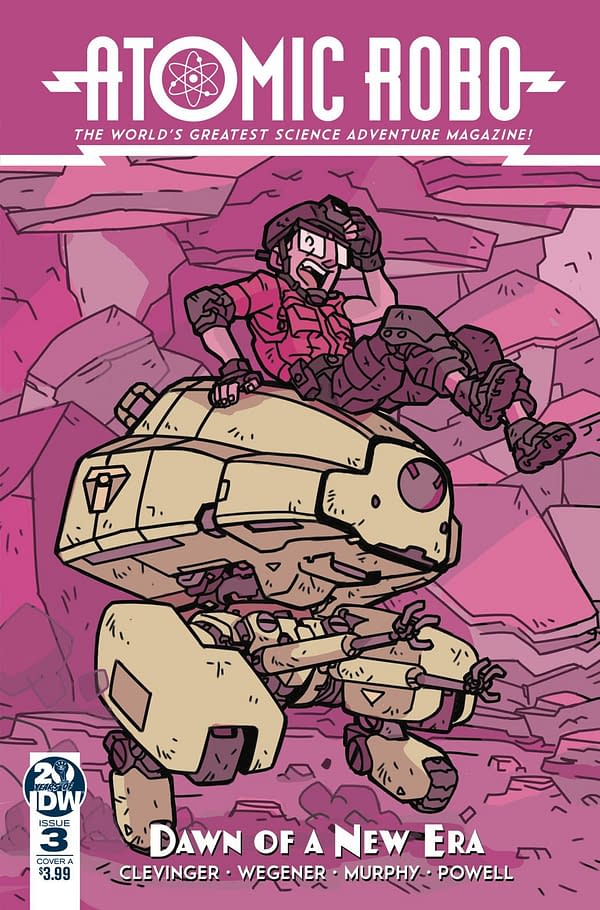 I don't think Brian Clevinger and Scott Wegener could help it, frankly. Asking these two to slow down and tell a "slower-paced story" would be like asking the Flash to stop and smell the roses. Sure, he might do that for a bit, but eventually he's got a planet to race around, right?
Clevinger hits the ground running with Vik and Lang taking on an entire force of blood-thirsty vampires that have overrun the Los Alamos National Lab, with a great exchange between the two:
Vik: "How did vampires get here? How many are there?"
Lang: "Also good questions. I shall find the answers with my axe."
It's great seeing such a loving and supportive couple in comics. The relationship that slays together stays together, after all.
Wegener's art style in this iteration of Atomic Robo is finally starting to gel with me, which is not a complaint. After years of studying this man's art in Robo, it was a little jarring to see such a cartoony style applied to the book, but it really fits the more light-hearted nature of the series.
The line art is chunky and fun, with a nice complementary color palette from Shannon Murphy that keeps the story bright and punchy. This whole run would be well adapted to animation (dare to dream), with a vibe that comes off more Steven Universe than Atomic Robo… again, not a complaint. It's cool to see an artist tackle an art style that differs from their usual work.
Atomic Robo: Dawn of the New Era is a lot of fun, and highly recommended for parents who want a fun comic to share with their kids–with such a strong emphasis on science, adventure, and really boldly courageous characters, how could you go wrong?
SUMMARY: Script: Brian Clevinger; Art: Scott Wegener; Colors: Shannon Murphy; Letters: Jeff Powell; Editor: Lee Black; Publisher: IDW Publishing; Release Date: February 27, 2019; Cover Price: $2.99; 26 pages.
[rwp-review-ratings id="0"]
[rwp-review-form id="0"]