Welcome to another installment of The Issue. This time around we're going to take a quick look at New York Weekly Vol. 30 No. 10 from longtime publisher of American periodical fiction, Street & Smith. When I saw this promo image from Marvel's Avengers of the Wastelands, The Two Avengers was one of the first things to come to mind.
The Issue is a regular column about vintage comics and other vintage periodicals from throughout world history. The idea behind The Issue is simple: for each post, I'll choose something from my collection and talk about what's going on in it, and discuss the publishers and creators behind it. And essentially I'm just going to end up stepping through comics history one issue at a time.
There is just one rule in The Issue: No recent stuff. Everything will be from before 1940, and most of it will be from before 1920. In this issue:
New York Weekly Vol. 30 No. 10
January 11, 1875
published by Street & Smith
At a glance, The Two Avengers; The Masked Robber of the Death Ranch in the January 11, 1875 issue of New York Weekly seems to be a typical example of a blood and thunder tale of masked frontier bandits that one might find in any number of story papers in the mid-1870s.
However, this is much more intriguing than most. The robbers have an extra special advantage in the form of Carmen the Clairvoyant — a young psychic woman who can see the future, the past, and possesses a spectrum of other extrasensory abilities. The leader of this band of robbers is no slouch himself, and controls Carmen by means of 'magnetic' force. They probably mean Animal Magnetism here — theorized and 'studied' by Franz Mesmer, Animal Magnetism was essentially that era's version of The Force.
Not content to use Carmen's abilities to find stage coaches containing wealthy women and their jewelry to rob, the bandits push Carmen towards a bigger prize: "Touch it not, Julian. It has been placed under a spell; unutterable woe will be the fate of him whose sacrilegious hand disturbs the last resting place of the Lords of Sonoma.
"Follow Sacramento to its source–there lie the valley and caves of Sonoma. There too is an Indian tumulus. Nature herself guards the spot. She has covered with green turf and flowers, the stones that compose the pyramid that hides the ashes of my fathers and their gold and gems."
I like this a lot. It's a weird western that reminds me quite a bit of a Joe R. Lansdale story.
As you might guess, this is far from the only story from the era about "Avengers". The phrase came to encompass the likes of various masked bandits and vigilantes, and eventually evolved to include other things. There were even humanoid tiger pirates who were called Avengers. We'll follow up on the Sea Tiger Avengers in another installment of The Issue.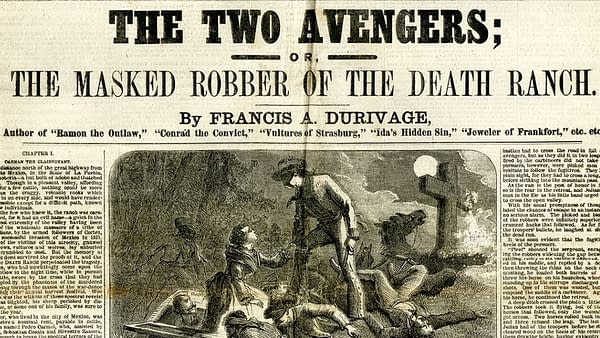 Enjoyed this article? Share it!