Walking Dead Fans: Do Not Miss Out on Comic Connect's Art Auction Ending Soon Few modern comic series have reached the heights of Robert Kirkman's zombie epic The Walking Dead. Going for 15 years strong now, it is arguably the most successful modern ongoing comic as far as back issues are concerned. One corner of the Walking Dead universe collectors are starting to heat up on would be in the original art page market. This is an interesting area to explore, as there are only really two artists to choose from: Tony Moore, who drew the first 6 issues, and since then it has been Charlie Adlard.
In this current Walking Dead auction on Comic Connect, you will be able to find not only art pages from both Moore and Adlard, but pin-ups, collection cover images, and even production concept art from the show by John Watkiss. There are some really iconic pages here, important to both collectors and fans alike. The first appearance of the Walkers. Pages from issue #37-39 when Judith is born. Early Negan pages, including when he was trying to be a new father figure for Carl.
The comic has arguably never been better than it currently is, so owning a piece of the comics history at these prices is a no-brainer. There are pages here that can be had for less than the price of a tpb collection of the comic right now. Check out some of our favorites below: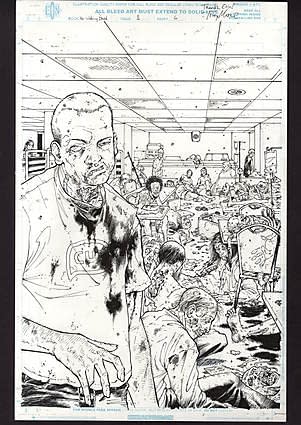 WALKING DEAD Issue #1 Splash Page

Publisher: Image

Grade: VF: 8.0
This historic splash page, signed by Tony Moore from issue #1 of The Walking Dead, represents the first appearance ever of the undead walking scourge. The walkers make their debut, not in a graveyard or a haunted house, but in a place even more disturbing — a hospital cafeteria. We've all experienced dehumanizing institutional settings in real life, but the addition of freshly reanimated corpses yearning for human flesh into this typically sanitary and orderly environment creates an emotional discord, playing on our deepest fears of mortality, and beyond. It's a magnificent depiction of some very messy eaters. The remains of the victims are hard to distinguish from the rotting predators, except for the blood that's dribbling down the shirt of the walker in the foreground, who has a perfect "expression" of mindless hunger on his face. In poignant contrast to the carnage behind him, IV drip units are shown along the wall, relics of pure nutrition standing alongside absolutely corrupt consumption.

This is the iconic first appearance of the walkers by the artist who created them. Tony Moore worked on only the first six issues of The Walking Dead, and his pages have been eagerly snatched up by collectors, so we're pleased to make this special piece available to our clientele in this Event Auction.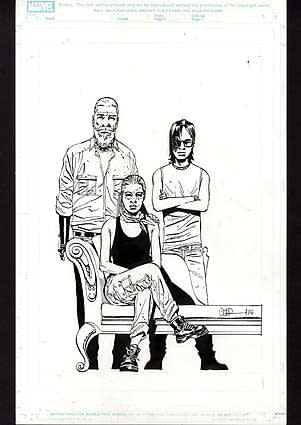 WALKING DEAD Pin Up

Publisher: Image

Grade: VF: 8.0

Pin-Up by Charlie Adlard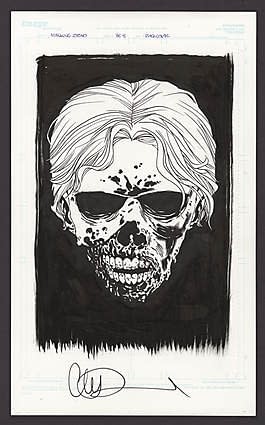 WALKING DEAD HARDCOVER Issue #8 Cover

The Walking Dead: Book Eight contains issues #85-96 of the comic, which primarily deals with life in the Alexandria Safe-Zone, and the daily struggles the survivors have to overcome to secure their new home. This gruesome drawing was created specifically for the back cover of the compendium, by Charlie Adlard, the comic's long-time artist. It presents a stark look at the progression of zombification, starting with the hair this creature looks perfectly human, but as the eye moves down the page the corpse takes over and by the bottom of the chin, this face has given way to corruption and rot, encapsulating the entire process of the life-death-afterlife cycle in one disturbing image.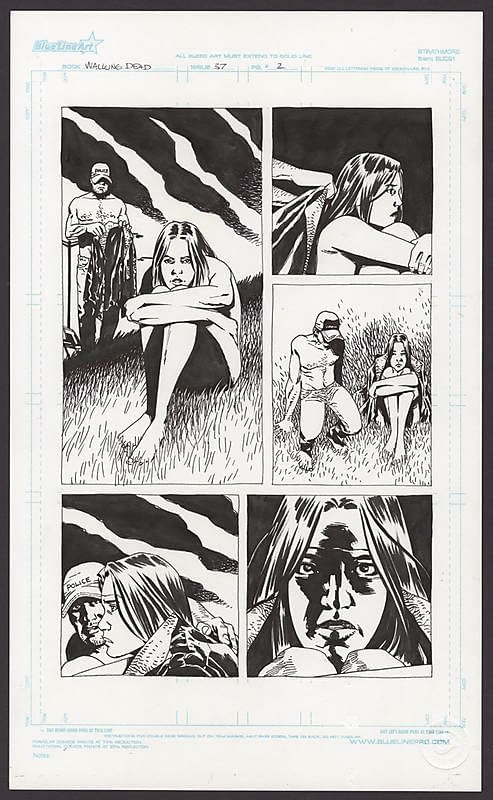 WALKING DEAD Issue #37 Interior Page

Grade: VF: 8.0

One of the main story lines early on in the Walking Dead is the relationship between Shane and Lori, whom are both best friend and wife to Rick Grimes respectively, and the ongoing unanswered question as to who is the father of Judith, Lori's daughter. This page shows an interaction Shane and Lori have in a flashback, at this point Lori is about to give birth and her anxiety about the child's parentage is beginning to wear on her. Its an interesting take on Shane by Charlie Adlard, as the character was originally drawn by Tony Moore, the series' first illustrator. A moody and memorable page from this important issue.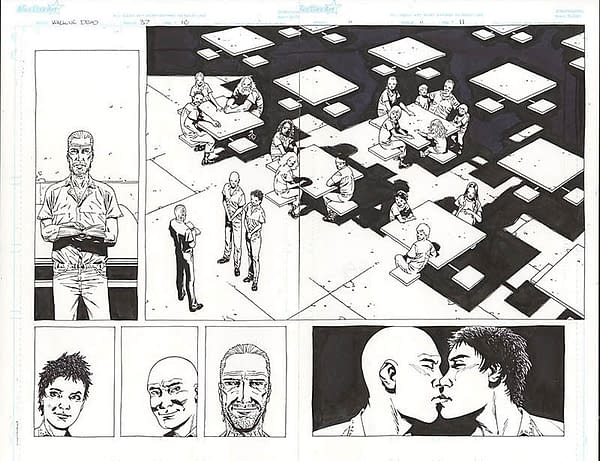 WALKING DEAD Issue #37 Double Page Spread

Grade: VF: 8.0

This double-page spread features the wedding of Glenn and Maggie, performed by Maggie's father, Herschel, in the cafeteria of the prison. The domestic scene offers a brief respite from the insanity that is happening outside their new home's walls. This sense of normalcy and romance is at odds with the walker world they now live in, and the large panel showing the wedding attendees sitting at tables is slowly being overtaken by shadows, in an apt reflection of the reality the survivors all share.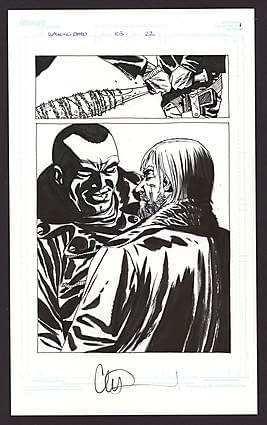 WALKING DEAD Issue #103 Half Splash

Grade: VF: 8.0

This is a chilling sequence from the end of TWD #103, which shows Negan holding on to his totemic baseball bat Lucille, and then he dresses down Rick in a disturbing and graphic manner, letting him know who is boss. The tension between the two is palpable as the physically imposing Negan looms over Grimes, but Rick's face is set in stone, leaving no question as to his intention of killing Negan. This important page in the series is signed by Charlie Adlard.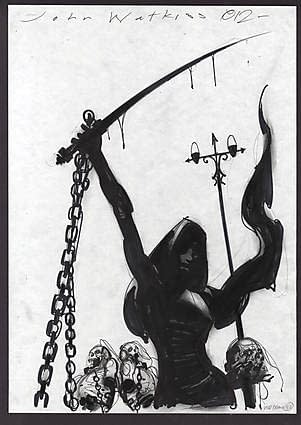 WALKING DEAD PRODUCTION ART JOHN WATKISS: MICHONNE Issue #21 Preliminary Sketch

While the now iconic television series has enthralled millions, its origins began in illustration. While comic books can be quite cinematic in structure, adapting them to the screen still proves problematic for many films and tv series. For instance, certain elements that worked great for the comic, might read differently to a television audience. This collection of production art is a rare opportunity to own official Walking Dead artwork from the talented John Watkiss, featuring alternative concepts of previously known characters and scenes from the comics and new ones made only for the TV show.

John Watkiss (1961-2017) was a British artist, known for his painting and his work in comics and film production. His career led him from cover artist for graphic novels to storyboard artist and character designer. The artist has collaborated with numerous high profile studios on projects including Tarzan, Atlantis, Sky Captain and the World of Tomorrow, and Sherlock Holmes. Watkiss' work has been featured in the British National Portrait Gallery and The Ford Motor Company Museum.
Check out all of the other pages up for auction
right here.