"We Wanted To Move Him Away From Earth." – Paul Tobin Talks Jungle Jim
Earlier this week we ran the other half of this writer to writer interview. Now we have Nancy Collins, writer of Vampirella #9, talks with writer Paul Tobin about KING: Jungle Jim #1, both on sale February 4th.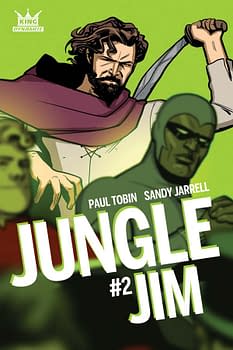 NANCY COLLINS: Did you have any familiarity with the original Jungle Jim, either in comics format or the old B-movies starring Johnny Weissmuller?
PAUL TOBIN: Some. I was definitely familiar with the character, largely from comics. I had a couple of older Jungle Jim comics around. I hunted down a bunch more after I was offered the job, trying to get a feel for the character, and how I could use him in a grander universe.
COLLINS: Your version of Jungle Jim is a world removed from the original. What inspired you to turn a Great White Hunter/Jungle Adventurer into a shape-shifting nature god?
TOBIN: We wanted to move him away from Earth, largely because of wanting to establish a shared universe with the other King Features characters, especially the Flash Gordon milieu.
COLLINS: The original Jungle Jim stalked the jungles of Asia, but this one seems to be headquartered on the jungle-moon of Arboria, one of the Moons of Mongo. What led you to tying Jungle Jim into the larger Flash Gordon universe?
TOBIN: We wanted a story where anything could happen, a wide open thrill-fest, and the Flash Gordon universe is SO full of adventure that it just seemed natural to drop Jim into the mix. COLLINS: Who are the main players and are they unique to the series?
TOBIN: Jim himself, of course, and we've made him more unique than ever. And there's a selection of natives from Arboria, where Jim set up shop a considerable time in the past. There's Lille, who starts the whole plot rolling, and Mox and Thune, a couple of animal men from the "forges" of Ming the Merciless. Prince Barin is around as well and there are a lot of bottle of booze. Do they count? I think they should. They're integral to the story.
COLLINS: What do you think the biggest challenge you've faced retooling Jungle Jim for a 21st Century audience?
TOBIN: Well, there's dropping all the colonialist feel from the early stories, but I while I certainly did make a lot of changes, I rarely care too much about making characters or stories "accessible." I always figure that as long as I'm enjoying myself, the readers will too. And I certainly have enjoyed myself! COLLINS: Do you have any other projects fans should keep an eye out for in 2015?
TOBIN: I have my "regulars" in Bandette, my Eisner winning comic with artist Colleen Coover. And then there's the Eisner and Bram Stoker nominated Colder, with artist Juan Ferrerya. I'll be doing more Plants vs. Zombies, more Witcher, and… in keeping with a "published by Dark Horse" theme, an unannounced creator owned series. Plus another Dark Horse book I can't talk about! Whew! That's a lot of Dark Horse! Just to make sure I don't stay sane, there are three other unannounced creator-owned books from three other companies. Plus I have a series of middle-readers novels over at Bloomsbury that will start coming out in early 2016. And… other things. If anyone has some sanity for sale, I'm buying.
For more on King: Jungle Jim, Click here.