What Made Warren Ellis Swear In Fearscape #1, Out Tomorrow?
Fearscape #1 is the latest debut series from White Noice writers studio. By Ryan O'Sullivan and Andrea Mutti, it is published tomorrow by Vault Comics. Here's a preview interspersed with some pull quotes from reviewers – and Warren Ellis. I am told the preview doesn't come close to explaining what the comic book is really about but the quotes might. Well, you have to start somewhere, right?
But if you like to watch the snake eating its own tail and then vomiting it up for a second look, then, yes, this is a good place to start.
I am putting the preview together in a Costa Coffee in Newcastle. My train is late. But I'll be reading my own comic on the way down to London – if I actually get a seat now.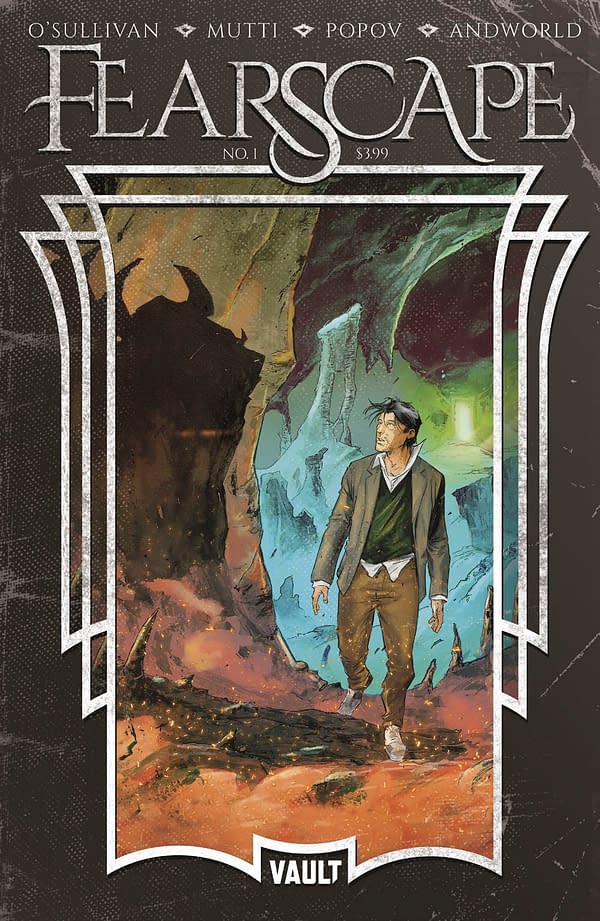 "Wow. F*ck you guys. Ryan O'Sullivan and Andrea Mutti, I know you see me, and yet I will stand over your graves. FEARSCAPE is an evil and really very good comic. It is so comedically archly self-aware, its tongue is so far in its cheek it's practically licking its own eyeball from the inside. I really enjoyed it."
-Warren Ellis (Transmetropolitan, Planetary, Injection)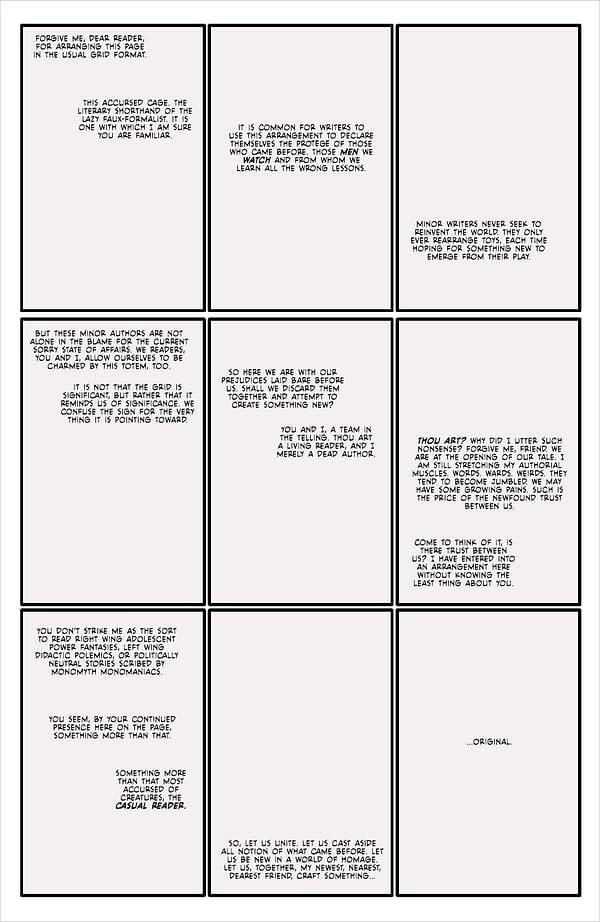 Fearscape
"Prrrrrobably wouldn't have chosen 'Wow. F*ck you guys' as the pullquote there."
-Warren Ellis (Transmetropolitan, Planetary, Injection)
"If Fearscape is not at least nominated for an Eisner, I will be shocked. I have never seen so many layers delivered with such ease, let alone in a first issue. I cannot wait to see what the rest of this series offers."
-Maria Beth, Outright Geekery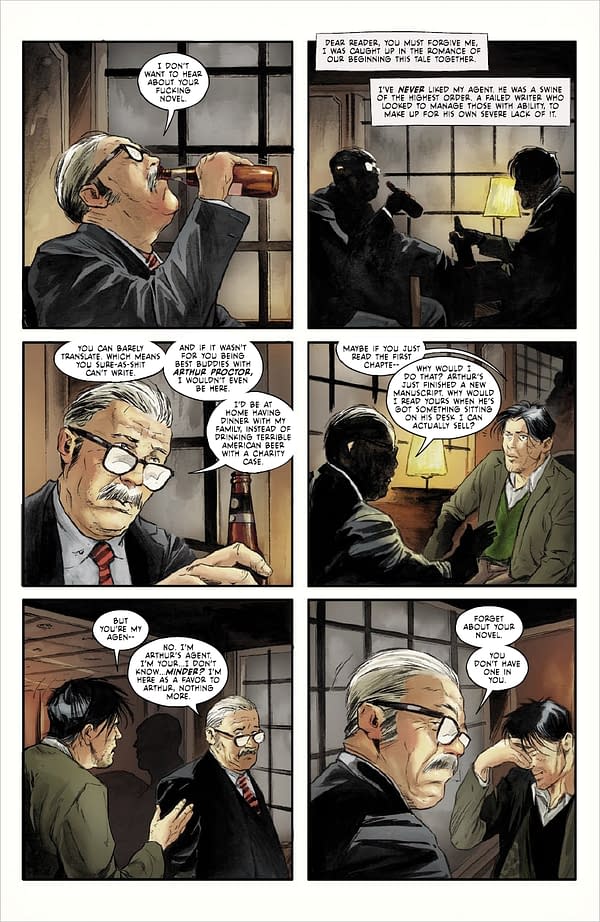 "A nigh-perfect debut, a unique comic that pushes the boundaries of sequential graphic storytelling. Fearscape #1 is one part killer creator-owned comic, one part famous literary short story, and 100 percent not to be missed. 10/10"
-Zach Quaintance, Batman's Bookcase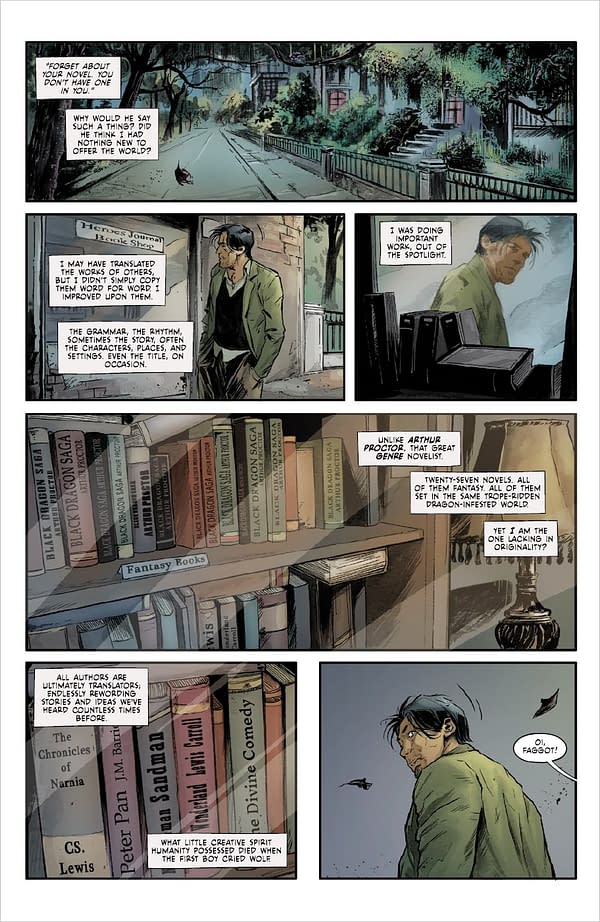 "FEARSCAPE is absolutely a comic you need to pick up. Henry Henry is a character that you will love yet despise. But it's characters like these that give us more humanized experiences. Ryan O'Sullivan is a masterful storyteller, creating a hero's journey that has already started off on the wrong foot."
-Leijah Petelka, ComicsVerse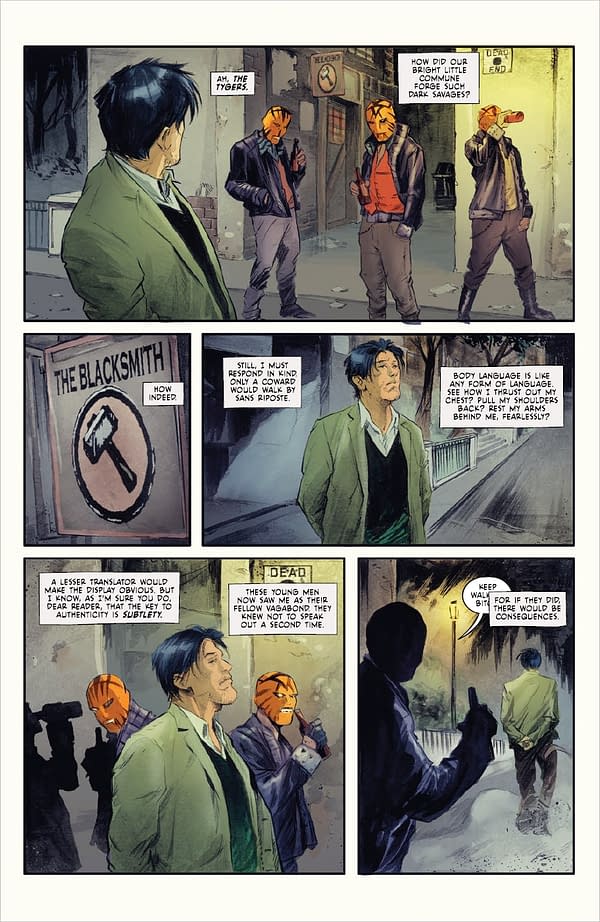 "O'Sullivan is a relatively new writer, but this is the work of a well-seasoned, and well-read, writer too. This could well be his best work yet, given the depth of influences behind him. It's one part Dante, another part Gaiman and one last part Joseph Campbell. A fantasy story with a high pedigree, and all the makings of a thrilling yarn to boot."
-Olly MacNamee, Comicon.com
"I'm in awe of the way O'Sullivan has transformed his fear into a masterpiece of comic literature. I call it comic literature because every word of his exposition is an homage to the greats that have came before, and even an homage to the prose writers that have contributed so heavily to the written word. From Moore to Gaiman, O'Sullivan channels some of the greatest comic writers of all time. Fearscape is more than just a comic, it's a love letter to the written word penned in the universal language of love. The idea of Fearscape is wholly original and as I said every aspect of the writing is a homage to the written word, both prose and comics. A true masterpiece."
-Ian Yarington, Comic Booked
"At some point we're going take a step back and realise just how good a year 2018 has been for comics. It seems that nearly every week new books are being released that exemplify the best of what this medium is capable of. Each week sees a fresh contender asking new questions and approaching novel ways of storytelling. It's almost as if the creative force of the industry has been engaged in a long-running game of one-upmanship. For my money, however, FEARSCAPE from the talented team of Ryan O'Sullivan (writer), Andrea Mutti (illustrator), Vladimir Popov (colorist), and Deron Bennett (letterer) is going to be the breakout hit of the year. From its inaugural outing alone, it is sure to be a perennial hit. We need more intelligent, witty, and bold stories like FEARSCAPE. You'll be re-reading this for years to come."
-Gary Moloney, Monkeys Fighting Robots