Was The Original DC Comics Robin Based On PJ Harvey?
Tomorrow sees the release of Robins #2 in print. But the comic by Tim Seeley and Baldemar Rivas which appropriately won the DC Round Robin Tournament, was published first on the DC Universe app which is still inexplicable unavailable outside of the USA unless you use a US credit card registered to a US address and a US IP. But it has given print speculator purchasers a head start in the knowledge that the series, as well as showing all the Robins and exploring their relationship with each other, and Batman., introduces a brand new Robin. With the suggestion that she's been around a lot longer than one may think. We have also already had the release of Robins #3 on the DC Universe App. Which suggests that this new – or old – Robin, is now an assassin. And also might be English – from Yorkshire, Lancashire, or the West Country, using vernacular like "love" as an endearment.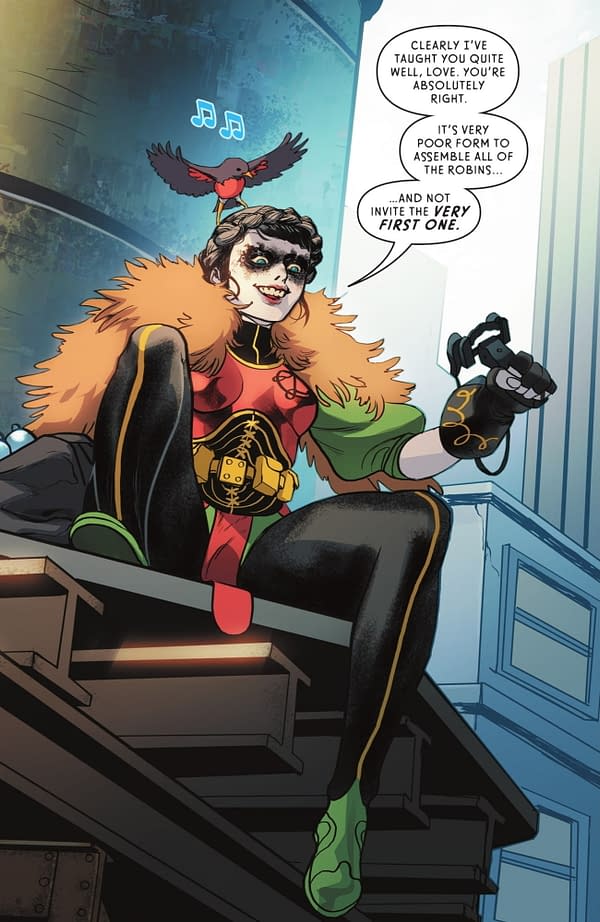 Bleeding Cool has been led to understand that the "West Country" may be the vernacular of choice, and that it may be a deliberate reference to the Nick Cage And The Bad Seeds song, West Country Girl.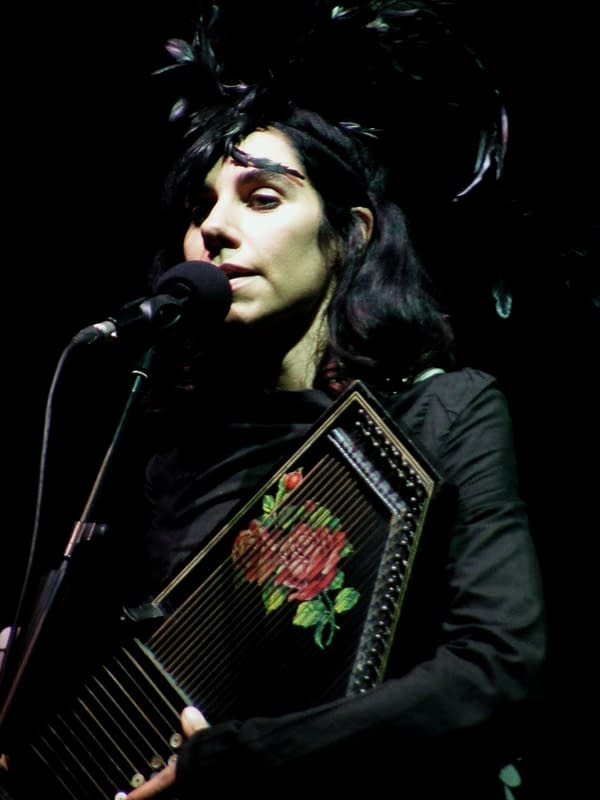 A song that was about PJ Harvey, born in Bridport in Dorset, part of the West Country in the UK. And it is her tone of voice that is being referenced in Robins.
The oldest Robin, and notable assassin, based on PJ Harvey? Not in any way that should concern the lawyers though. And hey, it never harmed Sting to be John Constantine.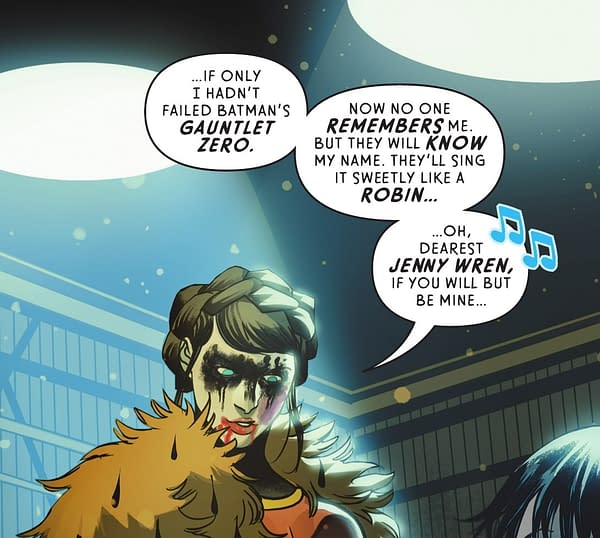 And she's a singer too. That line is from The Wedding of Robin Redbreast and Jenny Wren, better known as Who Killed Cock Robin, and describes the scenes before the murder of Robin and his subsequent funeral…
It was on a merry time,
When Jenny Wren was young,
So neatly as she danced,
And so sweetly as she sung–

Robin Redbreast lost his heart:
He was a gallant bird;
He doffed his hat to Jenny,
And thus to her he said.

"My dearest Jenny Wren,
If you will but be mine,
You shall dine on cherry pie,
And drink nice currant wine.

"I'll dress you like a Goldfinch,
Or like a Peacock gay;
So if you'll have me, Jenny,
Let us appoint the day."

Jenny blushed behind her fan,
And thus declared her mind:
"Then let it be to-morrow, Bob;
I take your offer kind.

"Cherry-pie is very good;
So is currant-wine;
But I will wear my brown gown,
And never dress too fine."

Robin rose up early,
At the break of day;
He flew to Jenny Wren's house,
To sing a roundelay.

He met the Cock and Hen,
And bade the Cock declare,
This was his wedding-day
With Jenny Wren the fair.

The Cock then blew his horn,
To let the neighbors know
This was Robin's wedding-day,
And they might see the show.

And first came Parson Rook,
With his spectacles and band;
And one of Mother Hubbard's books
He held within his hand.

Then followed him the Lark,
For he could sweetly sing;
And he was to be clerk
At Cock Robin's wedding.

He sang of Robin's love
For little Jenny Wren;
And when he came unto the end,
Then he began again.

The Goldfinch came on next,
To give away the bride;
The Linnet, being bridesmaid,
Walked by Jenny's side.

And as she was a-walking,
Said, "Upon my word,
I think that your Cock Robin
Is a very pretty bird."

The blackbird and the Thrush,
And charming Nightingale,
Whose sweet "jug" sweetly echoes
Through every grove and dale;

The sparrow and Tomtit,
And many more were there;
All came to see the wedding
Of Jenny Wren so fair.

The Bullfinch walked by Robin,
And thus to him did say:
"Pray mark, friend Robin Redbreast,
That Goldfinch dressed so gay;

"What though her gay apparel
Becomes her very well;
Yet Jenny's modest dress and look
Must bear away the bell !"

Then came the bride and bridegroom;
Quite plainly was she dressed;
And blushed so much, her cheeks were
As red as Robin's breast.

But Robin cheered her up;
"My pretty Jen," said he,
" We're going to be married,
And happy we shall be."

"Oh, then," says Parson Rook,
"Who gives this maid away ?"
"I do,"says the Goldfinch,
"And her fortune I will pay;

"Here's a bag of grain of many sorts,
And other things beside;
Now happy be the bridegroom,
And happy be the bride !"

"And will you have her, Robin,
To be your wedded wife ?"
"Yes, I will," says Robin,
And love her all my life."

"And you will have him, Jenny,
Your husband now to be ?"
"Yes, I will," says Jenny,
And love him heartily."

Then on her finger fair
Cock Robin put the ring;
"You're marrried now," says Parson Rook;
While the Lark aloud did sing:

"Happy be the bridegroom,
And happy be the bride!
And, nay not man, nor bird, nor beast
This happy pair divide."

The birds were asked to dine;
Not Jenny's friends alone,
But every pretty songster
That had Cock Robin known.

They had cherry-pie,
Besides some currant-wine,
And every guest brought something,
That sumptuous they might dine.

Now they all sat or stood,
To eat and to drink;
And every one said what,
He happened to think.

They each took a bumper,
And drank to the pair,
Cock Robin the bridegroom,
And Jenny Wren the fair.

The dinner things removed,
They all began to sing;
And soon they made the place
Near a mile around to ring.

The concert it was fine;
And every bird tried
Who best should sing for Robin,
And Jenny Wren the bride,

When in came the Cuckoo
And made a great rout;
He caught hold of Jenny,
And pulled her about.

Cock Robin was angry,
And so was the Sparrow,
Who fetched in a hurry
His bow and his arrow.

His aim then he took,
But he took it not right;
His skill was not good,
Or he shot in a fright;

For the cuckoo he missed,
But Cock Robin he killed!—
And all the birds mourned
That his blood was so spilled.

Who killed Cock Robin?
"I," said the Sparrow,
"With my bow and arrow,"
I killed Cock Robin."

Who saw him die
"I" said the Fly,
"With my little eye,
And I saw him die."

Who caught his blood?
"I," said the Fish,
"With my little dish,
And I caught his blood."

Who made his shroud?
"I," said the Beetle,
"With my little needle,
And I made his shroud.

Who shall dig his grave ?
"I," said the Owl,
"With my spade and show'l,
And I'll dig his grave."

Who'll be the parson ?
"I" said the Rook,
"With my little book,
And I'll be the parson."

Who'll be the clerk ?
"I," said the Lark,
"If it's not in the dark,
And I'll be the clerk."

Who'll carry him to the grave ?
"I," said the Kite,
"If tis not in the night,
And I'll carry him to his grave."

Who'll be the chief mourner ?
"I," said the Dove,
"I mourn for my love,
And I'll be chief mourner."

Who'll carry the link ?
"I," said the Linniet,
"I'll fetch it in a minute,
And I'll carry the link."

Who'll sing a psalm ?
"I," said the Thrush,
As she sat in a bush,
"And I'll sing a psalm."

And who'll toll the bell ?
"I," said the Bull,
"Because I can' pull ;"
And so, Cock Robin, farewell.
Here are the solicitations of the comic books so far…
ROBINS #1 (OF 6) CVR A BALDEMAR RIVAS
(W) Tim Seeley (A/CA) Baldemar Rivas
The five heroes to have donned the Robin cape and mask find themselves at a crossroads in their lives. Dick Grayson, Jason Todd, Tim Drake, Stephanie Brown, and Damian Wayne come together to discuss the big thing that binds them together: Was being Robin, and Batman's sidekick, the best choice they could've made? But before they can get to the heart of the matter, they're ambushed by an unknown assailant with a bone to pick with them. She claims to have been the first Robin, and she's out to prove Batman should've never trained any of them. Winner of DC's Round Robin tournament, as chosen by you, the readers! Retail: $3.99 In-Store Date: 11/16/2021

ROBINS #2 (OF 6) CVR A BALDEMAR RIVAS
(W) Tim Seeley (A/CA) Baldemar Rivas
The former Robins launch into action after the assault at Dick Grayson's apartment. Not wanting to turn to Batman for help, the five former wonders start to investigate on their own by digging deep into their pasts. But what is their assailant's connection to the Robin name, and why are they coming after the ex-sidekicks?
Retail: $3.99 In-Store Date: 12/21/2021

ROBINS #3 (OF 6) CVR A BALDEMAR RIVAS
(W) Tim Seeley (A/CA) Baldemar Rivas
The Robins run face-first into a group of copycat villains decked out in high-end tech giving them the powers and battle prowess of Batman's greatest enemies! As the former wonders face down these threats, they deduce that whoever's behind the assault on them has hacked into the Batcomputer. As hard choices are made, the five ex-partners of Batman realize that going their separate ways and leaving the Robin mantle behind might be their only option! Retail: $3.99 In-Store Date: 1/18/2022

ROBINS #4 (OF 6) CVR A BALDEMAR RIVAS
(W) Tim Seeley (A/CA) Baldemar Rivas
The Robins are splintered after the events in the graveyard. On their own and on the hunt for the distributor of the SKP Tech, the former sidekicks are on the warpath, tearing through Gotham and Blüdhaven following any and all leads. But while the Robins descend on the criminal underworld, where has Tim Drake disappeared to?
Retail: $3.99 In-Store Date: 2/15/2022

ROBINS #5 (OF 6) CVR A BALDEMAR RIVAS
(W) Tim Seeley (A/CA) Baldemar Rivas
Trapped in a virtual prison, the Robins must face down their own gauntlet of bad memories. Every step they take places them further and further into their fabricated realities with no escape in sight! Can the Robins break free from their tragic pasts, or will they be lost to their former lives forever?
Retail: $3.99 In-Store Date: 3/15/2022