Bleeding Cool welcomes back We Be Geeks, hosting a variety of guests and covering a wide range of geek topics.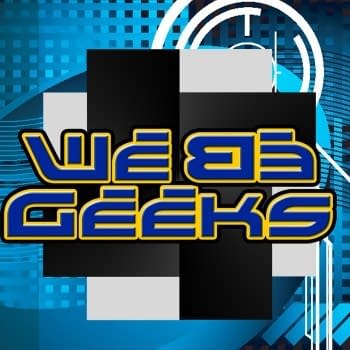 Brett, Derrick and Mike return for another episode of that show that is the voice of the Geek Revolution, We Be Geeks. The guys discuss the new shows coming out from the networks this fall and give their picks of what show might be the first to go. Then Actress of Voices, um Voice Actor, G.K. Bowes joins the guys and talks to them about voice acting. From video games to TV shows to films, G.K. shares some great moments along with some funny ones.
Subscribe today on iTunes and Stitcher and leave a 5 star review. Leave a voice mail on the Geek Revolution hotline at 321-219-8227. Email us at webegeeks (at) webegeeks dot net with any news, questions or comments.
Follow us:
Twitter: @webegeeks, @JulzHendricks, @nesofgeek, @geek_happenings
Facebook: We Be Geeks
Check out our Patreon and support the show at http://www.patreon.com/webegeeks
Superheroes by day, Podcasters by night! The We Be Geeks Podcast is hosted by Mike Ehmcke (@webegeeks) Along with Julz Hendricks (@JulzHendricks), Derrick Nadeau (@nesofgeek) and Brett Dasilva (@geek_happenings) as Co-Hosts, this podcast is on fire! You can find us on Facebook (https://www.facebook.com/webegeekspc) as well as the We Be Geeks official site. (http://webegeeks.net/) Check out our Patreon and support the show http://www.patreon.com/webegeeks
Enjoyed this article? Share it!